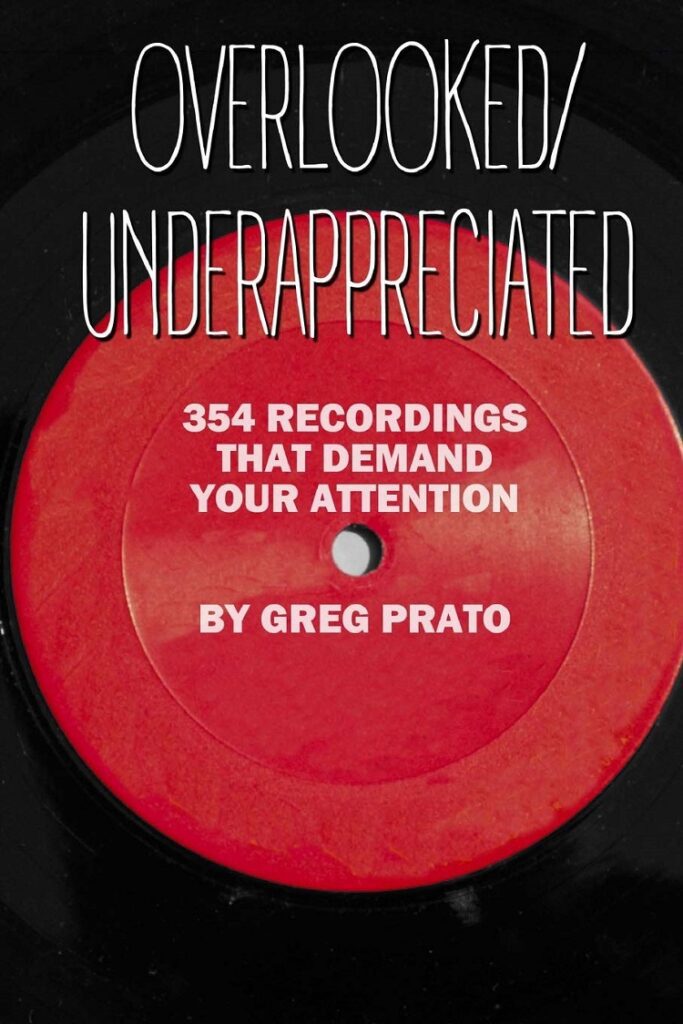 Writing a book entitled Overlooked/Underappreciated: 354 Recordings That Demand Your Attention is fraught with difficulty. The selections are based purely on personal taste, and are begging for readers to argue with the author. Yet rock journalist Greg Prato has tackled this challenge in his twelfth book, a work packed with suggestions for your music collection. Remember the experience of leafing through a friend's records, CDs, and tapes, analyzing albums and recommending bands that (you think) no one knows? That memory mirrors the experience of reading Overlooked/Underappreciated.
Covering mostly rock, jazz, R&B, and blues, Prato analyzes each listing using the following categories: Discovery (how he first found the recording), Scrutiny (his general review), Similarity (related artists), Keepers (the best album cuts), Follow Up Listening (other noteworthy albums by the artist), and Tidbit (additional trivia). While the "Discovery" category does not interest as much as the other entries, the organization serves as an easy reference for readers. Some of the selections stretch the meaning of "overlooked," as they were best-selling albums. Prato does offer some lesser-known works by notable bands, such as the Beach Boys' Sunflower/Surf's Up combo. In this case, however, he omits an accurate description of the music to successfully argue why the work is worth increased attention. For example, how does Sunflower differ from classics such as Pet Sounds?
At other points, Overlooked/Underappreciated includes helpful suggestions for digging deeper into an artist's back catalog. Those who think of only "Bo Diddley" and "Who Do You Love?" when recalling Bo Diddley will want to check out Prato's entry, 1970's Black Gladiator, for more evidence of how the bluesman heavily influenced rock and roll. Those who came of age in the 1980s will particularly appreciate Prato's perspective, one which greatly determines his choices. A particularly interesting recommendation is Minimum Wage Rock & Roll by the BusBoys, an unfairly neglected '80s band that featured what was termed "black rock" in the late 1980s and early 1990s. He posits that the BusBoys (best remembered for their Ghostbusters soundtrack song "Cleanin' Up the Town") predated Fishbone and Living Colour by several years.
Hard core music fans might find his "discoveries" of Cab Calloway, Cat Stevens' Harold and Maude soundtrack, and Herbie Hancock's landmark fusion album Head Hunters amusing; after all, these are well-known artists and works today. Members of Generation X and younger, however, may not be as familiar with the albums, and any attempt to bring these worthy works increased exposure is laudable.
For every spot-on selection—Jaco Pastorius, Ian Dury and the Blockheads, Fela Kuti, the Meters, and Ornette Coleman—there are some head scratchers. Do Right Said Fred and Morton Downey, Jr. belong on this list? Is Donald Fagen's Nightfly or Prince's Controversy really overlooked? Still, these odd choices are balanced with welcome suggestions like Robert Palmer's pre-"Addicted to Love" work, 1980's Clues. The unfairly underrated Romeo Void also makes an appearance with their 1982 release Benefactor; "Never Say Never" remains one of the most innovative '80s tracks too few people have heard. Prato makes no secret of his admiration for Faith No More and the Red Hot Chili Peppers, as these two bands apparently influenced the author to explore other music.
Overlooked/Underappreciated will appeal most to children of the 1970s and 1980s who may be unfamiliar with works that were not necessarily huge hits. Prato offers some interesting selections, and at the very least will inspire spirited debate among readers. Such disagreements and discussions rank among the best aspects of being avid music fans.