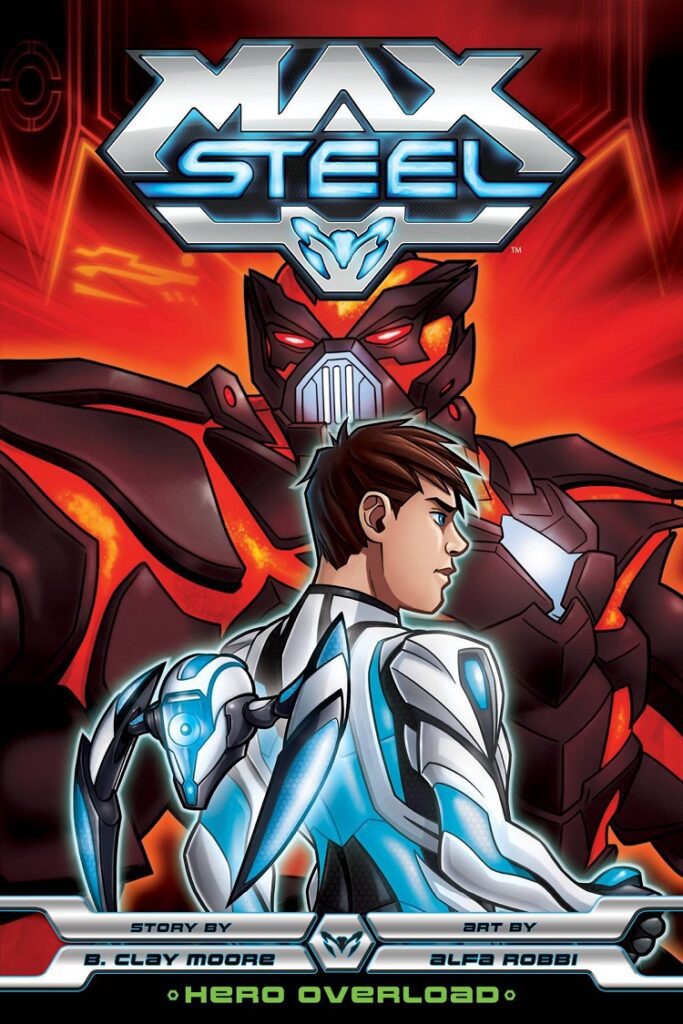 Originally based on a line of toys produced by Mattel, Max Steel became an animated series made for television. Just last year, the show was rebooted and is currently running on the Disney XD channel. This current version is what this graphic novel is based on.
Max McGrath is a 16-year-old high school student whose parents are both scientists. His father dies during some mysterious experiment leaving him to be raised by his mother. As he gets older, he finds that for some reason he is emitting Turbo energy, something so powerful that if he doesn't release it from time to time, it could kill him.
In order to keep this from happening, his uncle, who is running a secret organization called N-Tek, which is supposed to watch over the safety of the planet, introduces him to Steel, an artificial intelligence of unknown origin that uses Turbo power as an energy source. Not only does Steel feed off Max's Turbo energy, but he becomes a powerful suit of armor that transforms them both into the superhero Max Steel.
In this 62-page graphic novel, Max finds himself up against two of his greatest enemies, Extroyer and Dredd, which has almost become routine to him. But what is out of the ordinary in these confrontations is that a trio of armored heroes, Knockout, Quickfire, and Power Wing, have shown up at the scene to assist him.
Wary of these new crime fighters, Max is at first reluctant to take their assistance and hesitant in regards to their motives. Eventually after several run-ins and after speaking with them ,he comes around and begins to mentor the three new upstarts.
Soon after teaming up, Steel begins having strange power fluctuations and is unable to complete the transformations as he previously could, leaving them both vulnerable during the battles. Max and Steel must quickly figure out what is going wrong as Dredd has launched a full out assault on the city.
While most people who are not familiar with Max Steel would initially be confused about the characters, the writers made it a lot easier by starting with a two-page biography of the major characters along with some background information that prepares the reader for the upcoming story. The artwork and storyline are consistent with the current television series, easy to read and visually enjoyable for readers of any age.
It's very easy to see Hero Overload as another episode. It introduces some interesting new characters that are a nice addition to the Max Steel universe. They would make for some exciting future team-ups if they can fix the power issue, which could be easily done if they borrowed a little from Max.