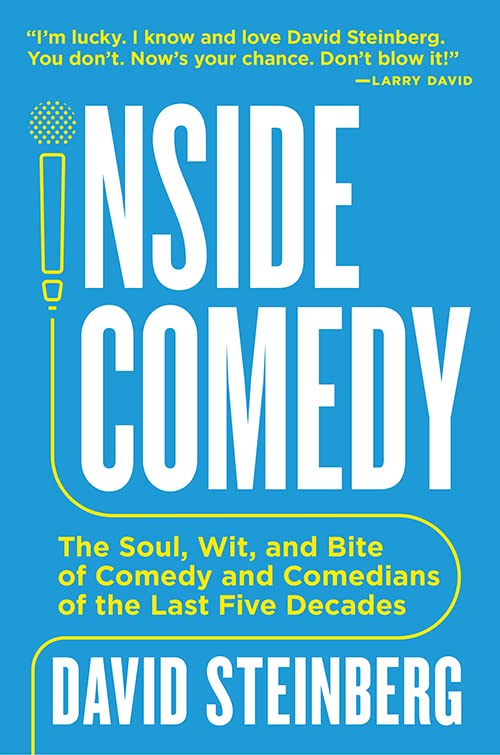 David Steinberg is a man of many talents. He performed improv at Second City before becoming a stand-up comedian known for his semi-improvisational pieces concerning the main characters of the Old Testament. He directed episodes of TV shows including Seinfeld, Weeds, and Curb Your Enthusiasm. He has also directed movies for the big screen such as Paternity (1981), Going Berserk (1983), and The Wrong Guy (1997). He appeared on Johnny Carson's The Tonight Show as a comedian and as a guest host 140 times (second only to Bob Hope). He also hosted several TV shows including Inside Comedy where he would interview comedians each week to get their insight into the craft. Through all of this, David Steinberg has also been writing and now gives us the book Inside Comedy: The Soul, Wit, and Bite of Comedy and Comedians of the Last Five Decades published by University Press of Kentucky.
The narrative is mostly chronological. It starts briefly with David Steinberg's childhood and education to his rather quick rise to Second City. Then comes improvisational stand-up, to his first time on Johnny Carson and his quick rise up the ranks from there. Steinberg wrote and performed on The Smothers Brothers Show, and is credited with the reason they were fired by the network for trying to air one too many religiously themed improvisational sketches.
The book then turns into a who's who of comedic performers, and Mr. Steinberg appears to have met most of them. The second two thirds of the book work best when giving us personal anecdotes that we haven't already seen on the show also named Inside Comedy. Especially funny and insightful are his extended discussions of the likes of Tim Conway and Robin Williams (with whom David Steinberg toured exclusively for two years). His friendship with Groucho Marx also gets extensive coverage. This section of the book can sound familiar at times if you have seen the show. For instance, nothing new is revealed about Don Rickles, and his main anecdote about Frank Sinatra believing that a thunderstorm is actually a group of pestering paparazzi has been told many times on many shows through the years.
The largest section of the book is the last chapter, "Actors as Comedians, Comedians as Actors." By way of introduction, Steinberg tells us, "It is really, really difficult to be a comedian. It takes particular skills and passions, and when you have those skills, when you are able to transfer that comic talent to dramatic acting, also a difficult talent and skill, and do it so well that you become celebrated and awarded for that talent, that is magic. And rare." He then proceeds to spend a hundred pages regaling us with comic actor after comic actor with funny tidbits about the likes of Julia Louis-Dreyfus, Albert Brooks, Wanda Sykes, Jon Stewart, Sarah Silverman, and many, many more. Most of these stories are entertaining, but they really shine when they are about the author's close Canadian friends such as John Candy.
University Press of Kentucky always puts out a good product with quality materials and strong editing. All their books are recommended; however, start with Inside Comedy if you are a fan of David Steinberg or charmed by American/Canadian comedy of the last half century.