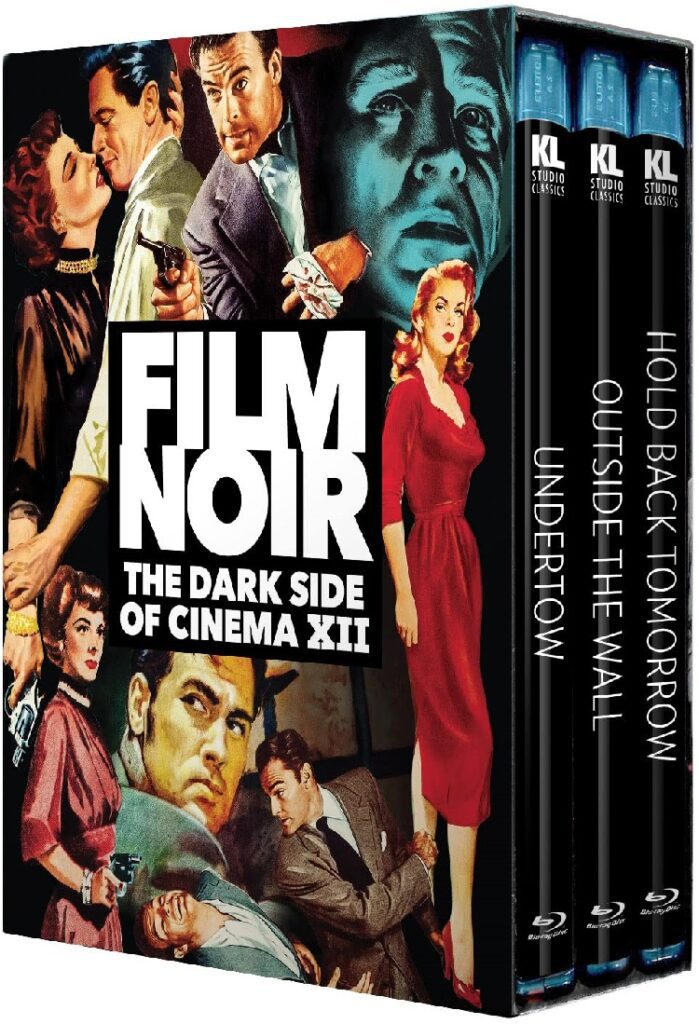 The thing about film noir is that it was mostly a B-movie genre. For every noir with A-list stars, directors, and large budgets, there were dozens and dozens of no-budget films with no-named stars and quickly dashed-off plots. Universal Studios cranked out low-budget B-Movies at a steady pace from the late 1940s through much of the 1950s, many of which are now categorized as film noirs. Kino Lorber continues to put out these films in their The Dark Side of Cinema series.
As per usual with these sets, this one includes three films – Undertow (1949), Outside the Wall (1950), and Hold Back Tomorrow (1950). None of them are classics, and their plots are all pretty standard noir stuff, but they get the job done.
Undertow (1949) is the best of the three. It begins with Tony Regan (Scott Brady), a man with a shady past who made good by joining the military, returning home to Chicago to propose to his gal Sally Lee (Dorothy Hart). As he gets off the plane, he is picked up by the cops. It seems they were given an anonymous tip that Regan has returned to Chicago in order to kill Big Jim, the Syndicate's top man. Regan used to be a low-level associate but was kicked out when he started dating Sally Lee, who is Big Jim's nice. Regan planned to talk to Big Jim and win back his good graces, but either way, he and Sally Lee plan to get married and move to Utah where Regan owns part of a mountain resort.
On his way to Big Jim's house, Regan is knocked out, shot, and then thrown into a crashed car – all of which is a frame-up for Big Jim's actual murder. With the cops hot on his trail, Regan must solve the case before he's captured and tried for it. A lot of Undertow acts like a police procedural, but there are some great noir trappings as well. It is filled with shadowy lighting, it digs into the shady underbelly of the city, and there's even a femme fatale of sorts. But it isn't as fatalistic as some of the best noirs are and the film gives Regan a true love interest who helps him with the case. Wililam Castle, king of the efficient low-budget movie, directs and a young Rock Hudson has a small role.
Outside the Wall (1950) is a pretty standard "ex-convict tries to make his way in the real world" story. It doesn't do anything particularly new with the concept, but it does it well. Larry Nelson (Richard Basehart) has been in prison for the entirety of his adult life for a murder he committed as a teenager, but after serving 15 years, he finds himself paroled. Big city life is too hurried and confusing (he once finds himself completely lost on how to cross a busy city street) and so he finds a job working in a country sanitarium.
Things go well there until an old gangster from his past shows up. He wants Larry to help out with some stolen goods. At first, Larry refuses, but when the attractive blonde nurse (Marilyn Maxwell) turns him down for a date because he's got no money, he agrees to take the job. Naturally, things go poorly for our hero from there.
The film is very slow to get moving, it takes its time to set Larry's story up, but once he gets involved in crime, things get good. Harry Morgan does a nice turn as the mob boss. There is some nice on-location shooting in Philadelphia. As Larry gets himself deeper and deeper into trouble the film lays on the noir atmospherics thicker and thicker. If you can get past the first half hour or so, you'll find a pretty terrific little crime thriller.
Hold Back Tomorrow (1955) is the least noir-ish of the three films and the most obviously low-budgeted. It almost entirely takes place in the prison cell of Joe Cardos (John Agar) who was convicted of strangling several young women and is set to be executed the following day. When the warden tells him he'll basically grant any wish he desires, Joe asks for a pretty girl to keep him company. Surprisingly, the warden agrees. Unsurprisingly, he finds it difficult to find a woman willing to spend the night with a convicted murderer.
Eventually, he finds Dora (Cleo Moore), a prostitute who is seen throwing herself into the river in order to kill herself at the beginning of the movie (the film is most noir-like at this point with some great lighting and the fog rolling in across the set). She agrees to talk to Joe and they spend the rest of the film doing just that. Honestly, I found the conversations to be rather dull. She's sad and apologetic that she's maybe not as beautiful or bubbly a girl as Joe might have wanted. He's sullen and angry. Slowly, they both soften up and learn to take comfort in one another. It is fine for what it is, which is low-budget, B-movie dialogue. Cleo Moore manages to sell it better than the dialogue is worth. She's quite terrific as Dora – vulnerable and tough, sad but with inner strength. She makes the movie well worth watching.
Kino Lober Studio Classics presents these three films with new 2K masters and they all look quite good. Extras include a variety of trailers and new audio commentaries for Outside the Wall (from author/film historian Alan K. Rode ) and Undertow (from Scott Brady's son Tim Tierney and professor/film scholar Jason A. Ney)
I don't know how long Kino Lorber will continue making this Film Noir: The Dark Side of Cinema series, but 12 sets in and I'm still watching and loving it.