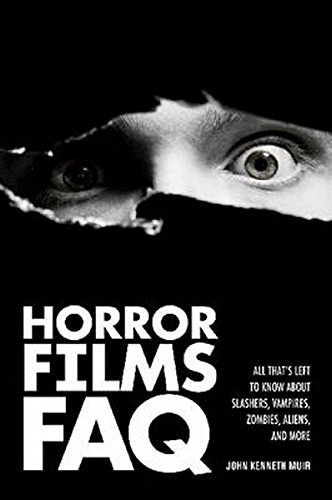 The FAQ series from Applause Books has devoted editions to pop culture staples like Kiss, the Beatles, Star Trek, and the Three Stooges. One of the publishing house's latest releases tackles a much broader subject – horror films. Written by pop-culture critic John Kenneth Muir, whose previous books include Horror Films of the 1970s and The Encyclopedia of Superheroes on Film and Television, Horror Films FAQ explores horror films by format and decade.
Each chapter is dedicated to a horror film type, with mini-essays about classics and underappreciated films. In the chapter "The Night Has Its Price," Muir examines vampire films including Anne Rice's homoerotic Interview with the Vampire, the blaxplotation vampires of Scream Blacula Scream and 1987's vampire/Peter Pan mash-up Lost Boys. No, Twilight is not covered.
The omnipresent zombie genre is represented by all of Romero's films, the 1932 classic White Zombie, and Wes Craven's The Serpent and the Rainbow. An entire chapter is dedicated to adaptations of Stephen King films. (Anybody remember Sleepwalkers?), and Muir pays homage to top horror directors near the beginning of the book.
Evil children, aliens, boogeyman (Freddy Kruger, Pinhead, Michael Meyers, The Tall Man in Phastasm, etc.), serial killers, horror-comedy (Shaun of the Dead, Return of the Living Dead), torture porn, and slasher films are just some of the other formats covered in the book.
Horror Films FAQ gives a good overview of the history of the genre. While some of your favorite films may be missing from the book, there's enough here to sufficiently cover every format. Certain chapters are a bit heavy on post-2000 films; I would have enjoyed more essays about lesser-known 1950s-1980s horror films.
You don't need to be a film scholar or even a horror film buff to enjoy the essays in Horror Films FAQ. Written in a thoughtful but accessible manner, they cite the political, psychological, and social messages behind the films. Horror Films FAQ is the thinking person's guide to horror films. It is illustrated with black and white photos and film stills, and includes a foreword by X-Files producer Chris Carter.