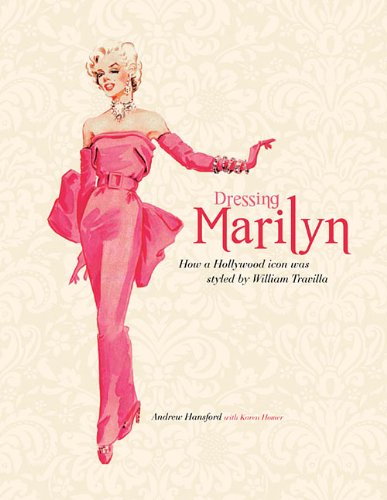 Andrew Hansford's Dressing Marilyn: How a Hollywood Icon Was Styled by William Travilla comes to sartorial aficionados, film fans, and pop-culture diehards amid a veritable Marilyn renaissance. Hot off the heels of last year's Academy Award-nominated My Week with Marilyn and just before the Hollywood Museum's extensive Marilyn Monroe memorabilia exhibit at its Hollywood, California, location in May, Dressing Marilyn successfully fills a niche in an otherwise oversaturated market.
After revealing how he fell into his current role as curator of award-winning costume designer William Travilla's estate and archive, Hansford offers a Briton's take on visiting Hollywood for the first time in the somewhat disjointed introduction, followed by a compelling but frustratingly abbreviated biography of Travilla's career. The subsequent pages of the book are categorized by famous (and infamous) dresses Monroe donned throughout her career, with some personal dresses and honorable mentions at the end. In addition to the Travilla Archive's collection of dresses, patterns, sketches, personal diaries, and tapes, Hansford relies on newspaper articles and television interviews to round out this colorful account of how one rather guarded, limelight-weary but incredibly witty gentleman created the look for the iconic images of Marilyn Monroe that are forever burned into our collective memory.
Film buffs may find Hansford's discussions of Monroe's film canon and of old Hollywood a bit wanting. However, what the book lacks in cinefile-wooing material it makes up for with comical and heartwarming human-interest stories about Monroe, Travilla, and their inner circle during their years of collaboration. There are accounts of squabbles over appropriateness (and how Marilyn's risk-taking could sometimes win out over Travilla's respectable taste), a pre-Joe DiMaggio love affair between the designer and star, and plenty of touching recollections about how Marilyn Monroe—the tenderhearted woman, not the star—could make the individuals she adored feel like one in a million. The book is also full of Travilla's truly fabulous sketches, most in Monroe's likeness, as well as close-up photos detailing the intricate beading, seam work, and pleating that made his dresses so popular among Hollywood's biggest stars.
The most valuable information readers will take away from this 192-page tome, though, is insider knowledge about Travilla, an unsung hero of the film industry who dressed about 270 stars and designed for 60-plus films and television series. Without the man whose black-velvet paintings were discovered by Ann Sheridan in a Don the Beachcomber restaurant where they were on display, there would be no image of Marilyn Monroe in a white pleated dress blowing upward as if it were engineered that way. He dressed female stars in his image of how they would be received best by the public at a time when there were stars, not celebrities, to paraphrase Travilla's longtime business partner Bill Sarris. And he rode the Hollywood rollercoaster, disembarking after several industry ups and downs as a highly esteemed craftsman and image maker, who up until this point, no one knew very much about. Hansford tells Travilla's story in a lighthearted, accessible way. But after you realize the extent of this design genius' career, you'll definitely yearn to know even more about him.