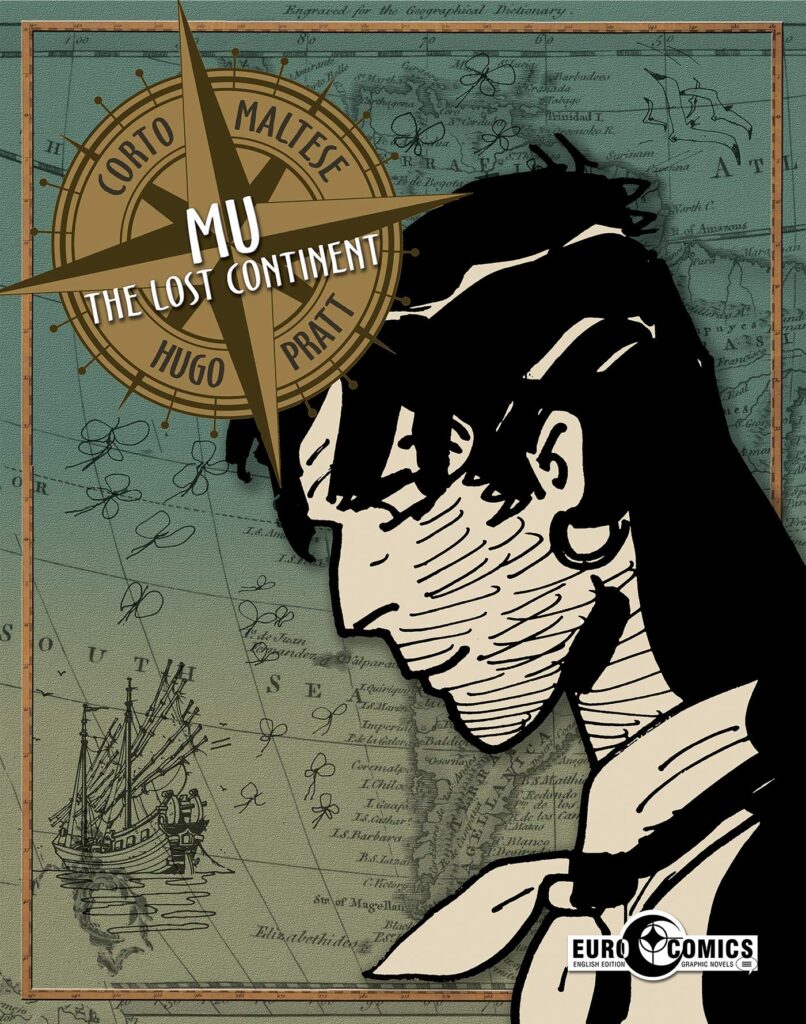 Italian comics star Hugo Pratt led a life that was nearly as adventurous as his most famous character, Corto Maltese. Starting at the astonishing age of 14, he was enlisted in the colonial police force while his family was stationed in Abyssinia, exposing him to various situations, cultures, and religions that would have been unthinkable for a typical schoolboy. He lived on three continents in his lifetime and was an avid traveler, shaping his world view as he crafted the wild tales of Corto Maltese. Hailed as the "inventor of the literary comic strip," Pratt's work is still in high demand today, more than a quarter century after his death.
After over twenty years of writing and drawing the adventures of Corto Maltese, Pratt wrapped up the series in this final volume. Maltese is an adventurous sea captain exploring around the world in the early twentieth century, occasionally encountering real historical figures as well as recurring fictional characters. In this final volume, he sets out to find Mu, otherwise known as Atlantis, the lost continent. Along the way, he runs across familiar characters from his past such as the murderous Russian named Rasputin, with the book serving as a curtain call for his cast of acquaintances.
The book starts out with a surreal undersea sequence where we're left questioning if any of it is real or just Maltese's fever dream. There's lots of dialogue, but the panels and word bubbles are laid out in such a way that we don't know if it's being spoken by fish, Mayan paintings, or voices conversing in Maltese's head, immediately announcing that we have no idea what's in store for us as the story unfolds. It's a bold start to a wild journey that finds Maltese searching the seas for Mu and its fountain of youth. That dreamlike aura hangs over the rest of the tale to such an extent that by its conclusion, even Maltese isn't sure of what he's encountered, remarking in the final panels "I think a lot of things happened…but I don't have a very clear picture of it all".
There's a certain fluidity and simplicity of line that occurs with many veteran comic artists, and Pratt is no exception. Here it's as if he's abandoned any attempt at draftsman-like craft and boiled his art down to its purest, most expressive substance, with thick brush lines and very little background detail. For example, note Maltese's seemingly scribbled-on face stubble and shading on the cover image, as if he just haphazardly added it with a marker as an afterthought. And yet, his artwork is no less effective than the finest perfectionist, with his broad strokes fully supporting the adventure of Maltese's search for the riches of Atlantis.
IDW Publishing's EuroComics imprint commissioned a brand new English translation for this edition from Pratt's original Italian scripts, and while I have no reference point for prior translation, this version does a fine job of conveying the occasionally surreal tale. However, the word bubbles frequently have lots of empty space, so either this translation finds more concise ways to say things or the font size could have been enlarged to better utilize the available real estate. The generous 11.5" x 9.25" page size ensures that Pratt's artwork can be fully appreciated, and the heavy weight of the acid-free paper marks this as an archival art object. The thick paperback cover has fairly rare full-size flaps that reach all the way back to the spine, in effect making a 2-ply cover that's nearly as sturdy as a hardcover. It's a high quality product sure to be a handsome addition to the shelves of discerning collectors.