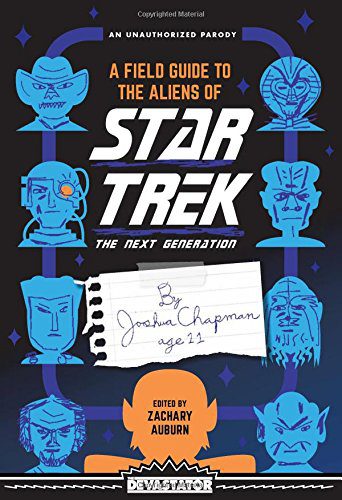 It's rare these days to get your expectations exceeded. Even rarer is to come upon a treasure that elicits both joy and sorrow. This happened to Zachary Auburn and will happen to everyone who ventures into the world of Joshua Chapman and his Field Guide to the Aliens of Star Trek: The Next Generation. In the field guide, which hit shelves on September 12, we learn how Zachary Auburn discovered the works of young Chapman and his incredible efforts to share said works with the world.
As a fan of Star Trek, I was mildly interested when hearing of A Field Guide to the Aliens of Star Trek: The Next Generation. My expectations were that of having the opportunity to learn more about the imaginary aliens introduced on Next Generation. My expectations were exceeded as I received insight into a life I could not imagine. I received a journal so compelling I could not put it down, and once I finished it, I could not stop talking about it. Admittedly, part of me felt that perhaps I had read something too private to share. I was exposed to an issue in a way that would have made Gene Roddenberry proud. I went looking for aliens and found something alien to most. I found the uninhibited honesty of unvarnished youth as our author shares his insights not only into the characters on Next Generation, but more importantly, his own tragic life.
Chapman started the field guide as a seventh-grade creative-writing project. It became much more. As we delve into the aliens of season one of the series, it's easy to dismiss the cursive writing and simplicity of the rating system. Luckily, it does not take long to appreciate Chapman's raw analysis of the storytelling found in the series as well as his blunt honesty, colorful phrases, and the humor associated with both. As we go from alien to alien, we slowly realize that our young author plans to share much more than his thoughts on a television series.
With season two, we get typed pages which makes it easier to pour through these words looking not only for the descriptions we have come to enjoy, but for more information about the life of a young man we have quickly come to care about. After seven seasons and the corresponding years for our author, we find ourselves encased in a time capsule. A pleasant place for us to recall that period in our own lives, but painful to share with someone we can't help.
Gene Roddenberry brought many social issues to light within the stories of Star Trek, but Joshua Chapman takes us where no Trek episode has gone before. Zachary Auburn does manage to conduct a disturbingly awkward interview with Chapman in the end, but it fails to bring us the peace or resolution we are looking for.
Recommendation: SPOILER ALERT!
It was not until after I had read the book and composed the majority of my review that I discovered that Joshua Chapman and his respective journey was all the creation of Zachary Auburn. My initial reaction was one of great disappointment as well as a feeling of being cheated. After some thought, I chose to leave my review as originally written.
This remains an amazing piece of work. Auburn creates a story that is immediately and consistently engaging. A story within a story that ultimately we don't want to be true, yet one we can't help but share. I did indeed share the book with a friend who discovered halfway through that it was all the work of Auburn. He chose not to finish it.