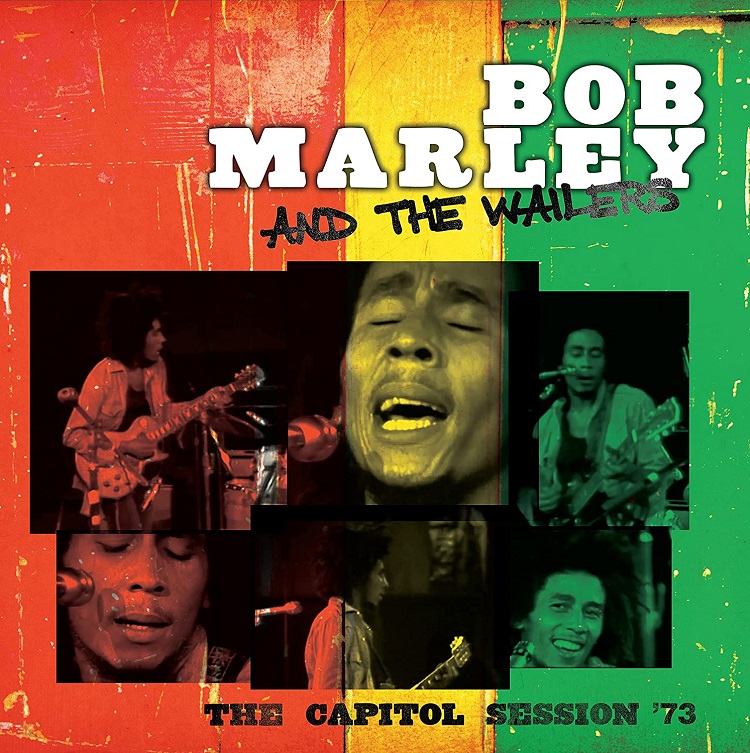 Tuff Gong and Mercury Studios present Bob Marley and the Wailers: The Capitol Session '73 (although known as The Wailers at the time until Peter Tosh left the band the following year) on DVD+CD, standalone CD, 2LP pressed on green marble vinyl, 2LP pressed on Rasta swirl vinyl (red, yellow and green – available exclusively at Sound of Vinyl), and digital formats.
Recorded by producer Denny Cordell, who also produced Procol Harum's "A Whiter Shade of Pale" and Joe Cocker's "With a Little Help From My Friends," this was a closed-door session performed at The Capitol Records Tower on October 24, less than week after their album Burnin' was released. This live album contains 12 tracks, running just over an hour 61 min. In addition to Marley and Tosh on vocals and guitar, the rest of the band is comprised of brothers Aston "Family Man" Barrett (bass) and Carlton Barrett (drums), Earl "Wya" Lindo (keyboards), and their former vocal coach Joe Higgs on conga drums and backing vocals in place of Bunny Livingston, who left the band back in April.
The set opens with "You Can't Blame the Youth," written and sung by Peter Tosh, which the Wailers didn't record but played at concerts. It has powerful lyrics about not blaming the students for what little they know when the schools teach that people like Christopher Columbus and Marco Polo are great men, yet they were "robbing, raping, kidnapping, and killing. Tosh would later sing lead on his "Stop That Train."
The other 10 songs are divided evenly from Catch A Fire and Burnin'. They succeed because the music is as captivating as the stories of Jamaican life Marley sings about. The Barrett brothers are a steady rhythm section, laying down catchy grooves that anchor the band throughout the set. Lindo's keys on "Burnin' & Lootin'" are a particular highlight. Marley doesn't reach the heights of ecstasy captured in other live performances, likely due to having no audience energy to feed off of, but he still engages the listener. The set concludes with an extended version of the anthemic call-to-arms "Get Up, Stand Up," which has marvelous vocal interplay between the singers.
The Capitol Session '73 is a wondrous gift from the past and highly recommend for Wailers fans. The CD comes with informative liner notes by author John Masouri. It's a shame no one else made the cover.
Listen to "Stir It Up":