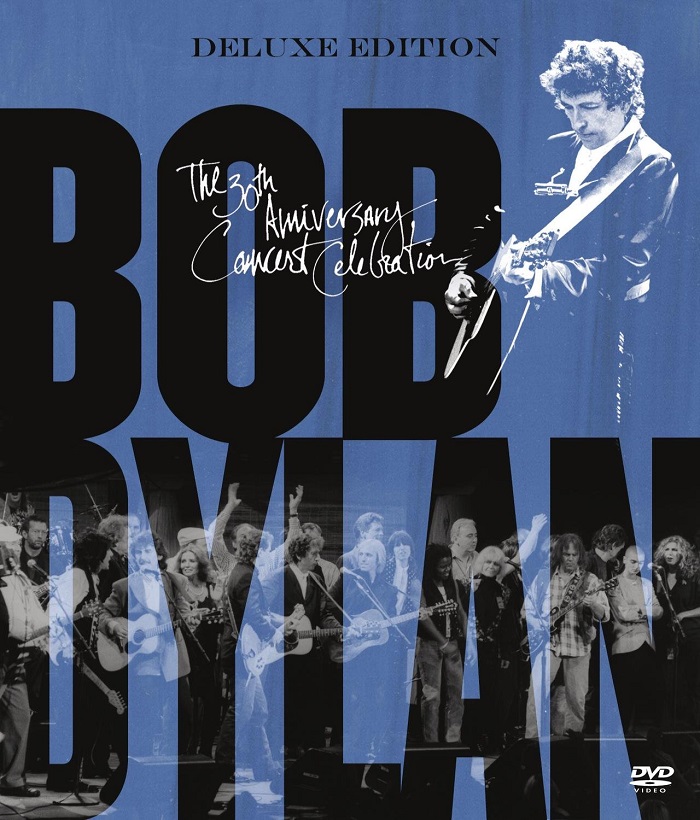 The 1980s were not particularly kind to Bob Dylan. There were a few highlights including successful tours with Tom Petty and the Grateful Dead (though that grouping has plenty of detractors, the recordings present plenty of great grooves) and 1988 saw the beginning of what is now known as the Never Ending Tour, which has produced many of Dylan's greatest performances ever. His work with the Traveling Willburys was good and Oh Mercy is a stand-out. But mostly it was a tough decade with rambling, incoherent albums and a great decline in relevancy in popular culture. The beginning of the '90s didn't fare much better, seeing the release of Under the Red Sky (which, while featuring the likes of Jimmie Vaughan, Slash, Elton John, and others, somehow came out as one of his worst albums.)
You can hardly blame Columbia Records for trying to send a little juice into what looked like a dying career. Ostensibly to celebrate the 30th anniversary of Dylan's first commercial record (but likely a last-ditch effort to create some relevancy on the artist), the label thew a star-studded bash at Madison Square Gardens and broadcast it worldwide on pay-per-view.
It's funny now, some 22 years in the future, to think about Dylan then in what seemed like the end of his career and realize that in fact, this was more of a mid-career slump. That Dylan would go on to record such records as Time Out of Mind, Love and Theft and continue to tour well into his 70s, seems nothing short of a miracle seen through the eyes of 1992.
But whether it was meant as a career-ending bash, or a mid-life highlight there is no doubt that The 30th Anniversary Concert Celebration was one heck of a killer party. The line-up is one of the greatest collections of artists ever put on a single stage. There's classic rockers like Lou Reed, Eric Clapton, and Neil Young; country superstars like Willie Nelson, Johnny Cash, and Mary Chapin Carpetner; and young'uns such as Eddie Vedder, Sinead O'Connor, and Tracy Chapman. Oh, and then you've got folks like the Clancy Brothers, Stevie Wonder, and Richie Havens filling things out. And the list goes on.
The back-up band for the night was Booker T and the MGs with G.E. Smith serving as musical director. It really doesn't get much better than that. Except at the end when everybody gets on stage with Bob Dylan himself to sing "Knockin' On Heaven's Door."
The only trouble with such a show is that there are so many different performances by so many different people coming and going on and off the stage that its difficult to create any sort of cohesive creative flow. The most any particular artist performs is two songs with most only onstage for a single song. You can't really get your groove on in such a limited time. For those in the audience it must have been a bit of a drag having to wait who knows how long between each performance so that the next artist could get set-up. Lucky for us most of that wait time has been edited out, but it still feels a little disjointed going from song to song.
There are also a few songs missing. It makes a certain amount of sense that in the original VHS and cassette release they might cut a few things to make the show fit within limited space but with this new DVD/Blu-ray release it now seems rather stupid. The liner notes indicate that Dylan's performance of "Song To Woody" is not included due to technical problems, but there are half a dozen other songs (including one by George Harrison which is particularly disheartening as he performed so little in his later years) that just don't make sense to exclude.
Really, though, these are minor complaints because what we do have is universally excellent. There isn't a bad song on here. The tunes range from the major hits such as "Like a Rolling Stone" and "The Times They Are A-Changin'" to the absurdly obscure like "Foot of Pride" and "Seven Days," which is nice as it really becomes more of a real retrospective.
Highlights for me include Stevie Wonder turning "Blowin' in the Wind" into a gospel number, June Carter Cash letting it all hang out along with Johnny on "It Ain't Me Babe," and the Clancy Brothers (along with Robbie O'Connell and Tommy Makem) bringing Celctic sounds to "When the Ship Comes In." Then there's Eric Clapton's powerhouse blues take on "Don't Think Twice, It's All Right," and The Band's absolutely gorgeous version of "When I Paint My Masterpiece." I'd be remiss if I didn't mention George Harrison's lovely rendition of "Absolutely Sweet Marie" which turned out to be his last public performance.
But again there really isn't a bad song on here. Everyone performs at the top of their game. The low-light of the show has to be Sinead O'Connor nearly getting booed off the stage. The show came not long after she controversially ripped up a picture of Pope John Paul II on an episode of Saturday Night Live. She came to perform "I Believe In You" but after several minutes of abuse she launches into an a cappella version of Bob Marley's "War." The whole ordeal is hard to watch. She stands there for several minutes, eyes full of hurt and anger before she spits out the Marley tune. The band for its part tries to play the Dylan song, but she's having none of it. At one point, Kris Kristopherson comes out and whispers in her ear. Her performance is mercifully short and full of bitterness, but it's all such a shame. Included on the DVD and Blu-ray is a rehearsal version of "I Believe in You" and it's just gorgeous. It would have been so appropriate too as the lyrics speak of standing up to adversity. Oh well.
Everyone else is well received though and it's a real pleasure to watch and listen to so many great artists pay tribute to one of the all-time greats. This is the first time the concert has been released on DVD and Blu-ray. The video has been upgraded from a newly found Japanese high-definition recording (they were early adaptors to the format.) Bonus tracks on the DVD include previously cut performances by John Mellencamp, Nanci Griffith with Carolyn Hester, and Booker T & the M.G.'s. There's also some back-stage and rehearsal footage, which is nice but edited so that you never get much more than a few seconds of any performance.
Planned as a career-ending capstone, The 30th Anniversary Concert Celebration wound up being simply a bright spot in the middle of Bob Dylan's astonishing career. Only Dylan could get so many talented artists to come together and create such incredible music together. This newly reissued package brings it all together beautifully.