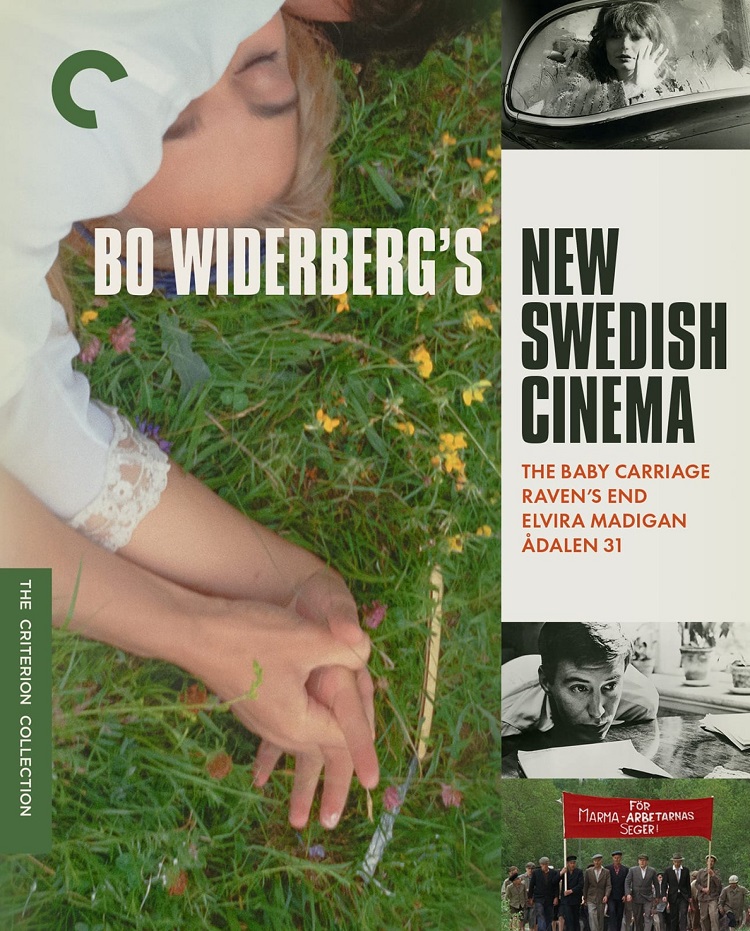 There are always new filmmakers to discover: filmmakers who craft realistic stories about humanity and the joys and pains that come with it. And late Swedish director Bo Widerberg (the polar opposite of Ingmar Bergman) seem to have broken through with poetic but also social realist films to show a different side of Sweden that may not be particularly well-known to many film buffs.
The four films included this brand-new box set from Criterion: The Baby Carriage (1963), Raven's End (1963), Elvira Madigan (1967), and Adalen 31 (1969) sound modern and prevalent, and seem to successfully reflect on ordinary people, such as factory workers, disillusioned but ambitious writers, circus performers, and teenagers caught in crossfires of love and violence.
The supplements also sound worthy. They include a new introduction to director Bo Widerberg by filmmaker Ruben Östlund; new interviews with actor Tommy Berggren and cinematographer Jörgen Persson; The Boy and the Kite (1962), a short film by Widerberg and Jan Troell, with an introduction by Troell; Swedish television interviews with Widerberg from the 1960s; behind-the-scenes footage from the making of Elvira Madigan. There is also an essay by film historian Peter Cowie and excerpts from Widerberg's 1962 book Vision in Swedish Film.
I have to admit that I never heard of Widerberg until this release, but his work sounds incredible, nonetheless. So, I am looking forward to this release, and if you're looking for something new to add to your collection, then this box set could and should be a great one for you.
Other notable releases:
The Nightmare Before Christmas (Disney): a brand new 4K release of Tim Burton's groundbreaking stop-motion masterpiece about Jack Skellington, the king of Halloween Town, who has become bored with the same annual routine of frightening people in the "real world". But when he accidentally encounters Christmastown and finds a new lease on life, he plans to kidnap Santa Claus.
Coma (Scream Factory): A new special edition of Michael Crichton's 1978 thriller starring Genevieve Bujold as a young doctor who uncovers a disturbing conspiracy after witnessing an increasing amount of comas in the Boston hospital she works at.
Hardcore (Kino): Paul Schrader's devastating 1979 drama starring the great George C. Scott as a deeply religious Midwestern businessman who ventures into the dark underworld of pornography in California to look for his runaway teenage daughter who is now in porn.
Pretty Baby (Kino): Louis Malle's highly controversial 1978 drama starring a young Brooke Shields as a pre-teen girl growing up in a New Orleans house of prostitution during the 1910s.
You Hurt My Feelings: Nicole Holofcener's newest comedy about a writer (Julia Louis-Dreyfus) whose marriage is in crises after her husband (Tobias Menzies) gets brutally honest about her work.