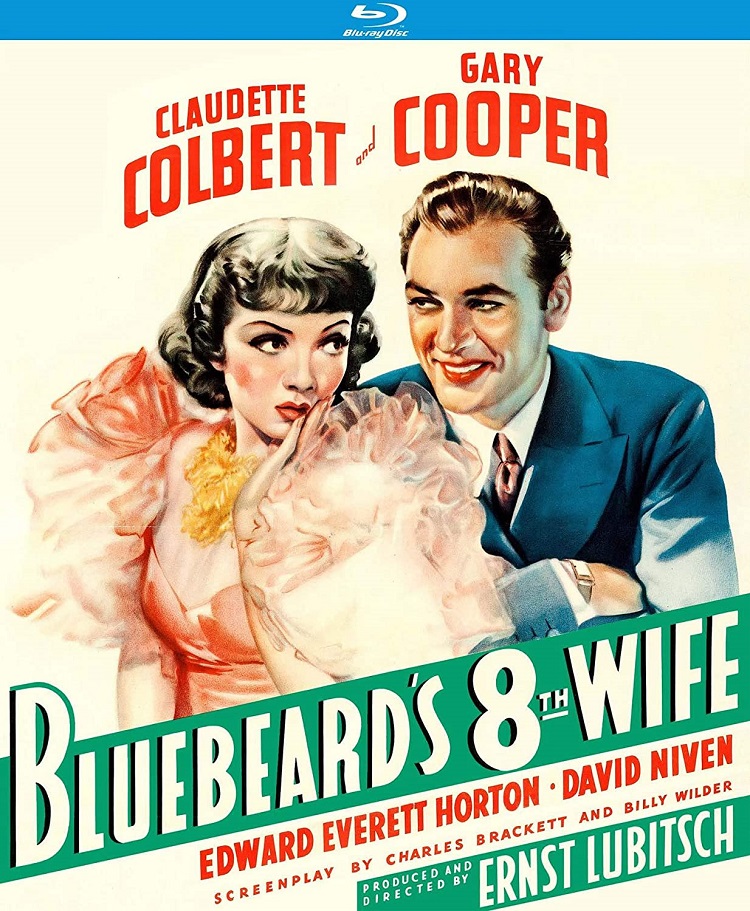 Kino Lorber has just released Bluebeard's Eighth Wife, starring Claudette Colbert and Gary Cooper. Made in 1938, the screwball romantic comedy was directed and produced by Ernst Lubitsch (Ninotchka, The Shop Around the Corner, To Be or Not to Be). Starring Claudette Colbert and Gary Cooper, the film also features the first screenplay collaboration of Billy Wilder and Charles Brackett (Some Like it Hot, The Lost Weekend, Sunset Boulevard), who worked together from 1936 to 1950.
In Bluebeard's Eighth Wife, millionaire Michael (Gary Cooper) pursues Nicole (Claudette Colbert) all over the French Riviera. Nicole is also adored by Albert (David Niven), who happens to be Michael's employee. Claudette looks great in a succession of fabulous outfits designed by Travis Banton – from a tropical-themed bathing suit to one amazing gown after another. Michael and Nicole seem perfect for one another and quickly plan to marry. There's just one hitch – Michael has neglected to tell Nicole about his previous marriages – all seven of them. Even though Michael proposes a pretty generous settlement in case things don't work out (sounds like a pre-nup, and it always worked for him before), Nicole isn't thrilled. She intends to marry him for keeps, and proceeds to come up with one scheme after another, in typical screwball comedy fashion, to break him of his multi-marrying ways.
The film is a fun romp. It starts off with a meet cute in a department store over a pair of pajamas – Micahel wants the tops, Nicole the bottoms. Nods to Shakespeare's Taming of the Shrew are also front and center, but the viewer can't help but discern that the charming David Niven would have been much more convincing in the Bluebeard role. Classic film comedy character actors show up in supporting roles: Edward Everett Horton as Nicole's aristocratic but broke father and Franklin Pangborn as a hotel manager. Modern viewers will be amused by all the "exotic" locations featured in the film, as cast members stroll and frolic in front of obvious rear-projection of Riviera beaches, as well as Nicole and Michael's whirlwind rear-projection honeymoon to Czechoslovakia, Venice, and Paris.
Blu-ray extras include an audio commentary by film historian Kat Ellinger, as well as multiple trailers for upcoming classic films from Kino Lorber Studio Classics, many of them featuring Colbert or Cooper, including Since You Went Away, The Lives of a Bengal Lancer, Beau Geste, Separate Tables, Man of the West, and A Foreign Affair.
The B&W film has an 85-minute running time. The aspect ratio is 1.37:1 (Original aspect ratio), with a resolution of 1920x1080p. English SDH subtitles are available.