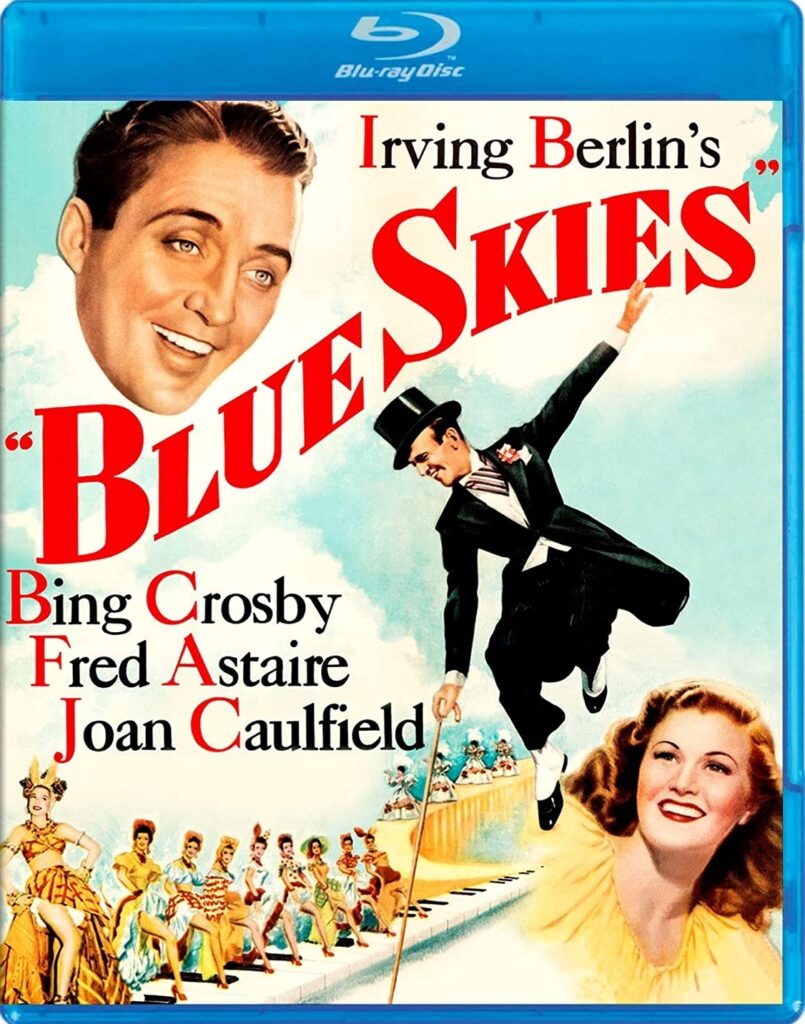 While most musicals would be lucky to have one of the three powerhouses featured in Blue Skies, this film suffers from an embarrassment of riches with the dream pairing of Bing Crosby and Fred Astaire in a production featuring 30 Irving Berlin songs. Reuniting again in the wake of the massive (and enduring) success of Holiday Inn, the two leads and their legendary songwriter contribute to spin a generic Broadway yarn about two performers competing for the affections of the same co-star, Mary O'Hara (Joan Caulfield). And unlike Holiday Inn, it's in color!
Mary eventually marries Johnny (Crosby), but he's more interested in buying and selling nightclubs than settling down, leading his friend and performing partner Jed (Astaire) to try to win her heart. The film has a framing device of Jed recounting the tale to a radio audience years in the future, with Johnny also on hand without Mary, leading us to wonder what happened to her as the story unfolds.
Caulfield is about as bland as can be, an average talent whose primary qualifications seem to be her blonde hair and blue eyes. Far more entertaining is another co-star from their nightclub shows, the vivacious Puerto Rican, Olga San Juan, playing the character of Nita Nova. She almost steals the show in her spirited performances, and it's distressing that she had such a brief and minor Hollywood career, but at least her magic is captured in this film. There's also a male counterpart co-star for her played by Billy De Wolfe, funny enough in his interactions with his co-stars but an absolute bomb in his painfully overlong comedic solo performance.
Crosby and Astaire are delights performing solo and together, and the film doesn't skimp on stuffing in as much performance time for them as possible, making this even more of a showcase for them than Holiday Inn. The Irving Berlin songs are great, even the brief recycle of White Christmas, and the bland and sparse story intrudes just enough to make us care about the satisfying conclusion.
The new Blu-ray is produced from a brand new 2K master and newly remastered audio. The film shows some minor imperfections so hasn't been restored very thoroughly, but colors remain tightly consistent throughout scenes and titles have been adjusted to remove any shakiness. There are no bonus features about the film aside from a commentary track, but trailers for other Kino Lorber releases are included.