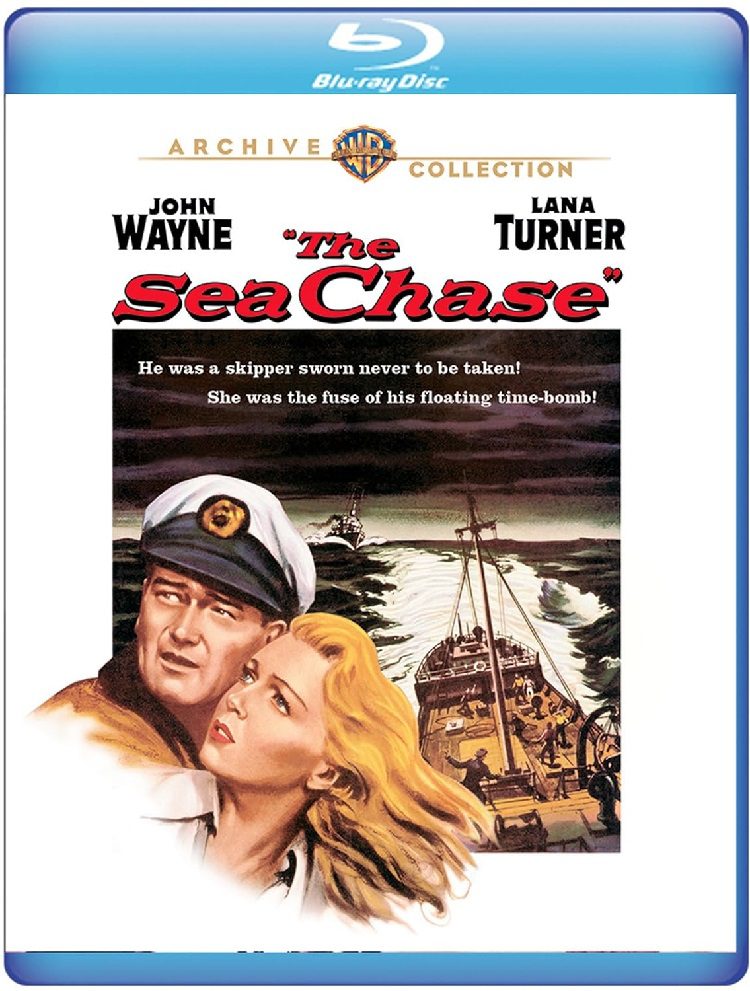 Following in the wake of the Warner Archive Collection's 2016 debuts of John Wayne's They Were Expendable and She Wore a Yellow Ribbon, the WAC has assembled another two-fisted encounter with The Duke himself. This time, however, we are treated to two of Wayne's more unusual endeavors, Blood Alley and The Sea Chase, both of which were released in 1955 to less than triumphant box office debuts. And it's pretty darn easy to see why neither movie became the must-see hit of the year, too.
Ironically, the trouble with each title is our larger-than-life star himself. Far removed from the two genres he was the most believable (or at least comfortable) in ‒ war flicks and westerns ‒ The Duke first takes to the sea here in Blood Alley for director William A. Wellman. Interestingly, Mr. Wayne was not intended to be the star of this vehicle. Following the dismissal of noir legend Robert Mitchum from the project by Wellman (followed by Gregory Peck turning the part down and Humphrey Bogart asking for too much money), Wayne and his production company moved in to take over, paving the way for one of the most awkward on-screen pairings ever.
Set in current times (the mid '50s, kids), Blood Alley finds Wayne as American Merchant Mariner Capt. Tom Wilder, who ‒ as our story opens ‒ has been imprisoned by Communist China for a couple of years. Having kept his sanity by creating an imaginary guardian angel he refers to as "Baby" (it would have been far more convincing coming out of Mitchum's lips, believe me), Capt. Wilder soon finds himself being broke out of prison by some sympathetic locals. Of course, no one gets out of jail for free. In this case, Wilder has been sprung from the brink to go straight into the drink. In a stolen, worn-out, century old riverboat, at that.
With an entire village as his cargo, Wilder is assigned the worrisome task of sailing them to Hong Kong right through a troublesome patch of water affectionately known as Blood Alley. But that's won't prove to be the toughest part to endure on this journey. Rather, that dubious honor is reserved for the scenes where Wayne has to interact with his co-star and love interest, film noir icon Lauren Bacall. To say the pairing lacks a little chemistry would be an understatement, leading to some of some rather cringeworthy moments betwixt the two.
Even with its tendency to alternate between very obvious model shots to no model shots at all (one ship is destroyed off-camera, amusingly enough) Blood Alley still has its redeeming moments. Providing one can get past the sight of supporting players Paul Fix, Barry Kroeger, Mike Mazurki, and Swedish sexpot Anita Ekberg in yellowface, that is. But at least we get to see meaty cameos from James Hong and Charlie Chan veteran Victor Sen Yung. Future regular Wayne director Andrew V. McLaglen had his last Asst. Director gig here, graduating to his first solo feature the following year with Gun the Man Down starring James Arness.
Speaking of the great James Arness, he's one of our supporting stars in the next great case of John Wayne miscasting from 1955, The Sea Chase.
Released a few months before Blood Alley, this feature from producer/director John Farrow, The Duke is once again portrays a salty ol' seadog here, albeit one from Nazi Germany! But don't get your hopes up for the laughfest that might sound like, kids, as Wayne's Captain Karl Ehrlich refuses to join the party. It matters not after Hitler invades Poland, however, leaving Capt. Ehrlich and his inadequately stocked and tired ol' steam freighter (have you noticed a common theme between the two films yet, kids?) to quietly sneak out of Sydney before the beginning of World War II marks Ehrlich's ship an easy target for enemies.
Enemies, mind you, who were good friends only a few hours before. And at the top of that list is British Commander Jeff Napier (co-star David Farrar, The 300 Spartans), who is initially only upset at his ol' seafaring buddy because he scared off Jeff's beautiful blonde fiancée, as played by another great femme fatale, Lana Turner. In Ehrlich's defense, of course, he realized the woman had some mighty suspicious motives. In fact, when she returns, we learn she's a Nazi agent, so there. Later, Napier becomes even more determined to capture Ehrlich after the latter's Nazi First Officer (a delightfully campy Lyle Bettger) secretly, mercilessly, murders a few innocents.
Frankly, for a filmic game of World War II-era cat and mouse set in (mostly) the South Pacific, The Sea Chase is a surprisingly dull and uninspired feature. Even when you look past the questionable casting of John Wayne as a German (but at least neither he nor his crew try to fake German accents, thank God!), The Sea Chase is just another instance where Hollywood panicked over the advent of TV and tried to lure audiences in with anything they could, just so long as it was in CinemaScope (which this one is). It feels heavily padded. And yet, at the same time, it feels like a good deal of character development was tossed overboard in the editing room.
But the best part of this otherwise mediocre melodrama is the sight of many future American film and TV stars, including Tab Hunter (I mean, who better to play a German, right?), Richard Davalos, Alan Hale Jr., and even the great Claude Akins ‒ all of whom get some damn decent screentime with The Duke. But it's the aforementioned James Arness who really takes the German cake here in a fine supporting bit as one of Wayne's overworked men. A few months after the release, Wayne's close friend Arness would cement his name in western history by starring in the series debut of Gunsmoke, featuring an on-screen introduction by Wayne himself.
Had it been made 15 years sooner with someone like Humphrey Bogart in the lead role, The Sea Chase would have made for an excellent (and timely) sea hunt. Even if they had made it 15 years later with an actor akin to say, Gene Hackman, they more than likely could have had a hit on their hands. Alas, apart from a few good dramatic moments (to say nothing of their using real ships this time!) and a nice role by John Qualen as the Chief Engineer, there's not much to keep The Sea Chase afloat throughout its oddly overwhelmingly long 117 minute runtime. Put simply, this really isn't a John Wayne film ‒ even if he does star in it.
Of course, no matter what, we must commend the Warner Archive Collection for bringing both of these classics to Blu-ray for the first time as individual releases. Both movies were made at roughly the same time with a lot of the the same crew, including cinematographer William H. Clothier and composer Roy Webb. Unsurprisingly, the overall visual qualities are the same for both titles. Each film is presented in its intended widescreen 2.55:1 aspect ratio, and there are instances in both releases where it is obvious the original Eastmancolor film stock of the era had started to deteriorate. The WAC has done its best to restore the films nevertheless, and this is about as good as each film is likely to ever get.
Both titles sport DTS-HD MA 2.0 Stereo soundtracks, which sound quite nice, especially since the original mono and four-track audio options hailing from their theatrical releases were ditched by the studio long ago. English (SDH) subtitles are included on both releases, as are the original theatrical trailers. Once again, Blood Alley rises slightly above its separately released counterpart film, this time by sporting a few extra bonus materials (all remastered in 1080p), which include a vintage newsreel clip and two installments from a vintage episode of Warner Bros. Presents, which finds Gig Young (!) interviewing the always-game John Wayne.
Ultimately, neither Blood Alley or The Sea Chase succeeded in capturing my interests throughout, but I cannot discard both titles entirely. They each have their own (similar) stories to tell, and the hilarious miscasting of John Wayne in both tales will surely add a little camp value to certain viewers. And if that doesn't work out for you, treat yourself to a viewing of The Duke as Genghis Khan in the controversial 1956 disaster The Conqueror first, just so that Blood Alley and The Sea Chase seem like genuine bona fide cinematic milestones by comparison. Enjoy.