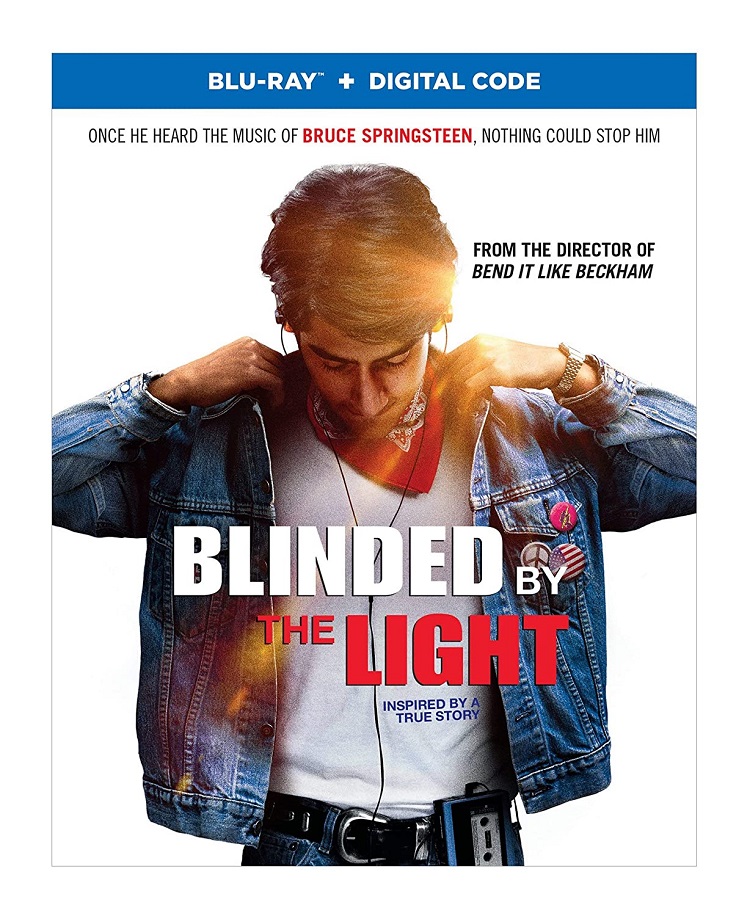 Written by Glen Boyd
On first blush, producer/director Gurinder Chadra's Blinded by The Light can come across as a little cheesy – especially if you are not a Bruce Springsteen fan.
Based on author Sarfraz Manzoor's autobiographical memoir Greetings From Bury Park (the title of which is itself derived from Springsteen's debut album Greetings From Asbury Park), the source material is so unabashed and unapologetic in its fandom, the filmmakers could have just as easily called this "Blinded by the Boss." Some may likewise be put off by the fairytale notion of a story that dares to put forth the idea that happy endings are still possible through the power of belief (in music for the purposes of this film).
But for those who can get past this – and not everyone will – they will be rewarded by a movie that is equal parts the sort of sweet, coming-of-age story you rarely see on screen anymore and a political commentary on racism that somehow manages to pull that off without ever seeming preachy or heavy-handed. And while even the least cynical amongst us might find it tough to hold back a snicker when this movie occasionally breaks out into full-on dance production routines more suited to a Hollywood (or Bollywood) musical than a Springsteen song, it's hard to fault a movie that wears its sincerity on its sleeve the way that Blinded by the Light does.
The toughest sell here – at least on the surface – might be the idea of how the working-class American experience that Springsteen writes and sings so vividly about, could resonate so deeply with a young Pakistani teenager growing up in a London suburb in the mid 1980s. Turns out Springsteen's words not only can, but do, and in a very big way.
From "it ain't no sin to be glad you're alive" to "mister, I ain't a boy, no I'm a man," they turn out to be exactly the awakening that sensitive 16-year-old Javed (Viviek Kalra) has been waiting to hear for his entire life. The character is based on Bury Park author Sarfraz Manzoor, a super-fan who has seen the Boss in concert 150 times.
Raised in a traditional family of Pakistani immigrants headed by a particularly stern and strict father (Kulvinder Ghir), Javed has been privately expressing himself since he was 10 through writing – both in a diary and in song lyrics for his neighbor and best friend Matt (Dean-Charles Chapman), an aspiring, wannabe 1980s New Wave pop star. While Matt dismisses Javed's lyrics as too political for his band (whose musical mantra is "synths are the future" and even includes a guy with a textbook Flock of Seagulls haircut), he still defends his friend from the Paki-bashing racist goons in their working-class neighborhood of Luton and at school.
Meanwhile, Javed has a chance meeting with Roop (Aaron Phagura) – the lone Sikh student in a school otherwise populated by "Wham boys" and "Bananarama girls" – who introduces him to Springsteen's music. This leads to a pivotal moment of discovery for Javed – and the most visually striking moment in the film. He pops the Springsteen cassettes he gets from Roop into his Walkman, right after tossing out all of his writing into the windstorm raging outside his bedroom window. As the lyrics to "Dancing In The Dark" and "The Promised Land" flash on the screen, reams of paper containing his writings swirl about the neighborhood in a cyclone of broken dreams that are about to lead to the promise of new possibilities.
For Javed, it's an epiphany that leads to several of those aforementioned, cheesy dance numbers. Not only does he get the girl (by singing her the lyrics to "Thunder Road"), he also takes over the school radio station (with his new best friend Roop). Playing "Born To Run," this leads to the most over-the-top production number in the film, incorporating elements of everything from Broadway to Bollywood (not to mention 1980s music videos from Michael Jackson and Genesis).
Meanwhile, as his father becomes increasingly alarmed by the westernization of his son (and particularly his obsession with the American singer he repeatedly refers to as Jewish), Javed gains allies who recognize his writing talent. These include his one-time crush, now crusading activist girlfriend Eliza (Nell Williams); a sympathetic teacher (Hayley Atwell); and an unlikely neighbor (who it turns out is also a survivor of Nazi Germany).
Kulvinder Ghir plays the father role with considerable depth and nuance here. On the one hand, you see a proud man so blinded by tradition, he fails to recognize the emerging talent in his own son, and instead wants to order his entire life (including a pre-arranged marriage once he feels the time is right). On the other, you see someone who has been broken by hard economic times once he loses his job and realizes he is unable to provide for his family. Viviek Kalra is also letter perfect as Javed, a mostly sensitive, misunderstood and idealistic young man, but who is also capable of selfishness (such as when he ditches a family wedding to buy Springsteen tickets).
Blinded by the Light is not a movie that will appeal to everybody. Bruce fans quick to recognize the Springsteen gospel of working-class redemption in the story here may be just as easily turned off when those same song lyrics are turned into big, overblown musical productions. The cheesier aspects of the story may likewise be a turn-off for others.
But for those willing to put aside these things and take Blinded by the Light at face value, you'll find a nice, somewhat bittersweet coming-of-age story with a killer soundtrack. Blu-ray extras include deleted scenes, a "Memoir to Movie" feature, and a link to a digital version of the movie.
Already available as a digital download, own Blinded by the Light on Blu-ray and DVD on November 19.