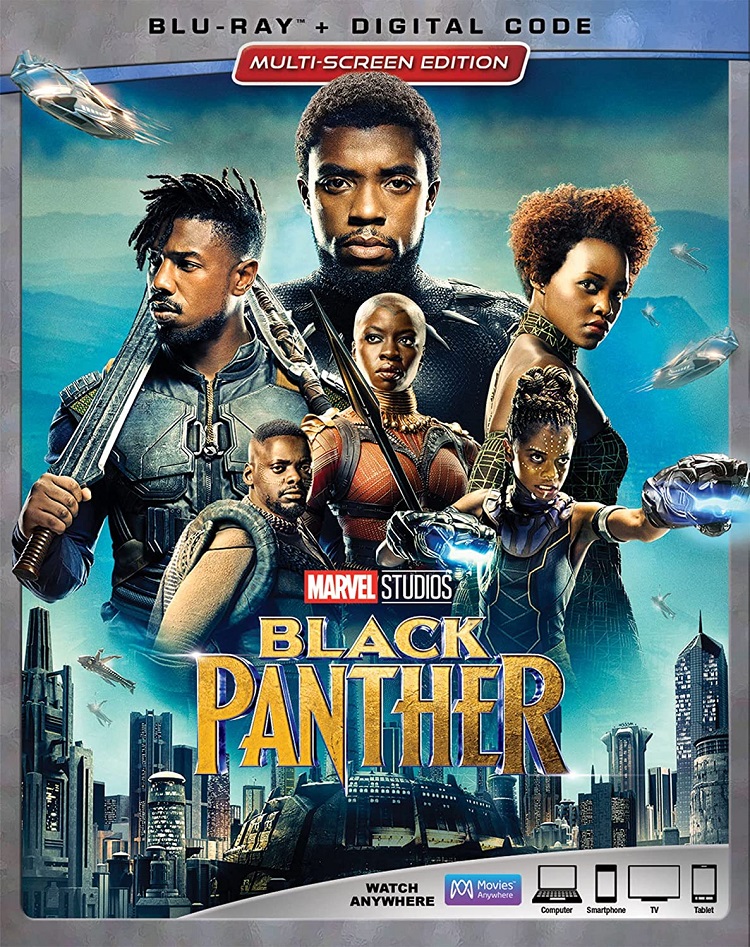 When Captain America: Civil War came out in 2016, one of its major highlights was scene stealer Chadwick Boseman as Black Panther. Now, Black Panther has not only gotten his own solo movie but it is the best Marvel Cinematic Universe movie to date. It offers everything that fans want with its crowd-pleasing humor and action. Yet, it also manages to demonstrate powerful, thought-provoking storytelling. After breathing new life into the Rocky franchise with Creed and wowing critics and audiences with his powerful debut Fruitvale Station, director Ryan Coogler has done it again and gone 3 for 3.
The story takes place after the events of Civil War and follows Prince T'Challa (Chadwick Boseman) who has inherited his deceased father's throne and become the king of the reclusive, technologically advanced nation known as Wakanda. But as T'Challa tries to figure out what kind of king he wants to become, he must face two foes. One of them, Erik Killmonger (Michael B. Jordan), has close ties to T'Challa and he seeks to claim T'Challa's throne while crafting a diabolical plan that not only puts Wakanda in harm's way but the world as well.
Don't let the simple "hero must save the world" plot deter you. Thanks to Ryan Coogler, Black Panther is anything but manufactured superhero fare. It does have the typical elements of a Marvel Cinematic Universe film with its crowd-pleasing humor and action. Yet, it is much more story driven and is a rich, Shakespearean drama with political undercurrents as well.
While the people of Wakanda do live a peaceful life in their safe haven, their tranquility ends up becoming a major conflict. Particularly, because of the metal known as vibranium that Wakandans use as their source of health and technology. Because it is so powerful, they keep it for themselves out of fear that it'll end up in the wrong hands. While they could use it to help those in need, they're still just trying to protect their safety. T'Challa believes in putting his people first which makes Killmonger a perfect foil since Killmonger believes vibranium should be used to help those in need who can't defend or support themselves.
The duality between the two characters is well-realized because of not just the writing but the two main actors as well. Just like in Captain America: Civil War, Chadwick Boseman impresses as the titular hero. However, as Killmonger, Michael B. Jordan brings us the best Marvel villain since Loki. Jordan is quite three-dimensional as an antagonist who has motivations you understand yet he still slowly becomes the kind of villain he himself wants to eradicate. He may confront T'Challa over continuing the secrecy of his nation and its source of power yet he still wants to use vibranium as a weapon to destroy and remake the world in his image because of how much the world has wronged him.
Amazingly, the supporting actors get to have their moment in the sun as well like Daniel Kaluuya as T'Challa's best friend W'Kabi, Forest Whitaker as T'Challa's father figure, Sterling K. Brown in a short but key role, Andy Serkis as the villainous Ulysses Klaue, and Martin Freeman who reprises his role from Captain America: Civil War as Agent Everett Ross.
As great as these men are, though, it's the women that act as the film's secret weapon. Lupita Nyong'o is magnetic and tactical as Nakia, a former lover of T'Challa who acts as a spy for Wakanda. Meanwhile, Danai Gurira impresses as Okoye, the leader of T'Challa's all-female bodyguards called the Dora Milaje, who is the yin to Nakia's yang since she sticks to the traditional principles of Wakandan rule as opposed to the more modernist Nakia who helps other nations in need even if it means leaving Wakanda and its people behind. Lastly, there's the film's biggest breakout star: Letitia Wright as T'Challa's sister Shuri. She brings such delightful wit into her portrayal of a woman who is down to earth yet not afraid to show off her uncanny intelligence. She even gets to be a badass towards the end. More roles for this great actress, please!
As for the nation of Wakanda itself, it is brilliantly brought to life by the production design by Hannah Beachler and the costume design by Ruth E. Carter who give each set piece and wardrobe such vivid and colorful detail. It may be February yet it'll already be difficult to find a film that has better production and costume design than this one. Also, cinematographer Rachel Morrison, who just landed a history-making Oscar nomination for Mudbound, helps capture the picturesque nature of Wakanda while shooting the action sequences with great intensity.
In conclusion, Black Panther is a real touchstone for the Marvel Cinematic Universe due to its immense quality and its cultural significance. If more movie-going experiences this year are as amazing as Black Panther, then it's going to be one hell of a year.