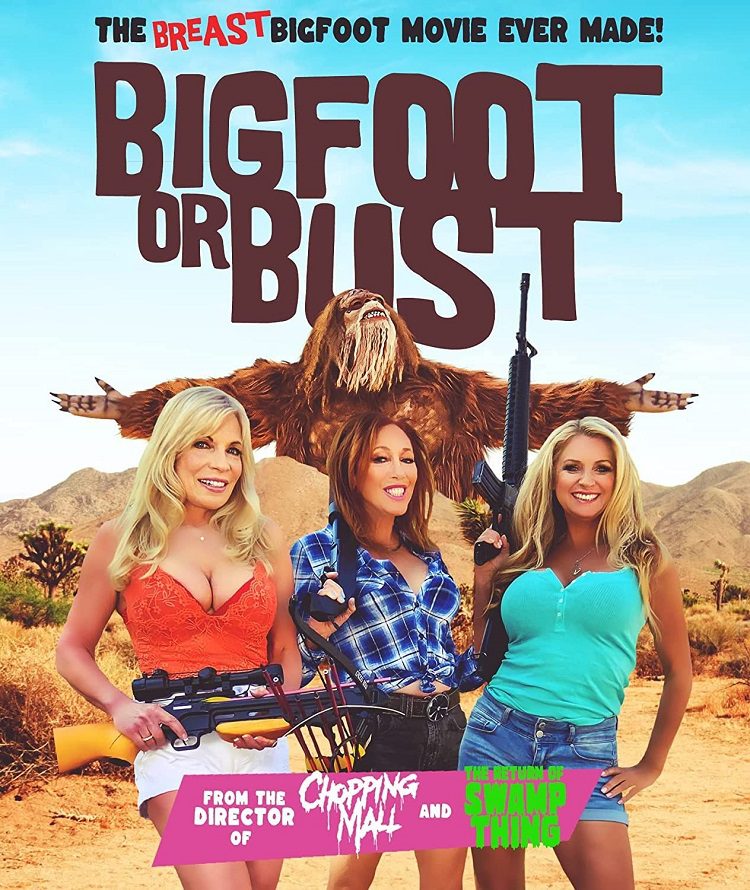 A Spirit Halloween Bigfoot gets chased around by busty older women making corny, horny jokes. It's too long at 75 minutes and would have probably worked best at its intended 45 mins. Spoiler alert,to keep this a family-friendly "comedy," there's no full topless scenes either.
Bigfoot or Bust was written and directed by Jim Wynorski. For those who may have read my Swamp Thing review, you'll recall that I mention its' low-ball sequel. Well, that's also a Wynorski film. The Return of Swamp Thing (1989) is actually one of his better outings, so is Chopping Mall, which is actually really good. But also on his resume are such offerings as The Hills Have Thighs, House on Hooter Hill, and The Devil Wears Nada. Think I'm kidding? Go ahead and check IMDb. I'll wait…
Welcome back. Here's where I sum up the plot and there really isn't one besides busty babes (most being 55-plus) wearing very little, led by a "doctor," that go bouncing around hunting for Bigfoot. One set of those women are supposed to be time travelers from the future looking for Bigfoot droppings. Hot on their heels is some hillbilly and his sister. All the while, Bigfoot pokes about the bushes and peeps in on the girls as they jiggle through the woods. Oh yeah, there's also no script.
There are, however, a few burlesque type strip tease/dance scenes featuring the various sets of women (a trampoline is involved in one, porta potties in another) that break up the searching for Bigfoot bits. Throughout there are tons of ad-libbed cornball jokes and things that don't make any sense. It's a clever, funny, hoot for Jim and friends so I suppose that's what matters as this is really just an excuse to get them all working together. There are some cool drone shots of the canyon location…before the drone hit a tree, lost for the remainder of the shoot.
Jim's sexy, busty friends include Melissa Brasselle aka Rocky Demarco, my personal favorite, who wrote and performed some of the music featured in the movie. Rocker chick Rocky also wrote a couple of scenes to set up some sort of plot and dialog but that fizzled fast. Then there's Becky LeBeau who produced this thing while providing some more music tracks. Rounding out the list of notable knockers are Lisa London, Gail Thackray, Christine Nguyen, Cindy Lucas, Lauren Parkinson (who appears to be the youngest and has the least amount of screen time), and Tane McClure (yes, Doug's daughter).
There are Special Features thrown into the fun bag as well that include a Music Video by LeBeau, a Deleted Scene, and a Behind the Scenes Featurette. The Audio Commentary with Wynorski, LeBeau, and London I found entertaining for a bit as I learned fun facts like the bigfoot suit was actually purchased for very cheap off Amazon, not from Spirit Halloween (I was not surprised), and that this whole idea was supposed to be about 45 minutes of fun, bad jokes, and boobs.
That's it, that's all I got. Thanks for stopping by and reading my inflated review of Bigfoot or Bust. I'm not saying don't watch this one, especially since now you know what you're in for and that there's no nudity which is kind of a bust, but not really. I was indeed amused for a bit but I'm just saying, Bigfoot, you deserve better, buddy.