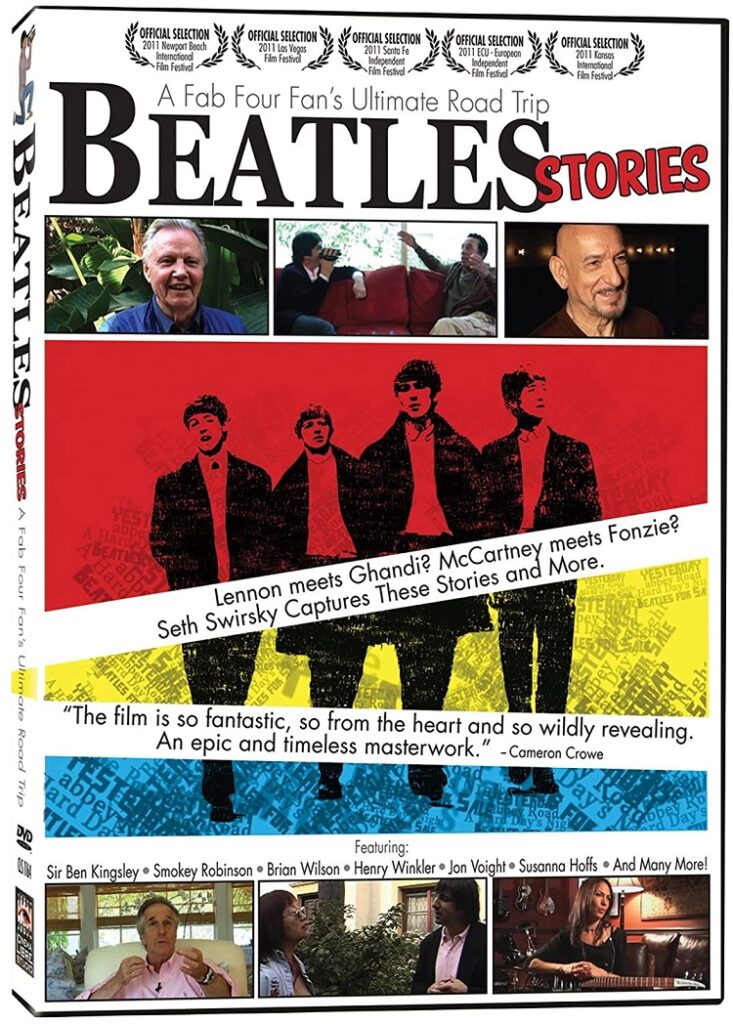 It's difficult not to be wary of new Beatles-related documentaries, especially considering some of the Netflix titles that appear alluring but leave you feeling regretful and robbed of valuable time following 90 minutes of Beatles Muzak and unfortunate production work. Unless it's put out by Apple Corps, what's the point, right? Well, for any Beatles fan new material is the point, and, unfortunately, even the most legitimate contributions to this very saturated brand provide very little of it these days. That's where songwriter, author, and filmmaker Seth Swirsky comes in. Just be sure to remember his name so you don't overlook what he has to offer.
Swirsky began his professional career writing jingles and an off-Broadway score while still a student at Dartmouth College, and later, as a staff songwriter for the then-named Chappell Music penned songs for the likes of Al Green, Air Supply, and Celine Dion. Between 1996 and 2003 his writing took a different path when he decided to fuse his passion for baseball with a level of inquisitiveness about the sport that drove him to write letters to major league players, as well as their noteworthy fans. The correspondence that ensued resulted in three books that offered enthusiasts a way to solidify their love of baseball through the written recollections of their heroes and fellow fans.
In 2004, Swirsky put out his first solo record, which he was invited to perform at the Cavern Club in Liverpool, England, that same year. A massive Beatles fan, he used the visit as an opportunity to ask locals about Beatles encounters, memories, and other little-known tidbits that you're rarely afforded in official releases. And just like the baseball books, the truly enjoyable Beatles Stories began taking shape.
The wonderful thing about this collection of Beatles-centric oral histories is not only how many of them are packed into 85 minutes but also how varied the interview subjects are. You might expect to see the likes of Brian Wilson or Klaus Voormann reflecting about their associations with the Fab Four, but perhaps not Luci Baines Johnson or Frank Gifford. There are folks who go way back, like Rod Davis, banjo player in The Quarrymen, who shows off a worn Decca recording he bought from John Lennon in 1957, and people who were then on the periphery of Beatlemania, such as Steve Kipner of Tin Tin, who was unexpectedly invited to stay for dinner and a movie with Ringo Starr after mutual friend Maurice Gibb had to return home early.
It would be criminal to carry on about the stories, because the stories are the film. Who knows whose memory serves best, who's stretching the plot, and who simply has a bone to pick? But if you love anything and everything to do with The Beatles, you'll love watching this and trying to figure it out. Some definite highlights include Klaus Voormann reminiscing about submitting the artwork for the Revolver cover to the band, former "trusted aid" of The Beatles Tony Bramwell revealing his thoughts about John Lennon, actor Jon Voight admitting how he once tried to use his rising star power to meet Lennon, and Apple Scruff Cathy Sarver remembering George Harrison as a lovely man.
In addition to the slew of interviews with well-known musicians, actors, business associates, and past loves, there are 30 minutes of bonus interviews with current Paul McCartney lead guitarist Rusty Anderson, the late Denny Doherty, journalist and author Robert Lipsyte, and many more. The special DVD features also include Swirksy's commentary, as well as an extended interview with The Beatles' first recording engineer Norman Smith.
Sure, the budget may have restricted the use of amazing graphics and actual Beatles tracks, but what Beatles Stories lacks in flash it makes up for with heart. You can't buy the look on the face of a person explaining with the utmost sincerity how his life has never been the same since hearing the Beatles for the first time. It's that kind of zeal for the band that sets this installment of Beatles history apart.