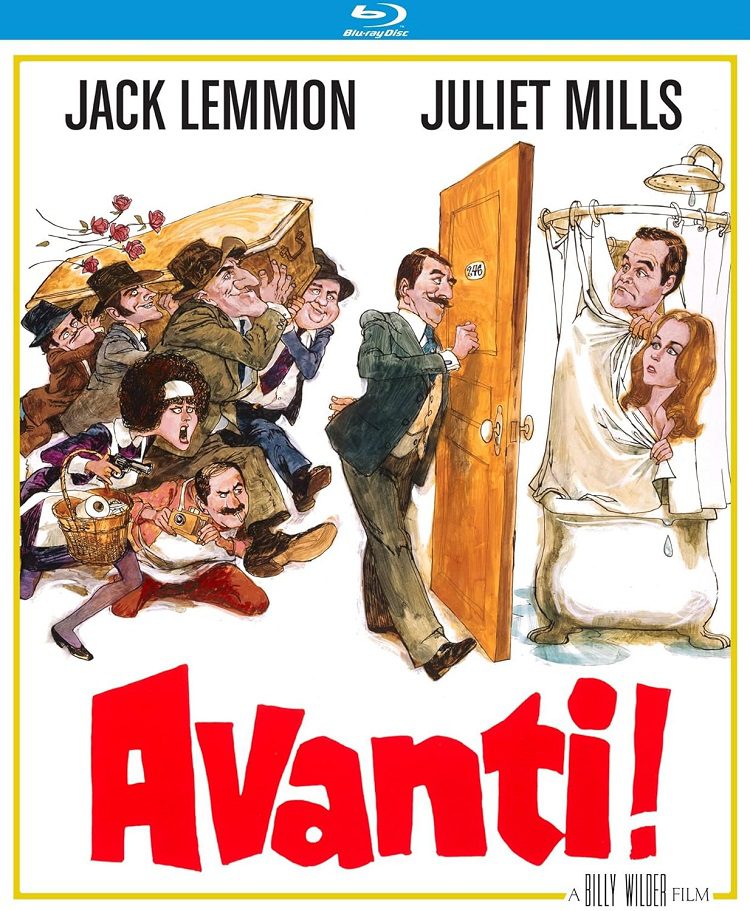 The new Kino-Lorber Blu-ray release of Avanti! (1972) intrigues me because it represents an interesting subgenre of films in the early-to-mid '70s. The directors and actors who had come of age in the early days of sound pictures and the Golden Age of Hollywood were anachronisms. Everything they had known about the studio system and making films had changed radically. In this time period, some of our greatest actors and directors were making their last couple films. Avanti! represents the winding down of the career of director, Billy Wilder. A career begun in 1934, this film was only his second since 1966 and he would only direct three more in the next nine years before full retirement. The last pictures of these directors and actors are important as we consider the transition to our modern films.
The premise of Avanti! is simple and reminiscent of some of Wilder's best work. The romantic comedy stars Jack Lemmon (Some Like It Hot and The Apartment) as his usual uptight character traveling to Italy where he falls in love with the beautiful Juliet Mills, the daughter of his father's mistress. Based on a play, it feels comfortable and natural like the best Neil Simon or Noel Coward plays. The dialogue is what drives a work like this forward and it's a nod to the movies of the 1940s and 1950s. The movie runs 140 minutes which seems long for a "play" turned into a movie. It's long for a plot that can be summarized in a single sentence. But unlike movies made today, this one just unfolds at such a natural pace that I don't know that I have that complaint (and I am always the one who complains about movies over two hours). The movie's romance and beautiful travelogue are allowed to breathe and not quick cut with musical montages.
There are a few other side stories that work together to drive our couple together. These are diversions that are cute and funny but not in a way that make one laugh out loud today but in a melancholy way of the simple manner stories were told in the Golden Age. I love the way the Italian countryside and the people of the town guide our couple together. The hotel is a setting that always feels Old Hollywood to me. Clive Revill as the hotel manager is a favorite of mine of the supporting cast.
I think this film compares best to Wilder's Sabrina. On paper maybe it's obvious because of the older man / younger woman romance. But it's really about the journey of the more uptight working man to relaxation in a society that continually is a source of stress on the Modern Man. This love story is symbolized by the setting. The Italian vacation is all about the decompression. Jack Lemmon as Wendell arrives very uptight. The rejuvenation is subtle and happens slowly as it does in real life. The relaxed pace is like a nice long Italian dinner with multiple courses and wine. The chaos of America in 1972 is hinted at with a few cultural references but they seem distant. The tropes of hotel movies are all there. But then you realize it's about the way that new love can change the way that we view our world.
The film comes with an interview with Juliet Mills and with the funny Clive Revill and the usual theatrical trailer. The film is endearing and shows that even in 1972, there was a place for Old Hollywood. There was a place for the masters who had made the classic films of the 1940s and 1950s to still tell their stories. Our "old" directors today may have started their careers in the 1970s around this time. They are part of that generation that grew up balancing old and new and taking film to blockbuster levels with ways to tell stories that weren't available to men like Billy Wilder. I hope there can be a reconnection to these types of films. A time to revisit the stories that are simple and unfold at their own proper pace. That brilliant anticipation as Wendell wants to kiss Pamela and asks, "Permisso," and as we can't stand it any longer, she finally answers, "Avanti!".