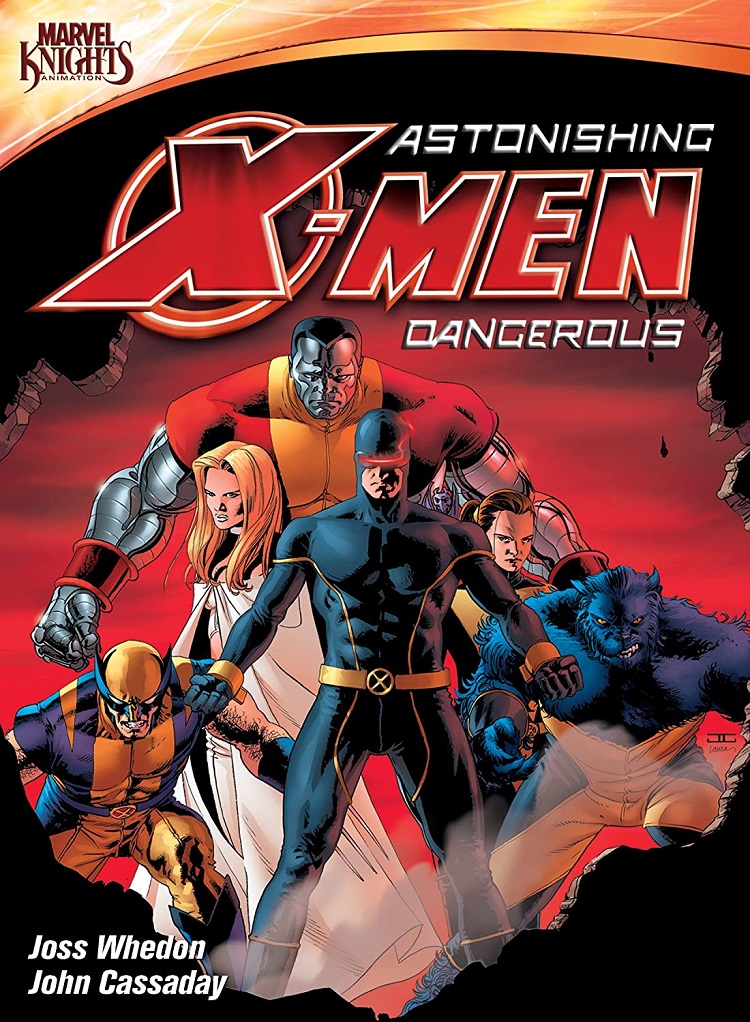 Before helming this summer's Marvel team-up blockbuster film The Avengers, Joss Whedon earned his Marvel Comics bona fides in the pages of Astonishing X-Men. Abetted by John Cassaday's stunning artwork, Whedon crafted 25 issues of mostly legendary tales that are slowly being converted into motion comic DVDs. This new DVD comprises Whedon's second six-issue story arc, subtitled Dangerous, with each issue acting as the basis for a roughly 10-minute episode.
When last we left the Astonishing crew, they were dealing with the unexpected rebirth of longtime teammate Colossus, along with the emergence of a supposed "mutant cure" that offered the option for mutants to become ordinary humans. Dangerous sets off on an entirely new path, and as such can be viewed as a standalone project with no real need to watch or read the previous story arc assuming one has a basic familiarity with the core characters. Whedon's tale here takes the clever approach of co-opting and changing a key piece of mutant lore that dates back to the very first issue of the original X-Men series, simultaneously upending reader expectations and introducing an intriguing new character to the mutant universe. Skip the next paragraph for spoilers.
That new character is a place, specifically the in-house training area for the X-Men designated the Danger Room. Whedon takes the wild idea that the Danger Room is sentient and uses it to punish his mutants both physically and mentally. Since the Danger Room has been training the mutants forever, it intimately knows and exploits their weaknesses when it decides to assert its independence, launching an all-out attack on the team. Taking the physical form of a blue female robot, the newly christened Danger eventually comes to terms with the mutants, but not before informing them that she had always been sentient and had been imprisoned in the Danger Room by their former leader, Professor X, who knew of her sentience. That psychological blow carries far more damage than the physical beating she doled out, forever altering their (and our) image of their former mentor.
As motion comics go, this one ranks fairly low on the "motion" scale in the early going, with some laughable mouth movements and camera pans providing most of the action. Thankfully, the quality picks up as the series progresses, and by its end it approaches actual animation. The vocal talent is unobjectionable if also unremarkable, providing serviceable takes on the characters. The most astonishing aspect of the project is the nearly two-year gap between this release and the previous outing, Gifted. However, it's still a fun way to reconnect with the great source material in a new form.