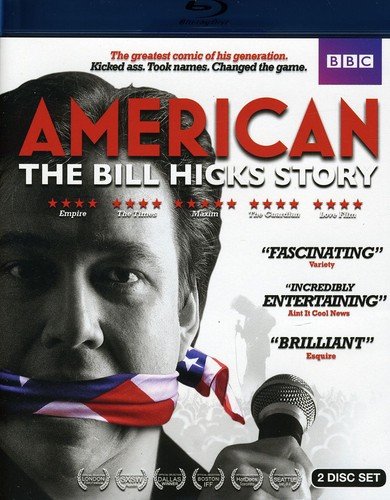 Stand-up comedian Bill Hicks (1961-1994) was a provocateur, wanting his audiences to think just as much as they laughed. Referring to himself as "Chomsky with dick jokes," Hicks' material frequently delved into politics, religion, and the media and was frequently delivered in an aggressive, confrontational style. No surprise that his act didn't break big in the United States considering how critical he was of the citizenry and their way of life, but he went to the United Kingdom in 1990 and became a hit. Tragically, cancer took his life in 1994 at the age of 32, but he continues to have a cult following because his comedy continues to resonate with people. Co-directors Paul Thomas and Matt Harlock tell the tale of his short life in American: The Bill Hicks Story. Bill's biography is told through interviews with family and friends and a number of the events are recreated by the cutting and pasting of pictures. He can also be seen in videos doing stand-up.
Naturally, the film starts out with his early years, growing up in Houston. He was determined at a young age to get into comedy and first got onto a club stage at 13 doing routines about his family. He performed a lot of gigs and across the country and spent time in Los Angeles and New York honing his craft. He moved onto loftier ideas and serious topics, influenced in part by his taking of hallucinogens and getting sober after being a serious drunk. Starting in 1984, Bill made appearances on Late Night with David Letterman and then in 1987 got a spot on Rodney Dangerfield's Young Comedians Special, but his career was at a plateau. In 1990, a new ascent began. He was a hit at the Montreal Comedy Festival and found a larger audience in Great Britain before things came to an end.
As a fan, I enjoyed the film, yet I found myself wanting more. Bill's family and friends were reverent without deifying him, but surely, Bill would have found the whole thing too straightforward. Could have used more metaphor of what Bill's life says about our own. Was expecting some rumination about his cancer hitting just as things were going so well. Also, I was surprised no well-known comics were included. Surely some of his peers had an opinion about him. The film covers the infamous incident of his last appearance on Letterman being cut, but why no discussion of the bigger controversy of the claims of Denis Leary stealing his act?
The video has been given a 1080i / MPEG-4 AVC displayed at an aspect ratio of 1.78:1, but due to the various conditions of the sources, one shouldn't be expected to be wowed by the a/v specs. The modern-day interviews look great, but they are paired with old grainy home movies recorded on film and video. One of the latter where Bill is performing has the formerly orange (?) letters of the club's name burned in each frame. The recreated sequences are made out of old photographs. There was a scene where a camera moved onto the stage of an empty comedy club that looked processed to match the older clips. Artifacts, noise and aliasing abound.
The audio is a DTS-HD Master Audio 5.1 surround track though it doesn't need to be, considering how front heavy it is. There is some rear activity from crowd laughter. The interviews are the best-sounding element. The music sounds good and makes the most use of the LFE, with Bill's sound effects coming in second. The archive material is cleaned up a little better than the video, but there are still noticeable issues as expected for source material of this age.
Some fans will be ecstatic about the wealth of extras, so many that a second Blu-ray disc was required to house all five hours. Disc 1 features 59 minutes of "Extended Interviews"(HD) and two Featurettes. At the "Austin Panel at SxSW" (HD, 10 min)in 2010, Bill's brother Steve and friends talk. Comedian Jimmy Pineapple talks about a Houston comic stealing a bit, and Steve takes a shot at Leary. Bill recorded the special Bill Hicks: Revelations at the Dominion Theater and "Dominion Tour" (HD, 8 min) finds some family members listening to stories about it from the special's director, Chris Bould, and producer, Charles Brand.
Disc 2 presents Part 2 of "Extended Interviews" (HD, 96 min), which should satisfy the most serious fan who wanted to know about Bill's life. There are also Deleted Scenes (HD, 16 min), classified as Deleted and Early & Alternative scenes, that didn't make the cut.
A good many Featurettes appearing on this disc deal with at Bill, his family, and his friends. Bill can be seen performing in "Rare Clips" (HD, 34 min) and heard talking in "Bill's Audio Journal Clips" (36 min) while photographs are seen. "Making of Arizona Bay" (HD, 7 min) looks at the creation of his concept comedy album. He also enjoyed creating music and "Hicks at Abbey Road Studios" (HD, 5 min) covers that topic and finds Steve's producing Bill's songs. The family supports Bill's legacy with his fans in "Festivals in UK & USA with the Hicks" (HD, 15 min) and "15th Anniversary Tribute" (HD, 8 min).
Bill's pal Kevin Booth gets two segments. "Kevin Shoots His Film in LA" (HD, 4 min) and discusses being a documentarian as well as the impact Bill had on his life. At "The Ranch" (HD, 8 minutes): Booth goes to back to Texas and talks about growing up with Bill. Bill's friends Dwight Slade and James Ladmirault talk about comedy in the appropriately titled "Comedy School" (HD, 19 min) and Slade can be seen in action doing his act in "Dwight in London" (HD, 6 min).
Bill's story is thoroughly covered in American: The Bill Hicks Story. Though his material might be too harsh for some, the documentary should be of interest to anyone who enjoys humor with some depth to it because there aren't now and haven't been many like Bill. Though this two-disc set may be overwhelming to those new to him, Bill's fans should enjoy all the material included.