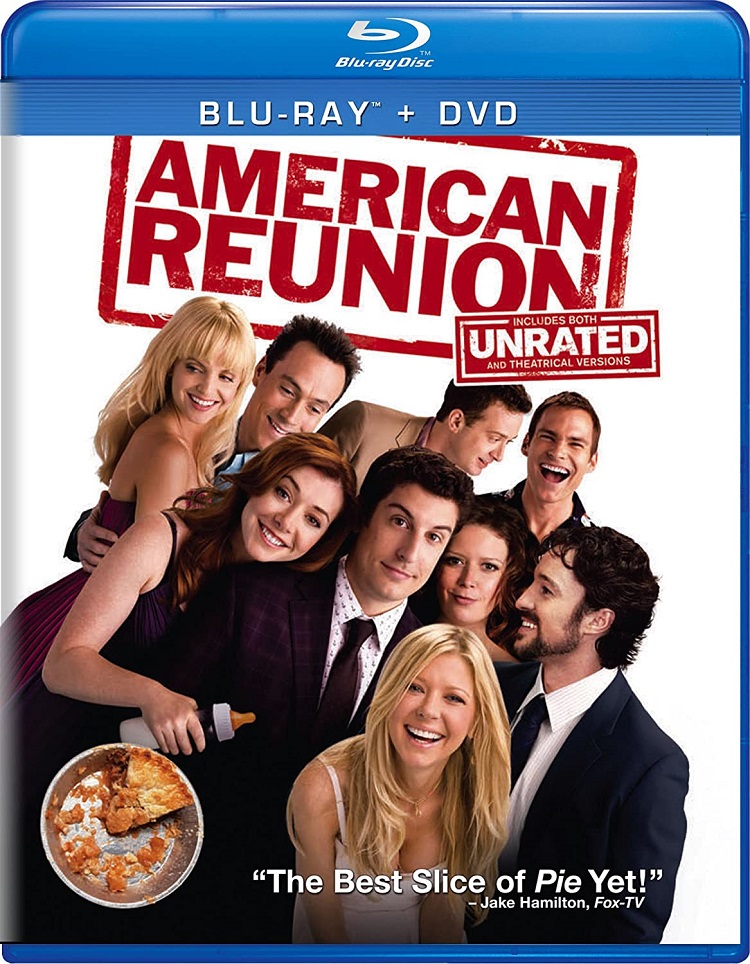 The kids from American Pie are all physically adults now, but the guys are still as juvenile as ever. On the odd occasion of their 13th high school reunion, the whole crew reconvenes in their home town to prove…well, something, even if they don't exactly know what it is. Maybe cultural relevance? Regardless, whatever excuse is foisted on the public to justify their reunion is soon a secondary issue as they get down to reconnecting with their friends and embarking on new exploits.
It's great fun to see the entire original cast together again, although perplexing that the female half of the cast is given such amazingly short shrift in the ensuing storylines. Where the original film was a much more equal battle of the sexes in both story and screen time, this one relegates the girls so far into the background that most of them get little more than glorified cameo roles. In fact, new arrivals Dania Ramirez and Katrina Bowden seemingly get more screen time than all of the other original ladies combined, with the notable exception of Alysson Hanigan. Tara Reid and Mena Suvari participate in some banal "will they or won't they" hookup maneuvers with their original boyfriends, while Natasha Lyonne literally stops by just long enough to announce her character is a lesbian, and Shannon Elizabeth barely has time to even make an announcement. If there's one glaring flaw of the film, its dismissal of the girls is it.
OK, enough griping about what it isn't, let's talk about what it is. Apple-pie dude Jim (Jason Biggs) is still married to Michelle (Hannigan), but the arrival of a baby son has put a serious damper on their sex lives. When he reconnects with the next-door-neighbor girl he used to babysit, a now 18-year-old with a huge crush on him, his marital fidelity is put to the test. Oz (Chris Klein) has a successful career as a sports broadcaster and former contestant on an all-star dance competition show, but is unfulfilled in his relationship with vapid hottie Mia (Bowden). Finch (Eddie Kaye Thomas) hasn't been seen in years, but when he surfaces he regales his buds with tales of international intrigue. The uncharismatic Kevin (Thomas Ian Nicholas) is just as boring as ever and should have just signed over his screen time to the ladies, in fact I have no recollection of his career or purpose in this film.
And then there's Stifler (Seann William Scott), dear sweet Stifler, still as crass, clueless, and party-centric as ever. The rest of the guys try to avoid him, but like an STD he's inescapable and soon worms his way back into their lives. As always, he makes the movie. This time he's battling some current high school punks to prove he's still top dog, planning a massive party at his mom's home, and struggling with a temp-employment position working for a jerk.
The writer/directors have a good handle on the appeal of the characters and do a decent job of giving fans what they want, even going so far as to bring back the milf guys, the Shermanator, Stifler's mom (Jennifer Coolidge), and adding Finch's mom (Rebecca DeMornay) for Stifler's amusement. The film seems closest in spirit to the first American Pie, which is exactly what it should be. For some reason, that first movie is still an extremely memorable cultural touchstone, while I personally have a hard time remembering anything that happened in the subsequent two theatrical sequels. This one isn't likely to prove all that memorable in the long-term either, but the creators are respectful of the franchise and contribute an effort that hits all of the right notes, even if they needed to add some more for the female cast.
The Blu-ray image quality isn't particularly spectacular, but that's more the fault of the original film quality than the transfer. There's nothing in the film that screams out hi def, making this one that doesn't need to be viewed in max resolution for max enjoyment. Still, the bonus features are extensive, including a wide assortment of deleted, extended, and alternate scenes along with tons of behind the scenes footage and interviews. The film can be watched in both theatrical and unrated versions, although not taking the time to watch the theatrical version I can't vouch for the differences. The unrated cut is unobjectionable though, since as usual it's included more for the marketing hook than any actual outrageous content. The combo package also includes a DVD and an Ultraviolet digital copy.