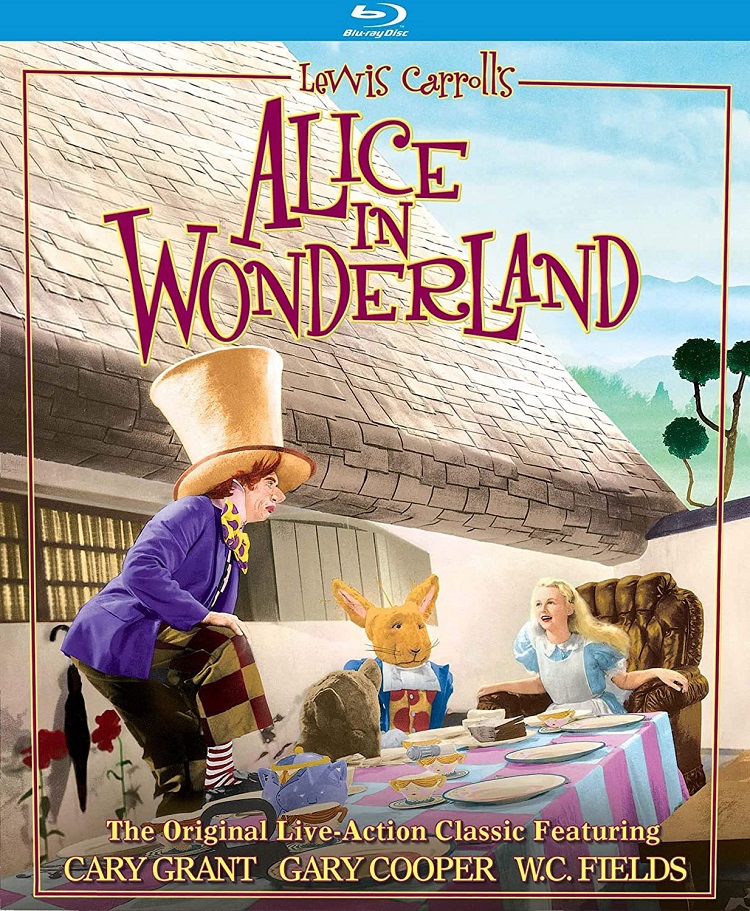 The live-action (mostly) version of Alice in Wonderland, released by Kino Lorber, has a lot packed into its 76-minute running time. In fact, after a languid start, with a bored Alice (Charlotte Henry) trying to figure out what to do with herself on a snowy day, the classic heroine has never moved more quickly on either side of the looking glass.
Directed by Norman Z. McLeod (Horse Feathers, The Secret Life of Walter Mitty, The Paleface), the black and white fantasy film features the biggest stars on the Paramount lot, circa 1933. The film opens with an extensive page-turning montage of each character as they appear in the film – in costume and film still. This turns out to be a necessary feature, as the elaborate costumes, make-up, and masks by Wally Westmore and Newt Jon render some of the most famous faces virtually unrecognizable. Hollywood stars like Gary Cooper, May Robson, and Charlie Ruggles are still familiar names to film buffs, but the majority of the cast, given full-on star billing, will be unknown to most viewers.
Alice in Wonderland features a lot of A-list talent behind the camera, too. The screenplay was written by Joseph L. Mankiewicz (All About Eve) and William Cameron Menzies (Gone with the Wind), who is credited for creating the film title of production designer. The pair have taken elements from Lewis Carroll's two Alice books, Alice in Wonderland and Alice Through the Looking Glass, and mixed them up to create this truncated version, with varying results. For fans of the original classic novel, the opening sequence might prove confusing, as Alice seems to skip over her initial encounter with the White Rabbit and heads straight for the looking glass. But we are soon falling down the rabbit hole with Alice and watching her sip from bottles labeled "Drink Me" into familiar Wonderland territory.
Dissolves of Alice growing and shrinking, floating through the air and the looking glass, as well as sets where the perspective is skewed depending on her size add to the fantasy. Considering the film was released in 1933, the special effects are actually quite special, and a little mind-bending, like the original source material. There is also a cartoon version of Carroll's "The Walrus and the Carpenter" poem, animated by Harman & Ising (founders of Looney Tunes and Merrie Melodies), narrated by Tweedle Dee (Roscoe Karns) & Tweedle Dum (Jack Oakie) inserted into the middle of the film.
But most viewers are probably most curious to see actors like Cary Grant, Gary Cooper and W.C. Fields in their respective roles as the Mock Turtle, the White Knight, and Humpty Dumpty. They will have to pay close attention, however, as it is easier to recognize these stars by their voices than their characters' features. Clearly the design of the Wonderland inhabitants were intended to look as much like the original illustrations by Tenniel as possible.
Alice visits all of Wonderland's inhabitants, including the Mad Hatter (Edward Everett Horton) and March Hare (Charlie Ruggles), and gets to play croquet with the Red Queen (Edna May Oliver) – shockingly, to today's standards, using real flamingos. Definitely a period piece, fans of Lewis Carroll will still enjoy this Alice, and wonder at how Hollywood in the 1930s could manage so much. Another live-action Alice would not be attempted until Tim Burton's strangely creepy 2010 version.
Specifications: The Blu-ray of Alice in Wonderland is not rated. It is in black and white, with a running time of 76 minutes. The aspect ratio is 1.37:1, 1920x1080p. Blacks and whites look crisp and sharp on a large-scale high-definition television screen. Sound is clear and language is English, with English subtitles available. Bonus features include audio commentary by film historian Lee Gambin and fantasy film theatrical trailers for Alice in Wonderland, The Adventures of Tom Sawyer, Jack the Giant Killer and The Magic Sword.