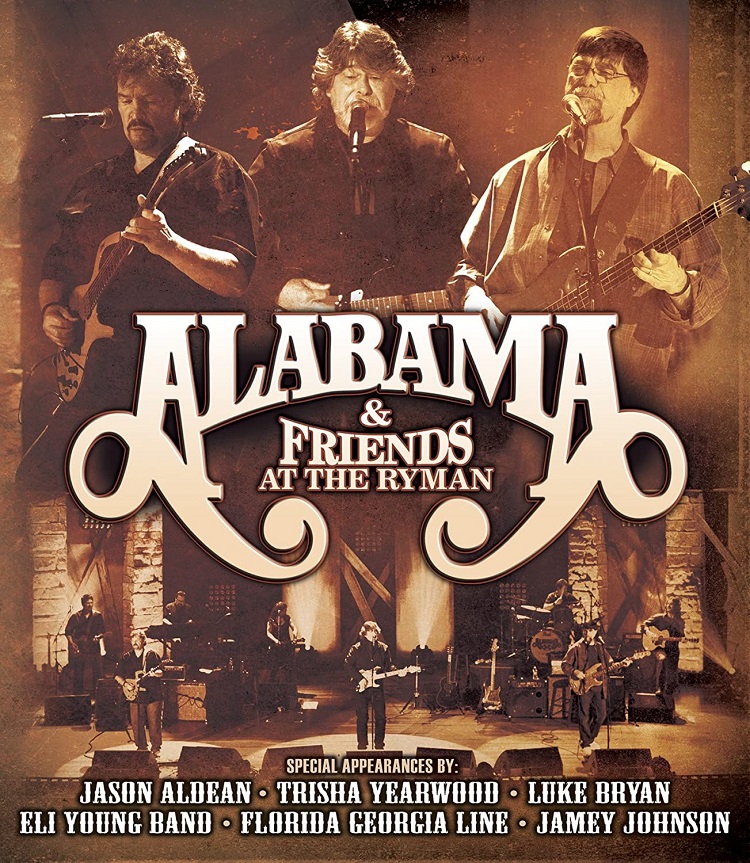 Alabama was formed in 1969 by cousins Randy Owen, Teddy Gentry, and Jeff Cook. Over the course of their career, they became the greatest-selling country band of all time by selling over 75 million singles and albums. They peaked during the 1980s when they created 27 #1 hits. The band thought they were quitting for good and put on a farewell tour in 2003. They reunited in 2011 and have been going strong ever since. In celebration of their 40th anniversary, they recorded the tribute album Alabama & Friends and a concert at the historic Ryman Auditorium featuring Luke Bryan, Jason Aldean, Trisha Yearwood, Florida Georgia Line, Jamey Johnson, and The Eli Young Band. The two-CD/DVD collection is a perfect opportunity to own their greatest hits performed live.
The 90-minute DVD includes all 17 songs that appear on the CDs. Jason Aldean joins the band for their first number-one hit "Tenneesee River," and Trisha Yearwood provides a beautiful rendition of their 29th, "Forever's as Far as I'll Go". Luke Bryan, with his energetic spirit, was the perfect chice for the band's biggest crossover song "Love in the First Degree". "The Closer You Get" gets an injection of youthful exuberence from the Eli Young Band, who seem to be having the time of their lives. I wouldn't consider myself a big Alabama fan but "Love in the First Degree" and The Closer You Get" are two of my all-time favorite country songs. Florida Georgia Line brought "I'm in a Hurry (And I Don't Know Why)" to life, a song I hadn't heard before, and had me watching this particular performance multiple times. The last collaboration is "My Home's in Alabama" with Jamey Johnson.
The DVD touts seven bonus features but in reality it is one 28-minute featurette offering interviews with all of the collaborators and Alabama. Hearing the appreciation each of the musicians has for Alabama and the influence the band has had on their careers enhanced the performances.
After watching the concert, I am more appreciative of Albama's talents and their impressive career. There were many songs of theirs I didn't realize I knew and the ones I didn't know I also enjoyed. The concert was highly entertaining from beginning to end. Alabama still knows how to put on a great show and the inclusion of the newer talent is a bonus.