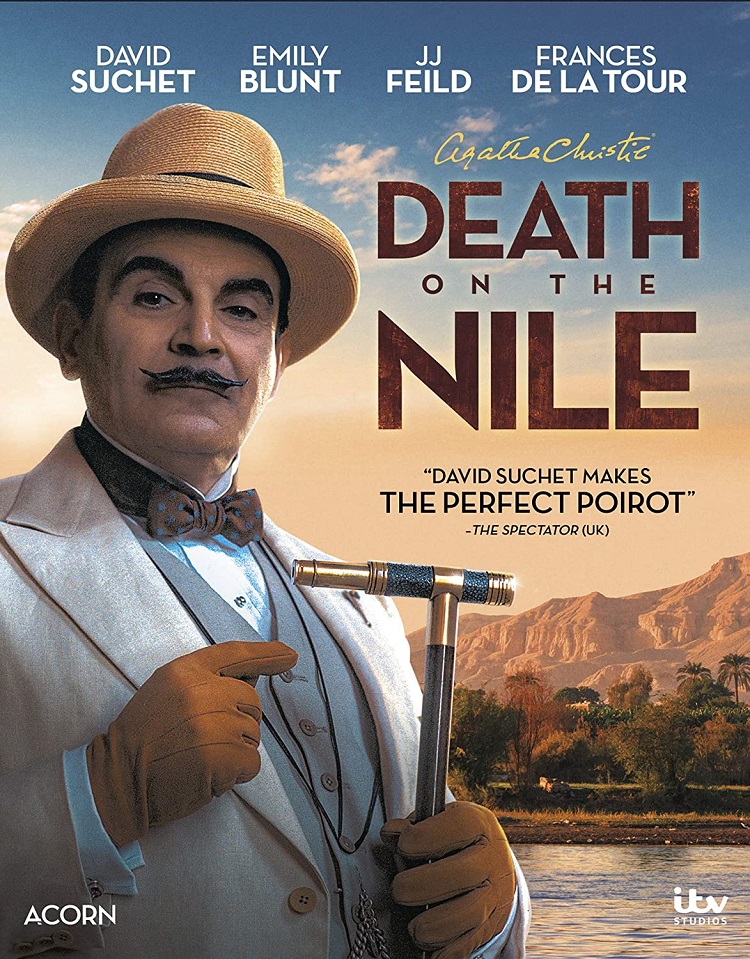 Acorn Media has released on Blu-ray Death on the Nile, starring David Suchet as the ingenious Belgian detective Hercule Poirot. It was originally shown as a feature-length episode on the Agatha Christie's Poirot television series in 2004. The series always had excellent production values, but they clearly went above and beyond for this film, with its settings, locations, costumes and design.
Agatha Christie's second husband was archaeologist Max Mallowan, and she set many of her novels in the locales that he excavated and she visited. Death on the Nile uses Egypt as its backdrop and its locations are brilliantly used in this film – famous sites such as the Winter Palace Hotel and Temple of Karnak in Luxor provide a most picturesque backdrop for a tale of love, betrayal and murder. Christie also cleverly places the actual murder and all of her suspects on a Nile river cruise – a staple of visits to Egypt – which becomes the ultimate drawing room location for her murder mystery. In the film, the vintage S. S. Sudan provides the perfect period setting – and it happens to be the actual ship Christie herself took when she was writing the original novel.
In Death on the Nile, a love triangle turns fatal, and a la vintage Christie, there are a plethora of suspects and the additional victims begin to pile up before a vacationing Hercule Poirot is able to solve the mystery. It is one of Christie's more brutal stories – the driving impulse for the crime may be intense feelings of love (or hate), but the mood is somber, even in the most sunny, brightly-lit locations. The classic novel has been filmed more than once – a glamorous Hollywood version in 1978 starred Peter Ustinov as the detective and an upcoming version directed by and starring Kenneth Branagh, is due this year as a follow-up to his successful star-studded 2017 version of Poirot and Murder on the Orient Express.
David Suchet's Poirot has always felt like the definitive portrayal of the character. He is as wonderful as ever here, and adds a sadness and regret to his trademark order, methods, and wisdom as he unravels the puzzle. Fans of Christie's novels know that Poirot has never had his own great love, but he has always had a fondness for the brunette in distress – here he sympathizes with the jilted Jacqueline de Bellefort (a fiery Emma Griffiths Malin). Jacqueline has been thrown over by her handsome but poor lover Simon Doyle (JJ Feild) for her very (very) rich and callous American friend Linnet Ridgeway (Emily Blunt), who doesn't think twice about stealing her friend's fiance, marrying him herself a few months later, and then setting off on the same honeymoon destination the pair had planned – a Nile cruise. What could go wrong?
Emily Blunt looks fabulous in the (1930s) period costumes, but her American accent and overall demeanor seemed a little stiff. The rest of the cast delivers great performances – especially Frances de la Tour as the tippling novelist (and delightfully named) Salome Otterbourne. Death on the Nile will be fun to watch for anyone who enjoys a good vintage Christie and has ever been to Egypt (or dreamed of going).
Death on the Nile is filmed in color, with a running time of approximately 102 minutes. The film is in widescreen format, with an aspect ratio of 1080p/16:9 and looks great on a widescreen high-definition television. The film is in English, with SDH subtitles available. Audio format is 2.0 DTS-HD Master Audio. Death on the Nile is not rated (the film contains drug use, sexual situations, and violence). As this was not a theatrical release, but a feature-length television film the only extras on the disk are previews of Acorn Media's coming attractions (Miss Fisher's Murder Mysteries, Foyle's War), an index with the ability to view by scene, and a disk set up feature.