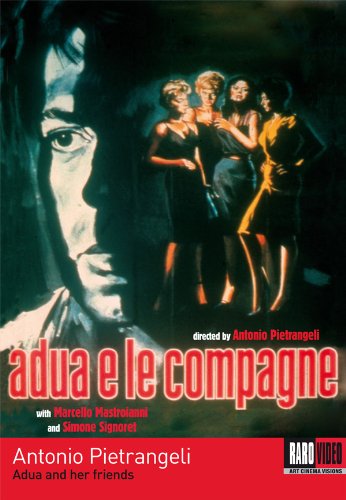 Antonio Pietrangeli isn't a particularly well-known filmmaker within the United States, but his wonderful 1960 film Adua and Her Friends suggests that shouldn't be the case. The blurbs on the DVD from RaroVideo peg Pietrangeli as a member of the Italian Neorealism movement, but Adua isn't really a Neorealist film. Its content — regular people beleaguered by an oppressive societal construct — certainly fits broadly within the category, but its form, which teeters on the edge of melodrama and is backed by a jazzy score — decidedly does not.
In addition, the film is populated with a starry cast at the top of its game, including Simone Signoret, fresh off an Oscar win for Room at the Top, and Marcello Mastroianni, shortly after his appearance in Fellini's La Dolce Vita. Rather than Neorealism, what Adua and Her Friends evokes is a reminder of the woman-centric pictures of Mikio Naruse, which told unsentimental yet sympathetic tales of women persevering against the raw deal they've been handed.
Adua and Her Friends begins on the final night before Rome's Merlin Law goes into effect, which renders previously legal brothels illegal. After one final night of work, Adua (Signoret) is out of a job, but she convinces three of her fellow prostitutes — Lolita (Sandra Milo), Marilina (Emmanuelle Riva) and Milly (Gina Rovere) — to join her in a venture to open a restaurant in the country.
Unfortunately, their past dogs them all the way to the licensing office, where they're denied the necessary credentials. A businessman (Claudio Gora) offers to secure the licenses for them, but on one condition — after a coupe months of honest business, the women discreetly resume their former occupation upstairs.
They take him up on the offer, and soon their lives are tentatively headed toward normalcy. Each one finds she enjoys various aspects of the restaurant business, and their establishment begins to thrive. Adua enjoys a budding romance with car dealer Piero (Mastroianni), while Marilina brings her son back into her life and Milly heads toward marriage with a frequent customer.
However, the characters' place on the societal rung hasn't changed even if prostitution has been outlawed, and their own self-destructive tendencies arise as well. Pietrangeli clearly has enormous sympathy for their plight, and his film has a critical edge that relates to Italy's actual social state, but he never sinks into overly sentimental territory and keeps the film restrained from tipping over into full-on melodrama.
Each of the four principal actresses offer up distinct and moving characterizations, from Milo's portrayal of the young and naïve Lolita to Signoret's weary-eyed Adua, whose extra decade of experience has drained that carefree spirit out of her. Mastroianni possesses the easygoing, casual charm that made him a superstar, tinged here with a slight touch of sleaze.
Adua and Her Friends is ripe for rediscovery, as is Pietrangeli. I look forward to more releases of his films from Raro.
The DVD features pristine image quality, newly struck from the original 35mm negative print. Historian Maurizio Poro offers a short introduction to the film, and Pietrangeli's entry from the 1954 anthology film Amori di Mezzo Secolo is also included. The disc also offers a photo gallery and director biography and filmography, which can also be found in the booklet along with several review excerpts.