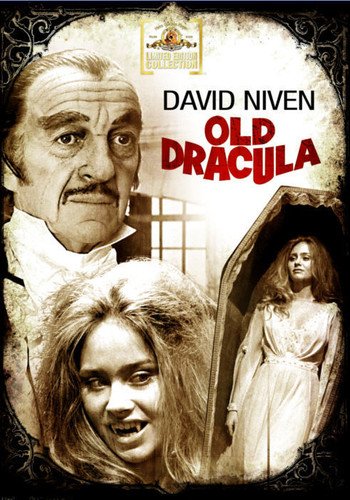 Once upon a time there was an audience for pictures like Old Dracula (1975), one who watched movies from the comfort of their car. A film like this does not mind if you get distracted by spilled popcorn, beer, or your date. In fact, it was all part of the drive-in experience. The seventies were the last hurrah of the genre, but they went out in a blaze of glory. Old Dracula is a prime example.
It just so happens that there is to be a Playboy photo session at Old Dracula's (David Niven) castle when we tune in, which provides some fine opportunities for mayhem. Dracula is on a mission to get just the right blood type to bring his wife Vampira back to life. When the bunnies spend the night, he manages to draw enough blood from them for a transfusion. When his formerly white wife comes back as a black Countess Vampira (Teresa Graves), Old Dracula has a bit of a problem.
For most red-blooded men, having your immortal wife turn into the beautiful Teresa Graves – of Get Christie Love fame, would not be a problem at all. But this is stuffy England, and maybe Drac is a little more conservative than one might think. In any event, he soon comes up with a way to rectify the situation. Marc (Nicky Henson) is Hef's photographer, and is soon turned into a vampire.
Under Dracula's spell, Marc now helps him check out the bunnies to find the correct blood type to set things right. This being the seventies, the beautiful women are all too willing to hop in the sack with the hunky photographer, and a little kinky neck-biting is just par for the course.
That's about it for the plot, except for the hilarious twist at the end. One particularly funny scene takes place when Dracula and his Countess are touring Soho, and a seemingly endless series of porn marquees flash by. These include Black Gunn, Snow White And The Seven Perverts, and Black Dick. My favorite though has to be the name of the theatre that The Last Tango In Paris playing at, The Prince Charles Theatre.
The climactic scene takes place in a Halloween ball at Drac's castle, with plenty of mistaken identities, and sexual innuendo galore. Is this where Saturday Night Fever's 2001 Odyssey actually originated? All I can say is that the un-credited porno/early disco soundtrack is awesome. One group that is credited is The Majestics, for their "Vampira" theme, and it is superb.
The DVD reissue of Old Dracula is part of the MGM Limited Edition Collection. The series focuses on lost classics such as this, and offers a great deal of similar titles for the discerning viewer.