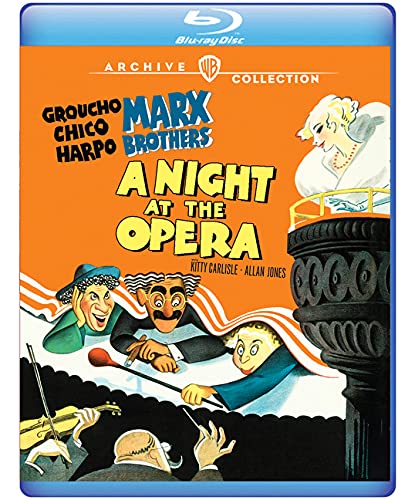 The Warner Archive Collection has released A Night at the Opera on Blu-ray. It is the first Marx Brothers movie made after Zeppo's departure turned the quartet into a trio. Thankfully, losing 25 percent of the act didn't translate into losing 25 percent of the laughs because this film, their first for MGM, is as entertaining as their previous films at Paramount.
In Milan, Italy, Otis B. Driftwood (Groucho Marx) is helping Mrs. Claypool (Margaret Dumont) get into high society through a $200,000endowment to the New York Opera Company. This money will allow the company's director, Herman Gottlieb (Sig Ruman), purchase the services of tenor Rodolfo Lassparri (Walter Woolf King).
The rest of the main characters are introduced at the Milan opera house. Rodolfo is shown to be an abusive jerk. He whips his dresser, Tomasso, (Harpo Marx), and pursues his co-star, soprano Rosa (Kitty Carlisle), who is involved with chorus singer Ricardo (Allan Jones, in the role Zeppo would have played in the film's romantic storyline). Ricardo has aspirations to be an opera star and hires his friend Fiorello (Chico Marx) to be his manager.
While Driftwood is backstage, he encounters Fiorello, who claims to be the manager of the "greatest tenor in the world." Thinking Fiorello refers to Rodolfo, Driftwood sees an opportunity to make some money and one-up Gottlieb. This results in the notable contract scene where they tear through the document going over different parties and clauses.
Unable to afford the the trip to New York, Tomasso, Ricardo, and Fiorello stowaway in Driftwood's luggage. Driftwood asks them to leave before Mrs. Claypool, but they refuse until they are fed. This leads to one of the funniest scenes in the history of cinema: the Stateroom scene where Driftwood's tiny cabin is packed a number of crew members and even a passerby looking for her Aunt Minnie is welcomed in. I laugh every time I see it.
To get through Customs, the stowaways pose as the Santopoulos Brothers, a trio of bearded aviators. After Driftwood is fired from Mrs. Claypool's employ and Rosa is fired for rejecting Rodolfo's advances, the boys exact revenge by sabotaging the New York Opera Company's opening night. They subdue Rodolfo, which allows Ricardo and Rosa to perform. The pair are preferred by the audience, though it's not clear why as they don't know what a villain Rodolfo is.
The screenplay by George S. Kaufman and Morrie Ryskind with additional dialogue by Al Boasber is filled with witty banter, numerous zingers that roll off Groucho's tongue with easy and humorous exchanges between him and Chico. Jones is an okay singer and adequate filling in for Zeppo, but it feels like any number of actors/singers could have filled the role. Chico on piano and Harpo on harp are more impressive and the audience gets a performance from each.
The video is available in 1080p AVC/MPEG-4 encoded transfer has been sourced from a 4K scan and is displayed at the original aspect ratio of 1.37:1. A variety of shades of gray are present as is a noticeable film grain. The blacks are inky and whites look solid without blooming. The image looks clean, free of dirt or defect. Although there are a a few frames missing in the first scene between Driftwood and Fiorello before they start contract talks.
The audio is available in DTS-HD Master Audio 2.0. There is a slight hiss throughout. Dialogue is clear. The songs are presented in good fidelity with the exception of "Alone" where the vocals and music slightly distorted.
The Special Features, available in SD unless noted, are
Commentary by Leonard Maltin, who offers a thorough monologue about the film.
Remarks on Marx (34 min) – Made in 2004, this featurette about the Brothers includes interviews from Dom DeLuise, Robert Weide, Anne Beates, Carl Reiner, Robert Osborne, Larry Gelbart, and co-star Kitty Carlisle.
Groucho Marx on The HY Gardner Show (5 min) – From 1961, Groucho tells the famous story of getting naked in Thalberg's office and cooking potatoes.
Vintage Shorts:

How to Sleep (11 min) – Robert Benchley teaches the viewer how to deal with different aspects of sleeping.
Sunday Night at the Trocadero (20 min) – AHollywood nightclub finds numerous acts performing in the hopes of being discovered. Groucho sans mustache appears twice briefly
Los Angeles: Wonder City of the West (9 min) – This James A. Fitzpatrick Traveltalks short looks at the city in the '30s, including Olvera Street, Gruaman's Chinese Theater, the Brown Derby, Hollywood studios, and the Hollywood Bowl.

Trailer (HD)
A Night at the Opera is a comedy classic and well worth owning. The high-definition presentation delivers pleasing video and satisfactory audio for a film over 85 years old.