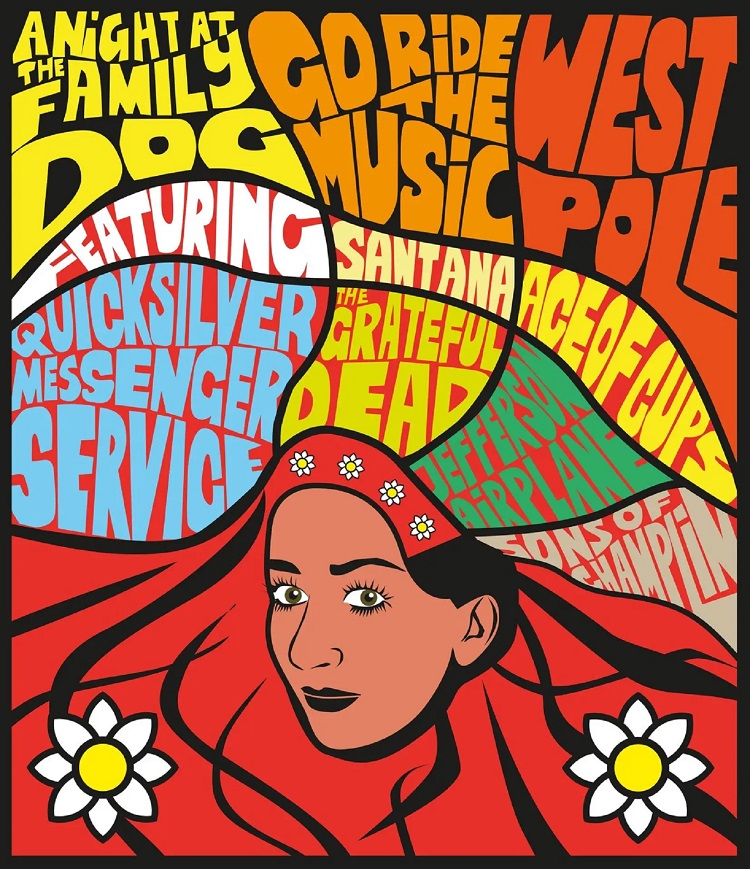 Mercury Studio repackages A Night at the Family Dog / Go Ride the Music / West Pole into a 2-DVD set. Produced by jazz critic Ralph J. Gleason, this trio of musical titles focuses on the San Francisco psychedelic rock scene of the late '60s with Jefferson Airplane and the Grateful Dead making the most appearances. It's a fantastic document of the music and the times.
Disc 1 contains A Night at the Family Dog (58 min). Recorded on February 4, 1970 on videotape, the Family Dog hosts three well-known bands. The club is certainly not lit for the video and the camera position and movement is minimal.
Santana opens with two songs of their trademark, Latin jazz infused rock. Their set is intercut with fades to and from the audience along with strobe and light effects that presumably played simultaneously in the venue.
The Grateful Dead segment opens with video of dancing girls as Pigpen sings a cover of Otis Redding's "Hard to Handle." On the traditional "I Know You Rider," the three-part harmonies of guitaris Jerry Garcia, bassist Phil Lesh, and guitarist Bob Weir sound good. One camera shooting from the audience finds Lesh blocking drummer Bill Kreutzmann.
Jefferson Airplane bassist Jack Casady plays some heavy licks during "The Ballad of You and Me and Poniel" while vocalist Grace Slick shines on "Eskimo Blue Day". A Night at the Family Dog concludes with about a nine-minute SuperJam, a groovy blending of all three bands, though the way it's shot in close-ups I can't tell who all is involved. Garcia is the only one from the Dead I am sure I see.
Audio options are Mono, Extrapolated 2.0 Stereo, and Extrapolated 5.1 Surround Sound. I was pleased with the 5.1 option which delivered the a fuller, balanced sound.
Disc 2 contains Go Ride the Music (57 min) and West Pole (55 min). Go Ride the Music features seven songs by Jefferson Airplane played in a studio intercut with four songs by Quicksilver Messenger Service, most of which are played outdoors.
Shot on film, the director and editors do more than just show the bands performing. They experiment with the medium, much like their musical contemporaries were doing, and create videos for the songs. That's apparent from the first song, "We Should Be Together," which sees the blending of shots from multiple cameras to maximize what the audience sees. During "Volunteers," a fish eye lens is used. In addition, footage of people at a music festival and protesting in the streets are included.
Airplane doesn't get enough credit for how heavy their sound is. Anchored by bassist Jack Casady and drummer Spencer Dryden, who provide a massive bottom end to the arrangements, the guitars really soar on "Plastic Fantastic Lover" sung by Marty Balin followed by "Somebody to Love" with Grace Slick on lead vocals. For those that don't know QMS, this is a good introduction even though the audio quality isn't the best.
David Crosby can be seen hanging with the Airplane. During QMS's "Somebody's Crying," Jerry Garcia, who appears in brief interviews between songs and is credited as Guru, can be seen, and it looks like Robert Hunter is with him.
Audio options are Mono, Extrapolated 2.0 Stereo, and Extrapolated 5.1 Surround Sound. I prefer the 2.0 because the 5.1 is mixed too loudly and doesn't allow entire arrangements to be heard clearly.
West Pole is a visual essay by Gleason about San Francisco. He offers commentary throughout as the program showcases local bands and the audiences who dig them. Ace of Cups, who gets the most appearances with three, and the jazz-influenced Sons of Champlin play live in the studio. The rest of bands appear in prerecorded short films, making this program a precursor to MTV. Jefferson Airplane, the Grateful Dead, and Quicksilver Messenger Service each get one song while Steve Miller Band, whose sound is a lot different from the classic-rock hits they put out in the' 70s, gets two songs.
Audio options are Mono, Extrapolated 2.0 Stereo, and Extrapolated 5.1 Surround Sound, and like the previous program, I prefer the 2.0 track over the 5.1 for the same reasons.
Although quality of the source material, which is over 50 years old, is not optimal when compared to today's technical a/v standards, the historical significance of these programs far outweighs any complaints someone could have. And yes, the video can be too dark or have a blurred focus, and the music doesn't gets its due with the original mono track, but this trio of programs is like a time machine. Viewers are transported to experience the sights and sounds of Haight Ashbury. (The smells you'll have to create on your own.) Turn on and tune in to these three programs, and don't be surprised if you want to "wear some flowers in your hair" as songwriter John Phillips suggests.