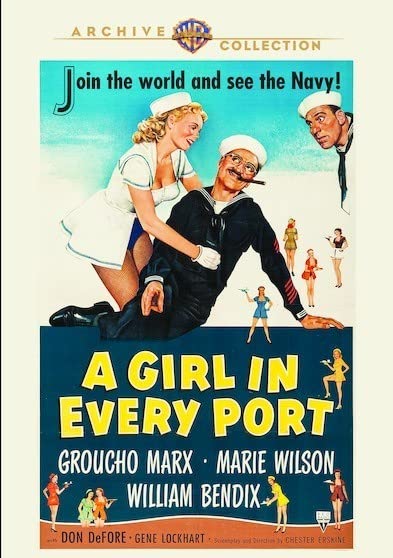 The wisdom and wit of Groucho Marx may be as timeless as comedy itself, but it can be a little hard to perceive underneath some of the late legend's latter-day contributions to cinema. And a prime example of just how hard even the mightiest of comics can struggle is no more apparent than in the 1952 RKO ditty, A Girl in Every Port. When he was given the chance to simply be himself and say whatever popped into his head (censors permitting, of course), Groucho was nothing short of dynamic. Here, however, in what would be his final leading role in a motion picture, we see firsthand the sort of cringe-worthy antics of what happened when Groucho had to act.
Six years after Groucho last appeared on-screen with his brothers Chico and Harpo in A Night in Casablanca (or three years, if you count Love Happy, which most diehard Marx Bros. fans most assuredly do not), The Egg and I director Chester Erskine would wind up pairing the iconic host of TV's You Bet Your Life with one of the most unusual of verbal sparring partners: William Bendix. Not that Bendix was a bad actor. Far from it, in fact: he was nominated for an Oscar, once received top-billing over Susan Hayward, and even had a long-running radio series ‒ The Life of Riley ‒ which, as coincidence would have it, was originally supposed to have starred Groucho!
Perhaps that was the connection which resulted in this unique comedy duo. Or maybe it was because both of their names ended in X. Who knows! In any case, A Girl in Every Port finds the two performers cast as a pair of salty old sailors named Benjamin Franklin "Benny" Linn and Timothy Aloysius "Tim" Dunnovan (Bowery Boys much?). Even by '50s situational comedy standards, it's hard to fathom a 62-year-old Groucho as a sailor, but it's high time we switch our brains off for this flick, which, incidentally, has nothing to do with romancing various women from all over the world by either of the film's stars. In fact, A Girl in Every Port doesn't even leave the harbor.
Instead, this tale, sourced from Frederick Hazlitt Brennan's short story The Sell Sailors Elephants, finds Groucho as a fast-talking scheming shyster of a scammer fellow who puts his magnificent, manipulative mind (complete with sound effects that break the fourth wall) to work after his best pal Bendix is sold a lame race horse. To this extent, he plots out a scenario to get even with the seller (Don DeFore), who is trying to give up the lifestyle per his nagging (ha-ha) fiancée (Dee Hartford). But that all changes once the seamen find out their new portable glue factory has a twin brother ‒ one who is fully capable of winning a race under the right set of circumstances.
But, of course, nothing feels right in A Girl in Every Port. Marie Wilson, the shapely starlet best known for the radio comedy My Friend Irma (which she also played on-screen with a slightly more famous pairing of comedians, Dean Martin and Jerry Lewis), co-stars here (receiving second-billing above William Bendix, indicating that the ship had indeed sailed on poor Bill) as a ditzy (surprise!) carhop whom our unlikeable romantic lead (DeFore) takes a fancy to. Gene Lockhart, Hanley Stafford, Teddy Hart, and Percy Helton also star, with Wade Crosby and Robot Monster villain George Barrows (really) also making tiny appearances.
Sinking to new depths of situational comedy, A Girl in Every Port doesn't seem to care much for its own story, and the overall lack of enthusiasm its lead actors emit throughout signifies such. Groucho in particular delivers a thoroughly painful performance since he isn't given the chance to ad lib, so I guess this was just another instance where Chico needed the money. Interestingly enough, this disaster was one of the first films to be produced by Irwin Allen himself (it was one of his first efforts). 65 years after it first dropped a bomb off at the box office, this amusingly bad form of cheap entertainment hits DVD-R thanks to the folks at the Warner Archive Collection.
Presented in 1.33:1 with mono sound, A Girl in Every Port looks and sounds a lot better than the elephant it sells. There aren't any special features to be found here (not even a trailer, sorry), but unless you're a fan of bad comedies or are a devoted "Marxist," you probably won't cry over that. You might cry over the movie itself, granted, but then, as the great Groucho once said, "Well, all the jokes can't be good! You've got to expect that once in a while."