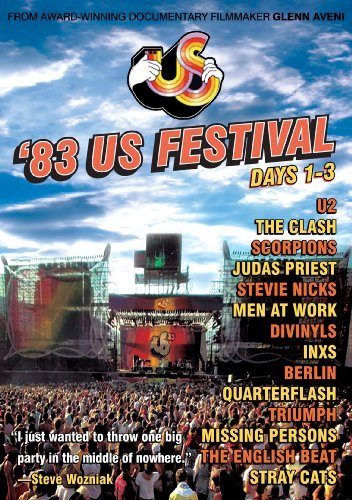 When hot summer winds blow, music festivals are sure to follow. Today, multi-day events such as Lollapalooza and Coachella are relatively common; back in the early 1980s, such concerts were in their infancy. In 1982, Apple co-founder Steve Wozniak sponsored the first US Festival (standing for "United Us in Song,"), an event he envisioned as an '80s version of Woodstock. Staged near San Bernadino, California, the three days boasted an impressive lineup of the era's biggest artists. Wozniak produced the second and final US Festival in 1983; despite a 670,000 attendance figure, the production lost millions for the entrepreneur. Thankfully a camera crew filmed the festivals, and the new DVD '83 US Festival Days 1-3 features highlights from that year's lineup. It serves as a time capsule of new wave, rock, and heavy metal from that period, and contains memorable performances from U2, The Clash, and INXS.
Interspersed with interviews of Wozniak, original MTV VJ Mark Goodman, and Men at Work's Colin Hay, the music footage remains the chief reason to own this disc. The concert occurred over Memorial Day Weekend, May 28-May 30. Day one, "New Wave Day," includes a pre "I Touch Myself" Divinyls, with lead singer Chrissy Amphlett inexplicably slathered with red paint. INXS turns in a rocking version of their early hit "The One Thing," with Michael Hutchence channeling Mick Jagger in his dance moves. A snarling Clash excites the audience with an angry rendition of "Should I Stay or Should I Go?" while Men at Work appear nervous while performing "Who Can It Be Now?" and "It's A Mistake" (Hay admits that it was the largest festival crowd they had ever performed in front of). The surprise here is the Stray Cats, who rile the audience with their energy and authentic sound. As they tear into "Rock This Town," Brian Setzer pulls out his best Chuck Berry moves while Slim Jim Phantom stands on his drums as he pounds on them. Goodman admits that he initially dismissed them as a novelty act, but came to realize that Setzer took rockabilly quite seriously. Obviously their passion—and the rebellious nature of old-time rock and roll—appealed to the '80s generation.
Day two was devoted to heavy metal, and it boasted the biggest attendance of the entire festival. Watching it 30 years later, however, it is difficult not to picture This Is Spinal Tap thanks to all the rock cliches. Leather and spandex outfits, tongues hanging out, guitarists windmilling their arms and wearing pained expressions on their faces, the usual "are you ready to rock?" stage banter—they are all present and accounted for here. Judas Priest kicks off the section with a rather awkward entrance, namely Rob Halford riding a motorcycle down a truck ramp. The ramp is so short that Halford simply coasts down in neutral rather than revving the engine. They rip into their biggest hits "Breaking the Law" and "You've Got Another Thing Comin'" as Halford pumps his fists, handcuffs and a whip dangling from his belt. In 1983, however, this posture was considered dark and dangerous. The Scorpions excite the crowd with "The Zoo," which features an extended vocoder-aided solo straight out of Peter Frampton's "Do You Feel Like We Do." In a head-scratching move, the band Triumph features prominently on the DVD, with four of their songs included.
The final day features rock bands, and there is one undisputed winner in this lineup: U2. At this point, they had only three albums to their credit, and were only a modest success in the U.S. Their US Festival performance, however, proves that they were destined to be superstars. An incredibly young Bono, sporting a then-fashionable mullet, paces up and down the stage like a tiger while constantly interacting with the audience. The Edge (minus his usual hat) stands in the background but plays the guitar in his trademark tension-filled style. They tear through "Sunday Bloody Sunday," the crowd bouncing in time to the beat; at the end, Bono holds up a white flag, waving it side to side. This is followed by the Boy track "The Electric Co.," with Bono climbing up to the top of the stage, throwing another white flag into the audience. By the end, U2 has clearly won over the audience with their enthusiasm and drive, paving the way for their later breakthrough The Joshua Tree.
Due to the footage's age, the visual quality is average at best. Editors seemed to haphazardly splice performances together, leading to some rather abrupt transitions (this is most noticeable during Stevie Nicks' appearance). The DVD relies too heavily on Goodman's recollections—do we really need to hear Goodman opine about U2 instead of just viewing their entire performance? Disappointingly the entire version of Berlin's "Sex (I'm A…)" is cut short by additional footage of the audience. Unfortunately the US Festival DVD contains no extras, and no original artists besides Hay are interviewed. Despite these flaws, '83 US Festival translates into fascinating viewing for children of that decade. Seeing bands before they became major successes alone makes this artifact essential viewing for any '80s music fan.