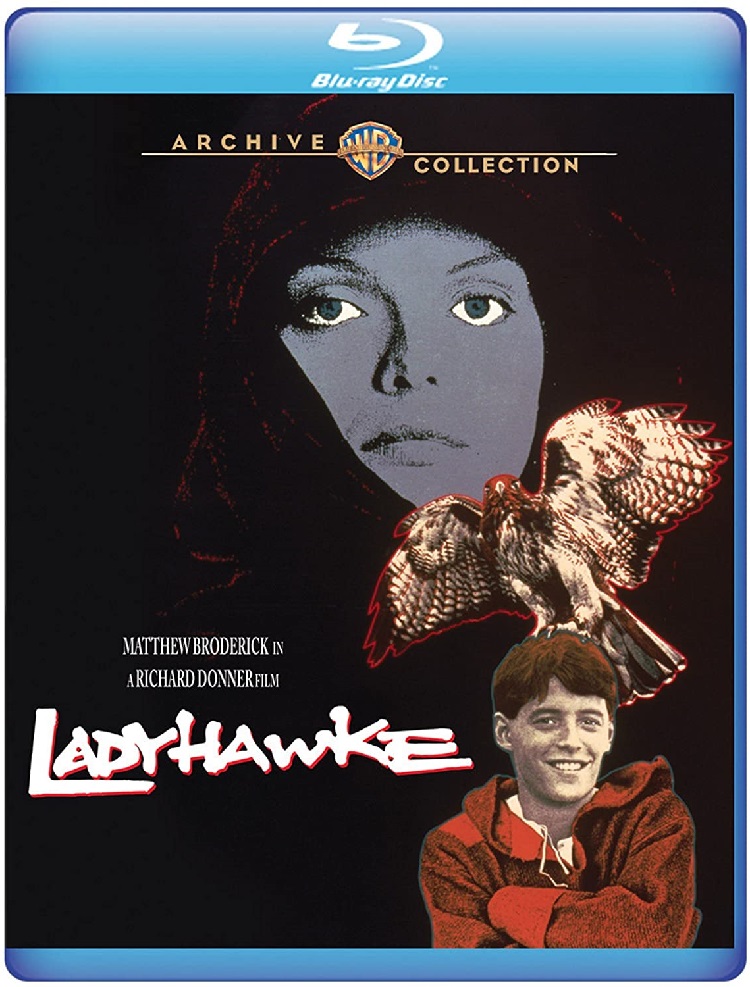 In continuing their fine tradition of reviving the occasional catalogue title for today's HD-savvy generations, the Warner Archive Collection has been releasing more vintage titles to Blu-ray than ever before. Recently, three classic titles from one end of yesteryear or another – the 1933 musical 42nd Street, the oddball 1986 magical fantasy/comedy/adventure Ladyhawke, and the mythical 1981 urban horror flick Wolfen – landed on my doorstep; each as far removed from the other as can be.
My trio of diversity begins with the 1933 musical 42nd Street, as choreographed by the great Busby Berkeley and directed by the one and only Lloyd Bacon. Like many musicals of the period, 42nd Street finds a group of performers getting together in the hopes of putting on a show. But one of the many things that sets 42nd Street apart from its fellow song and dance photoplays of the period is the fashion in which it is done. In fact, were one to watch this and All That Jazz back-to-back, it would be highly improbable for said individual to not note some remarkable similarities. Only without all of the substance abuse and sex, of course – although, both of those elements of vice are present here, too, albeit in a more moralistic 1930s form.
The story here finds a Depression-era Broadway director extraordinaire, as played by Warner Baxter, being hired to helm a huge project to star stage musical sensation Bebe Daniels. Alas, the poor Baxter is in the midst of a depression himself, having been told by his physicians to back off from the stressful, high-pressure job he hates to love and loves to hate. But he insists on pushing the envelope just the same, despite putting his very life at risk in the process. Meanwhile, Miss Bebe allows herself to be wined and dined by the production's older and very hormonal backer (the great Guy Kebbee), finding any excuse to see her former dancing (and personal) partner, George Brent, on the side. And while all of that'sgoing on, Mr. Brent is busy getting involved in a love triangle between promising newcomer Ruby Keeler and youthful Broadway star Dick Powell.
Ginger Rogers, Una Merkel, Ned Sparks, and Allen Jenkins co-star among this parade of familiar faces – which, by the way, reserves its multiple song and dance numbers for the grand finale, just in case you're a musical-phobe. Classic movie lovers can also spot a venerable assortment of undiscovered/up-and-comers near and far, including character great Charles Lane, and future Reefer Madness icon Dave O'Brien. Even cinema's first Commissioner Gordon and Lex Luthor, Mr. Lyle Talbot, phones in a role here – literally – by providing his distinctive voice. But don't fret, Talbot fans, the future Ed Wood movie regular shows up in one of the eight different special features which have been culled from the previous Standard-Definition releases of this 1933 blockbuster and presented here with a staggeringly beautiful new HD presentation of the feature film itself.
Moving away from the old-school movie magic of the 1930s, we venture ahead into another magical decade, the '80s. It is here that Richard Donner's 1986 fantasy epic Ladyhawke comes into focus, though perhaps not as clearly as it should. In an attempt to capitalize the popularity of a rising teen star by the name of Matthew Broderick, a recent wave of other fantasy epics, Ladyhawke delivers an uneven tale set in the 12th Century. Here, Rutger Hauer stars as a disgraced Captain of the Guard, who was doomed by a jealous Bishop (John Wood) to transform into a furry four-legged critter (though not in the traditional lycanthropic sense) as the night falls, while his lover – young Michelle Pfeiffer – is cursed to be a hawk during the daylight hours.
You know your predicament is bad when Matthew Broderick is the only person in the world who can save you. Sure enough, the as-out-of-place-as-can-be star of Ferris Bueller's Day Off – as a wisecracking young pickpocket nicknamed "The Mouse" – becomes entangled in the very weird (but not genuinely bad at all) love story, which stands out of place that much further by sporting a very contemporary ('80s) music score by Andrew Powell and Alan Parsons. Leo McKern co-stars as a cantankerous ex-priest, Alfred Molina has a small (and almost unrecognizable) role as a wolf-trapper, and, since the USA production was filmed entirely in Italy, you can be sure to spot a few Italian actors, including B-movie cult hero Giancarlo Prete (aka Timothy Brent), Charles Borromel, and even voice actors Gregory Snegoff and Ted Rusoff (at least I think I saw the latter; the IMDb is not as complete as it should be for this film, as most of the Italian cast went uncredited).
A box office failure upon its initial release (for reasons that should have been made entirely prominent), Ladyhawke nevertheless became something of a cult item over the years thanks to home video, and was probably re-released more times on VHS alone than any of the movies it (may have) sought to ride the more successful coattails of. At last, however, fans of the film as well as the curious alike can rest easy, as this Warner Archive Collection Blu-ray release undoubtedly trumps all. First off, it's beautiful. Secondly, this is the only version to hit home media that contains the original (correct) color timing for the film – as well as being presented in its intended aspect ratio. Sadly, nothing more than a trailer is included for bonus materials, but I suppose we should be thankful enough to have such a gorgeous new, proper transfer if nothing else. And, to be honest, I've seen worse movies.
Which leads me to Wolfen, ladies and gentlemen. 1981 was a year in which Hollywood was slightly abuzz with a newfound interest in all things shapeshitery-like, and two groundbreaking classics – The Howling and An American Werewolf in London – emerge from the shadows to horrify and delight audiences. And then, sort of stuck right in the middle of the two like the bastard red-headed step-child I suppose it really genuinely is, is Wolfen. Based on the novel The Wolfen (well played, Hollywood) by Whitley (Communion) Streiber, the Orion Pictures "doggy style" flick focuses on an entire sub-race of spiritual shapeshifters secretly living within the ghettos of society, where they pick off the diseased and forgotten elements of humanity.
Not a bad idea, really (the story, either, for that matter), but after a rich developer starts tearing down the wasteland that is the South Bronx, he disturbs the clandestine inhabitants' main feeding ground (to say nothing of threatening the entire legacy of Italian post-apocalyptic filmmaking that would follow in the process). This leads to said rich developer being murdered by the clan, which brings retired NYPD homicide detective Albert Finney (as American as can be) back on the force for one last job. And that results in an urban horror film ripe with innovative in-camera POV effects and some truly good gore to boot (but which was just a tad too slow moving for my tastes). Diane Venora, Edward James Olmos, Gregory Hines, and Tom Noonan co-star, and the late James Horner provides a very James Horner-sounding score to this semi-cult classic from Woodstock documentary filmmaker Michael Wadleigh.
While the aforementioned Mr. Wadleigh was reportedly unhappy with the way the film turned out, there can be no denying that this Warner Archive Collection Blu-ray presentation of the movie even my fellow horror movie hounds from childhood always said "Oh, don't rent that one" to is second to none. Released on VHS, Betamax, LaserDisc, and DVD numerous times in the past (much like Ladyhawke, it wasn't a hit in theaters, but has garnered many a home video sale) Wolfen finally gets the video/audio treatment it deserves here. Those previously mentioned gore effects look all the more gruesome here, and anyone who has ever wondered what a young Edward James Olmos looked like completely in the buff will wonder no more (although therapy may be in line for some within the near future). A lone wolf of a trailer accompanies this sleeper HD release.
All three titles are currently available from the Warner Archive Collection.