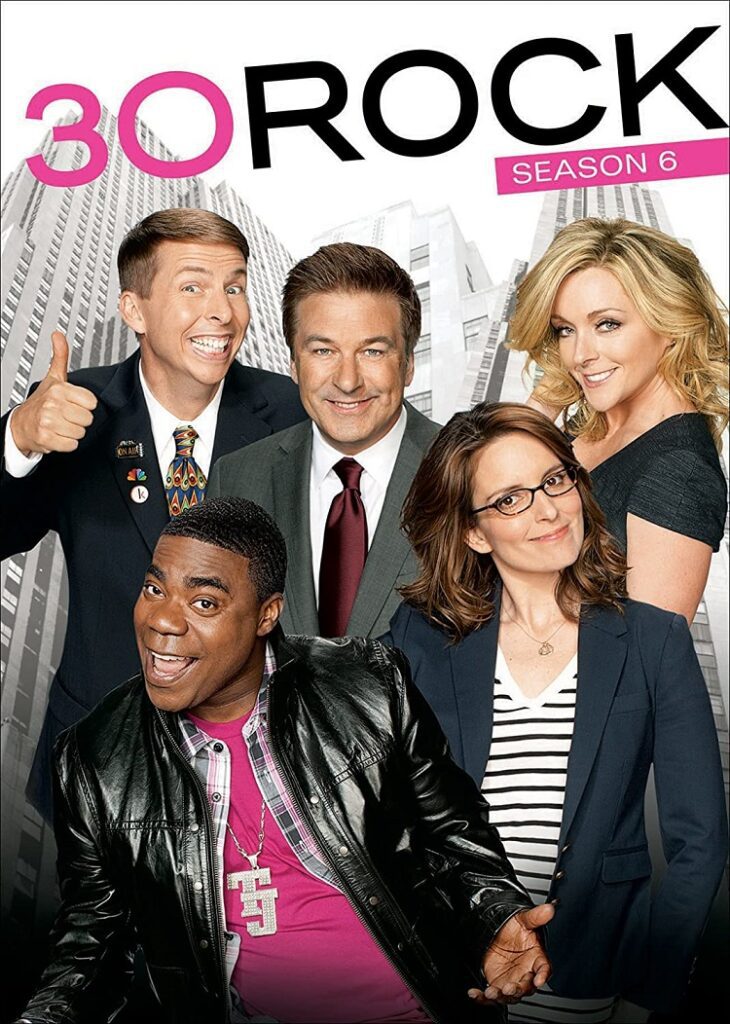 In 2006, network television released two separate series about the behind-the-scenes shenanigans of Saturday Night Live-esque sketch comedies. Studio 60 on the Sunset Strip was an hour-long drama created by Aaron Sorkin and 30 Rock was a half-hour comedy developed by former SNL alumni Tina Fey. Initially I wasn't interested in either having not watched SNL since the mid-'90s and never being much of a sketch comedy fan.
On a whim, I caught an episode of Studio 60 about four or five episodes into the series and loved it. At that point I had never seen anything of Aaron Sorkin's and so I was knocked out by the clever, intelligent writing, the whiplash dialog, and the over all, top-notch production values. True, it dipped a good bit by mid-season as Sorkin struggled with figuring out what kind of show he actually wanted to make, and now my having gone back and watched The West Wing, it doesn't hold up nearly as well, but upon first viewing I was completely blown away.
During that first season, I was totally on the side of Sorkin and jeered at and thumbed my nose towards 30 Rock and what appeared to be its abject silliness. Studio 60 was a real show with something to say and a brilliant way of saying it. 30 Rock was more fart jokes and lazy writing. Or so I thought based upon…nothing really – watching the 30 Rock promo clips and feeling snobbish.
Studio 60 died after one season and 30 Rock has won a bunch of awards and is about to enter its seventh season. I also learned to drop my haughty attitude and love the show. It is still silly, very silly, ridiculously silly at times, but its also smart and clever and every so often it's down right brilliant.
I now live in an area that is so small we don't even have our own NBC affiliate (we just got CBS so we're moving up!) so I've not yet seen the sixth season. But now it's out on DVD and that makes it my Pick of the Week.
Extras include audio commentaries on several episodes, the West Coast version of the live show, deleted scenes, and a couple of featurettes.
Also out this week that looks interesting:
Hammer House of Horror – The Complete Series: Hammer Studios created a slew of now classic horror films in the '50s, '60s, and '70s. In 1980, the declining filmhouse produced 13 horror stories for British television and now it's available on DVD. I'm embarrassed to say I've never seen a Hammer Horror movie, but they've long been on my list of things to check out and now I've got this to add as well.
Snow White and the Huntsman: This new take on an old tale didn't do particularly well with critics or audiences alike. It is the type of film I'll watch if someone I know brings it home but not something I'll seek out. Still Charlize Theron films should always get a mention here.
Castle: The Complete Fourth Season: I have many, many friends who absolutely love Firefly and though I've tried I've never quite seen what the fuss is about. Even though that is the only thing I've seen him in I still really rather like Nathan Fillion. Castle sounds like your run-of-the-mill cop show with a ridiculous twist (he's a writer who follows around a New York cop for ideas solving mysteries along the way) but I keep hearing good things. The clips I've seen are clever, and so I keep meaning to watch it, but haven't quite gotten around to it.