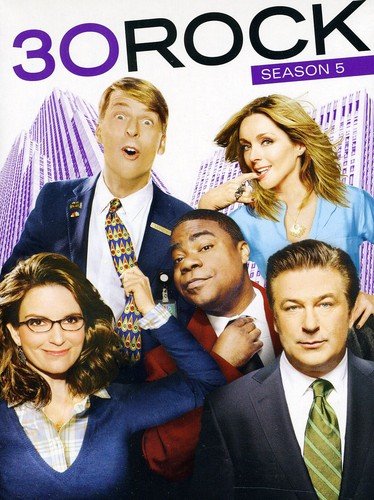 If it were up to Mat Brewster the regular guy, the non-writer, the man with the statuesque physique but ever shrinking wallet due to a wife who likes to shop and baby who needs larger and larger clothes on average of about every 3.7 seconds – if it were up to that guy, he'd give this week a pass. There just isn't anything coming out this week that's gonna make him spend his already tiny Christmas budget on. But since this column isn't written by that guy but rather the Mat Brewster who has to write a weekly column about new DVD releases every single week or else he's hung up by his toes by the owners of Cinema Sentries I've got to say that Season Five of 30 Rock is the Pick of the Week.
It took me awhile to warm up to 30 Rock, truth be told. When it first came out it was up against another behind-the-scenes of a Saturday Night Live-type show the Aaron Sorkin created Studio 60 on the Sunset Strip. Even though I had never watched a Sorkin show I was firmly in Studio 60's camp. I stopped watching Saturday Night Live by the time I left high school some 15 years ago and so 30 Rock with its true SNL pedigree didn't seem interesting to me in the least. I actually didn't start watching Studio 60 until about five episodes in either but once I caught one episode I was completely hooked. It had great writing and acting and an energy rarely found on network television. Which of course meant it got cancelled after one season.
I didn't connect with 30 Rock until sometime later. My sister had the first season on DVD and I watched it mostly out of boredom. But I liked it well enough to catch new episodes when they aired and soon became hooked. Its much sillier than I usually like my television, but the writing is solid, Tina Fey is adorable, and the jokes have a tendency to follow down through the seasons so that you are rewarded for watching every episode and now it's one of my all-time favorite comedies.
The fifth season suffered a bit as the writers seem to be running out of things for the characters to do, but there were still some great gags and plenty of hilarious moments. The DVD set includes audio commentary on select episodes with some of the cast and crew, deleted scenes, a behind-the-scenes look at the West Coast version of the "Live Show," a short entitled "Jack Donaghy, Executive Superhero," and a complete version of Jenna's obituary song.
I have minimal interest everything else that's coming out this week, but I know I'm not everybody, so here are the highlights.

The Smurfs
Adele: Live at the Royal Hall
Smallville: The Complete 10th Season
Friends With Benefits
One Day
The Six Million Dollar Man: Season 1
Our Idiot Brother
Cave of Forgotten Dreams