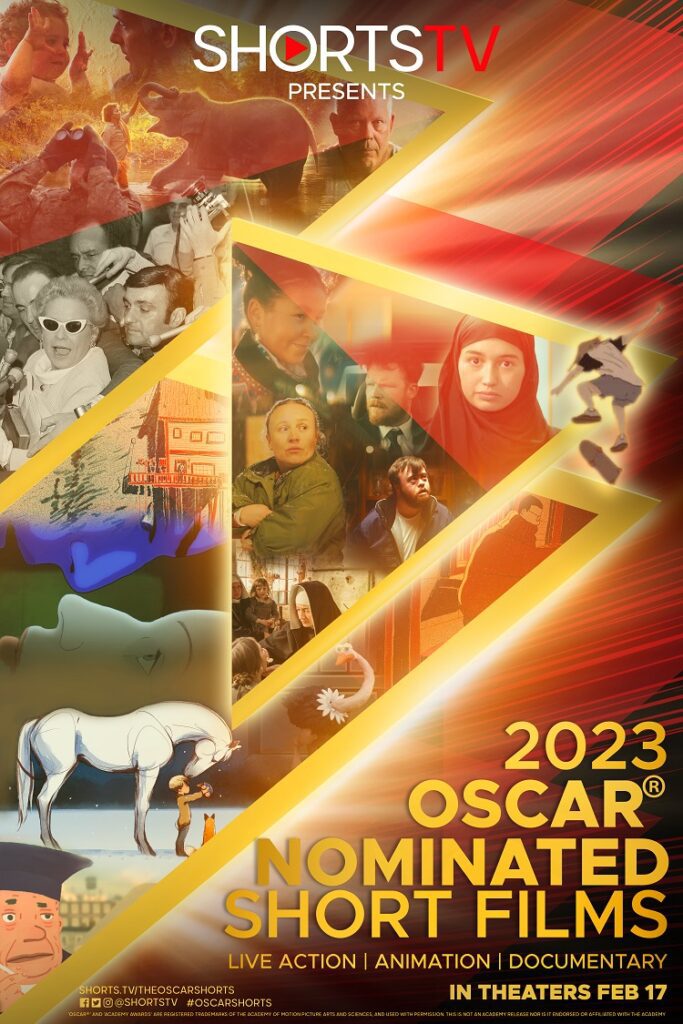 Starting February 17, the 2023 Oscar Nominated Short Films will be available in over 500 theaters across 75+ theatrical markets including New York and Los Angeles. This is the only opportunity for audiences to watch the short film nominees in theaters before the 95th Academy Awards ceremony on Sunday, March 12, 2023. To learn more about the participating theaters and how to purchase tickets, please visit www.shorts.tv/theoscarshorts. Each nominee is released in one of three distinct feature-length compilations according to their category of nomination: Live Action, Animation, or Documentary.
The nominees are:
The Boy, the Mole, the Fox and the Horse (directors Peter Baynton & Charlie Mackesy, UK, 35 min)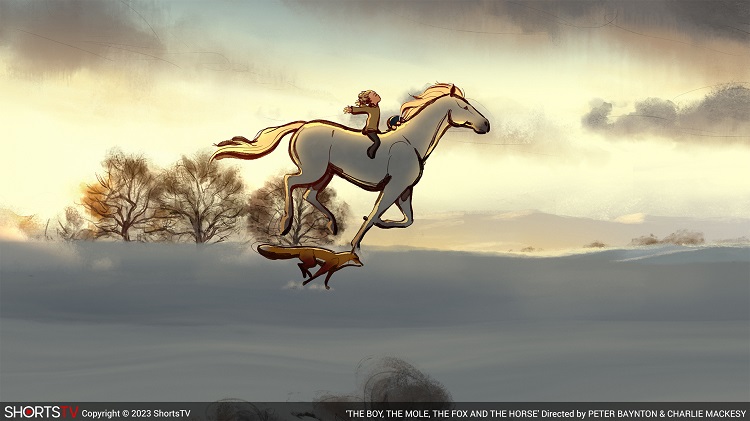 Based on co-writer/co-director Charlie Mackesy's 2019 illustrated book, The Boy, the Mole, the Fox and the Horse brings to mind Winnie the Pooh as a young boy lost in a wintry woods stumbles upon a mole, then a fox, and then a horse. The trio of talking animals (voiced by Tom Hollander, Idris Elba, and Gabriel Byrne respectively) help the boy find his way home, and during their conversations along their journey, the animals offer aphorisms about life that present the characters, and the viewers, touching notions to ponder about how to move forward in their lives. They make for a wonderful quartet that will hopefully have more adventures. The art looks grand. The stylistic line work on the characters is memorable. The woods bring to mind the work of Bill Watterson of Calvin & Hobbes fame.
The Flying Sailor (directors Amanda Forbis & Wendy Tilby, Canada, 7 min)
Inspired by Charlie Mayers, a sailor who flew over two kilometers as a result of the Halifax Explosion of 1917 and lived to tell about it, this short is an utterly compelling look at life, the universe, and everything in a few moments of the sailor's life. The film plays with medium, blending 2D and 3D animation as well as blending realistic depictions with abstract art.
Ice Merchants (director João Gonzalez, Portugal/France/UK, 14 min)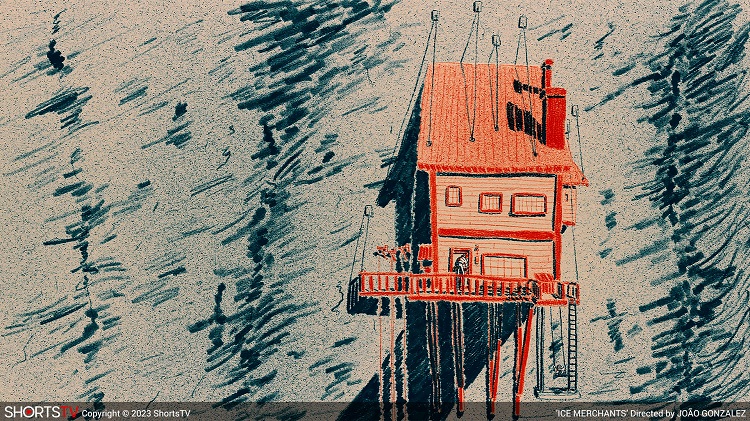 A man and his young son live precariously on side on a cliff face. They parachute together into the local village to sell ice. They lose their hats on the way down and buy new ones. This cycle is repeated daily. Someone presumably, the boy's mother, is no longer with them. Only remembered by a cup left behind in the cabinet, which the man doesn't want used. When the temperature rises above zero degrees, their lives are forever changed.
There's no dialogue so the intentions of the filmmaker aren't as clear. I am not sure if there's a commentary about the futility of work, but it was hard not to be frustrated they would waste their limited income of replacing hats that could easily have been secured on their heads. Also, something possibly being said about grief, but again, there weren't enough clues for me to decipher the themes of the story.
My Year of Dicks (director Sara Gunnarsdóttir, USA, 25 min)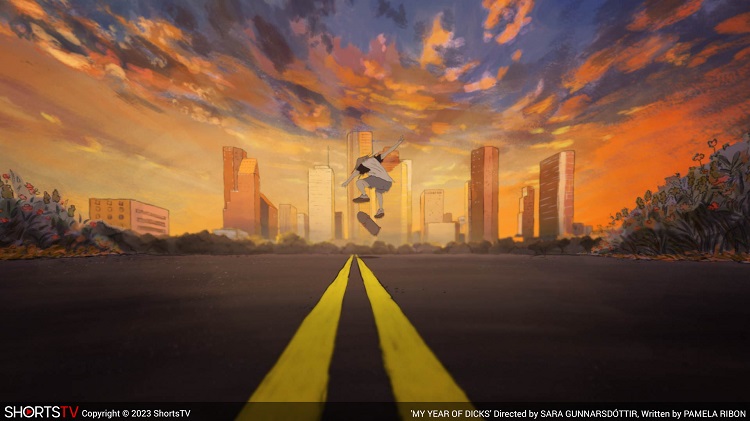 Based on screenwriter Pamela Ribon's 2014 memoir Notes to Boys: And Other Things I Shouldn't Share in Public, 15-year-old Pam informs viewers about a few months, from August to November 1991, when she tried to lose her virginity. Broken into five chapters for each fella, Pam details her efforts of rushing into adulthood, which are clouded by childish sensibilities. The story has a sweet ending about a person not realizing that what they are searching for may already be in reach.
Pam has a naivete about her that is endearing, and though the five boys during this venture are unique to her, I presume there's a universality for many female viewers. The artwork for each chapter is stylistically different and suits the mood of each fella and/or situation. Could easily see this being a pilot to a series about her growing up or a couple more stories added to flesh it out into a feature film.
An Ostrich Told Me the World Is Fake and I Think I Believe It (director Lachlan Pendragon, Australia, 11 min)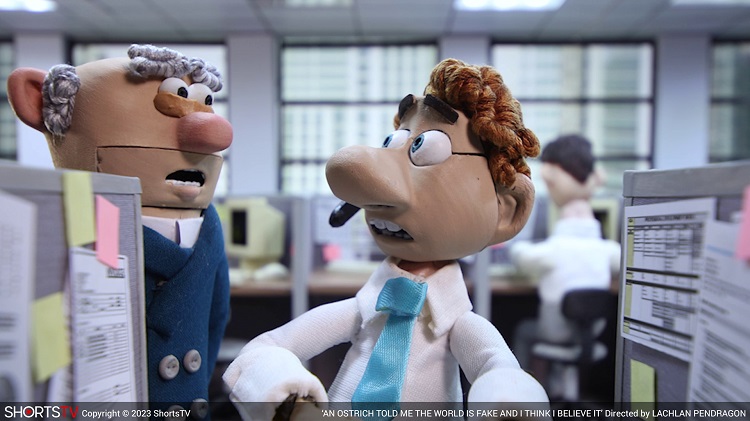 This amazing stop-motion short features office worker Neil, who discovers reality may not be as he knows it. This idea comes to him even before he meets a talking ostrich in the elevator. Viewers are clued in to the ostrich's theory due to the genius framing of shots where Neil's world is seen through a monitor while out of focus surrounding it the animator can be seen working in blurs. This very inventive short brings to my the stories of Charlie Kaufman.
I usually conclude this yearly review of animated shorts with my pick to help readers with their Oscar ballots. This year I am perplexed because I can't remember when I have last seen this impressive a roster of shorts. The nominating committee did a great job this year. I could easily see four of the five shorts winning and would be fine with the results. What I will suggest is learning the names of these filmmakers because they are all so talented, I am curious to see what the next project by each of them will be.