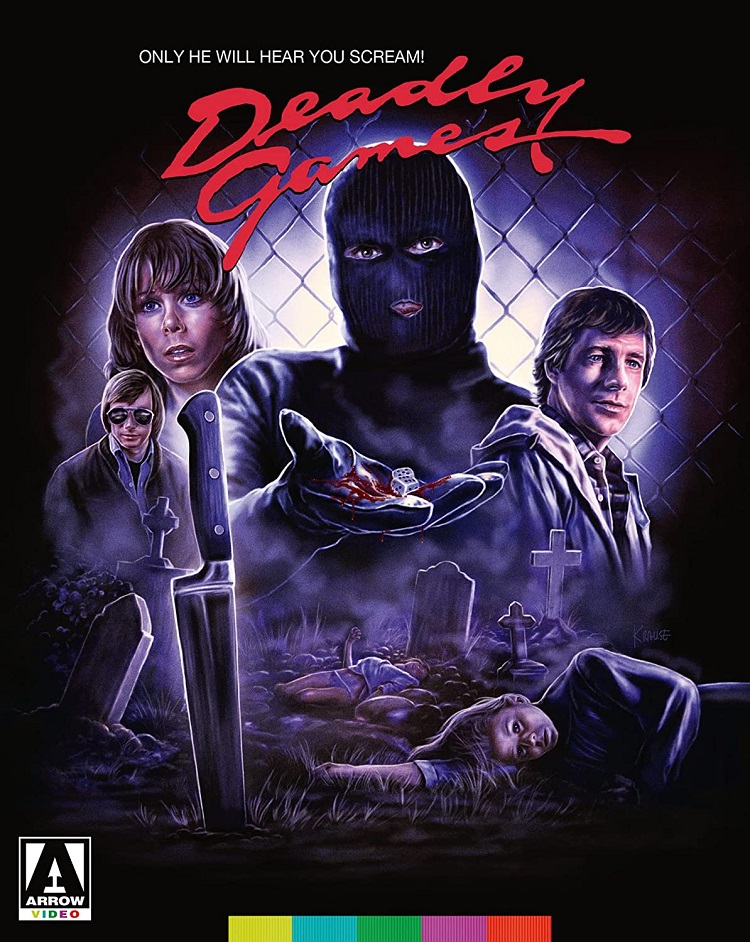 Deadly Games (1982) is the passion project of writer/director Scott Mansfield and passions do play a large role in this odd "slasher" movie that's more a corny comedy, suspense/thriller with a strong soap opera vibe. From its opening scene to its closing swing, Deadly Games is loaded to its gills with nudity,1970s open/free love and a few creative kills. Monopoly it's not. Barrel of monkeys, maybe?
Keegan (Jo Ann Harris), a writer for a rock magazine, returns home to her small town after her sister is murdered. She soon finds that a group of her old friends are crawling all over each other like a box full of hamsters, switching partners as easily as changing socks. She herself quickly gets involved with the handsome yet creepy rake of a lawman named Roger (Sam Groom), who's investigating the murder. Though we don't actually see much investigating, we do see him show up frequently and unexpectedly at the house/crime scene where Keegan is staying.
While Keegan is drawn closer to Roger, she's also reintroduced to an odd, old acquaintance named Billy (Steve Railsback), who lives in the old theater where he and Roger, now his best friend after an incident during the Vietnam war, watch old horror movies. As the layers are peeled back on the sexual escapades of this small group of friends, we see more of Keegan and Roger's female friends get killed by a mad, masked killer. Notable names on the lust/kill list include Jere Rae Mansfield (self described as "the blond who died in every Aaron Spelling show"), Colleen Camp, and Alexandra Morgan. There's also a cameo by June Lockhart, who doesn't get killed.
The board game is homemade, created by Roger and Billy, and seems to get a bit forgotten as the movie plays on. We see it as the opening credits roll and now and again throughout but it's never really explained how it inspires the killer to commit their heinous acts. The game is based on classic Universal Monsters and after a few watches, I can see similarities. Dang! The penny just dropped. The pool kill could be Black Lagoon related while the opening kill in a secluded house on a hill could be a castle movie like Dracula's or Dr. Frankenstein's lair? There's the whole creep who lives in the theater which is a play on Phantom of the Opera. Our fiend also buries a woman alive which happened more than a few times in those early classics. It's a stretch but it could be?
I suppose the other deadly game(s) being played here is all the swinging adultery. This whole group of friends is trading partners in a semi-open secret. It's like a square dance sex romp. I can't even fully recount exactly who is nailing who but it truly seems as if they've all seen each other privately behind closed doors at least once. All this swinging openness does set up some really tantalizing nude shots and alluring ladies wearing well-fitted clothing. At least one completely out of place but well appreciated nude occurs during the opening scene as a woman (Morgan) basks in the moonlight while taking off her top and gently caressing her breast.
On the other hand, again not fully explored, there in the open is a bit of a homosexual undertone. The whole relationship between Roger and Billy seems more than a simple bromance and more of an unrequited love or denial of that love rather? The football scene in the park, which I'm sure was written to fully exploit the casting of Dick Butkus in a supporting role, opens with Roger teaching Billy how to tackle and ends in a short, loving embrace on the ground. During the game as the ladies watch (as does Billy from the opposite side of the field), they joke about all men having homosexual tendencies which is why they pat one another on the ass during play. Could be? Lots of conjecture with this one and the whole movie in general.
Arrow Video has done a great job with the presentation and packaging as always. This 2k scan of the original camera negative is spectacular and adds new depth to the overall feel of the film. The sound is crisp and clear throughout the movie. The additional new audio commentary with The Hysteria Continues crew covers all this and much more very well. They do a fine job of pointing out many things that may not be seen or noticed as one watches Deadly Games. They also ponder more deeply the plot holes and things that could have been or may have been.
Other Special Edition features are listed as:
Audio Commentary with The Hysteria Continues
Sooty's A Shit: Brand New interview with actor Jere Rae-Mansfield
Practical Magic: Brand New interview with special effects and stunt coordinator John Eggett
Image galleries
Trailer
Reversible sleeve featuring original and newly commissioned art work by Ralf Krauss
And a nice booklet. Always a plus with Arrow Video releases. I really do enjoy these most.
Filmed in 1979/80 and released in '82, Deadly Games would probably have fared better if it was made a few years earlier. The partner swaps, the type of kills committed, the middle aged cast, and their clothing seem well out of fashion by 1982 as the rise of predominantly teen casts and the reign of the Micheal and Jason types are already under way with Freddy just around the corner. The working title "Who Fell Asleep" (which is a pleasant way of saying "died" on a tombstone) doesn't really work as a horror title unless one explains that in the plot or dialogue somehow, a fortunate name change for sure.
It did take me two watches to get a better understanding of Deadly Games and to catch some clues hidden in plain sight. Held captive both times for 95 minutes straight as this deadly game played out, I watched as the gloved hand crept up, saw some cool close-ups of eyes, and pondered all the could-be's and conjecture (lots of conjecture) that come along with this movie.
From the interview with Jere Rae Mansfield, who married the writer/director, we get the idea that if Scott Mansfield could have edited this one himself or recut it, it may have been a better movie and made more sense. Sadly, any extra footage is long gone. That said, Deadly Games isn't bad as it stands. It's an enjoyable movie with some solid kills, lots of creepy scenes, and some well-rounded nudity. Hubba hubba.