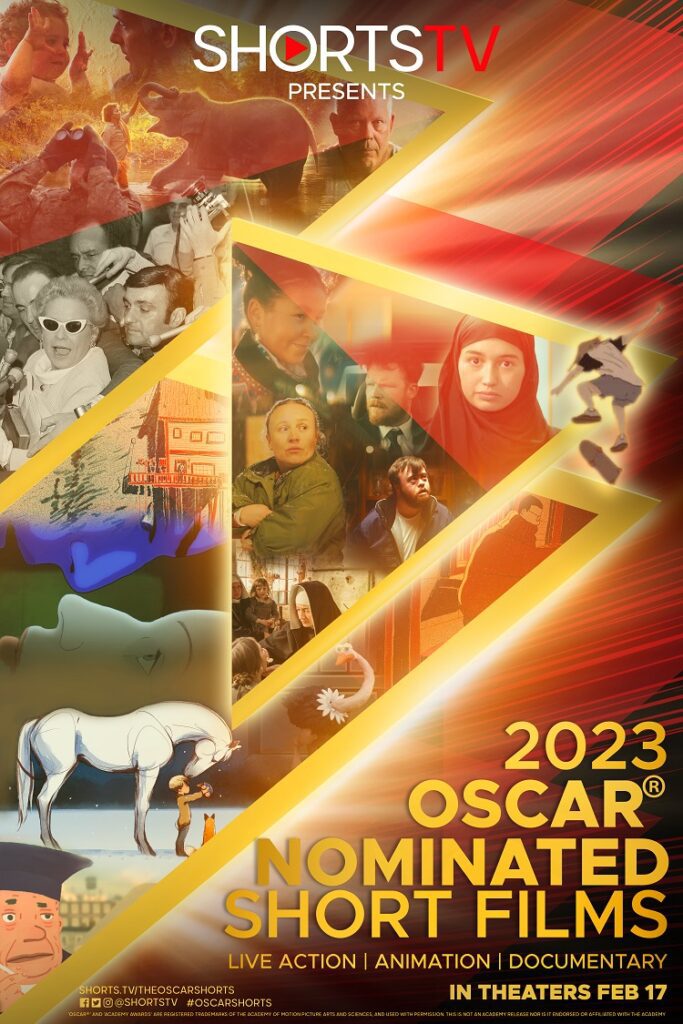 Starting February 17, the 2023 Oscar Nominated Short Films will be available in over 500 theaters across 75+ theatrical markets including New York and Los Angeles. This is the only opportunity for audiences to watch the short film nominees in theaters before the 95th Academy Awards ceremony on Sunday, March 12, 2023. To learn more about the participating theaters and how to purchase tickets, please visit www.shorts.tv/theoscarshorts. Each nominee is released in one of three distinct feature-length compilations according to their category of nomination: Live Action, Animation, or Documentary. 
It's a new year, and its award season, which means that there's a new group of live-action short films that are competing for that famous golden statute. There are a few of these shorts that are better than others, but make no mistake, the five that I will review here all have something to bring the cinematic table.
Le Pupille (director Alice Rohrwacher, Italy/USA, 38 min)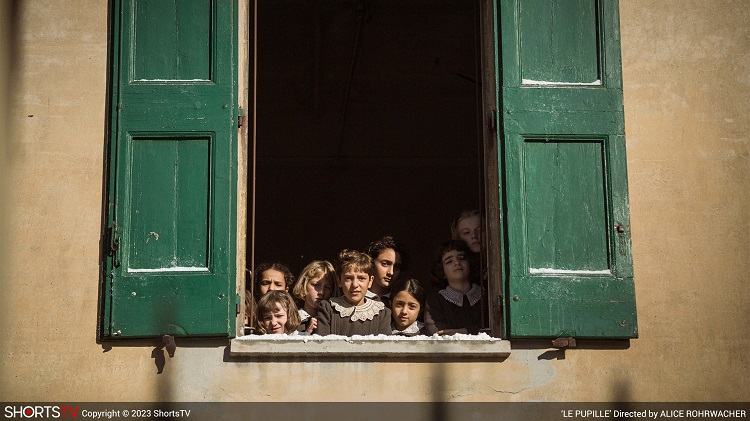 An amusing fable about a group of young, impressionable Catholic schoolgirls and orphans who are confined to a strict, religious boarding school during Christmastime. They have to abide by a very judgmental Mother Superior (Alba Rohrwacher) who thinks that little girls who stray from innocence are inherently bad. Things get even more playful when the girls receive a delicious cake from a kind countess, who always asks them to pray for her husband, and they have to resist temptation and think about those who are less fortunate. Mother Superior tells them if they stand up from the table and give up their piece of cake, then they are good. One of them, who isn't the most well-liked in the school, refuses and throws her piece of cake on the floor (probably in protest). The last moments have her giving the other girls a piece that she hid in her hand. She smiles as she's finally accepted by them. The end.
This is a charming tale of childhood, greed, rebellion, and the power of authority. It operates on whimsy while having a tinge of sadness and loneliness underneath. Being a Christmas film as well, it succeeds on that too. I really enjoyed it.
An Irish Goodbye (directors Tom Berkeley and Ross White, Ireland, 24 min)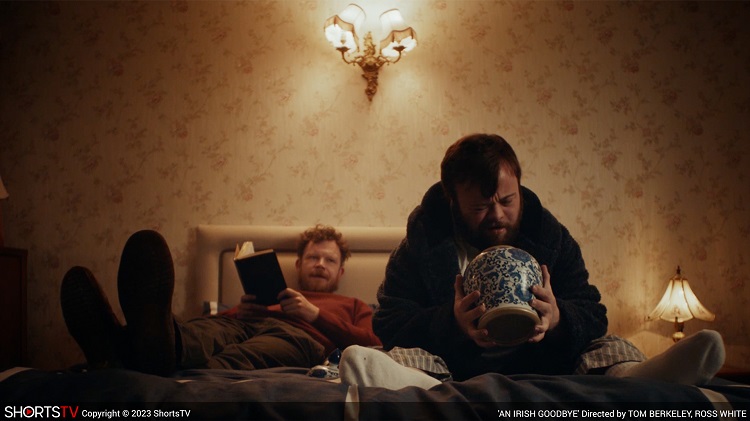 A wonderful and thoughtful fable of two estranged Irish brothers Turlough (Seamus O'Hara) and Lorcan (James Martin) reuniting after the unexpected death of their mother. They're always at odds with each other and can't relate to one another, especially because of the fact that Lorcan has Down Syndrome and obviously can't take care himself. Turlough instantly wants to sell their childhood home, but Lorcan is definitely against it. He wants the two of them to stay there, with their mother's ashes in tow, which creates even more complications. But when they discover an unfulfilled bucket list she left behind, this sends them on a journey to both realize the good in each other, and the love that truly exists between them.
This is a really great and darkly humorous film about love and loss where the differences between two people can ultimately bring them together. It doesn't also treat the Lorcan character like a joke nor uses his disability for instant sympathy. He doesn't want the audience to feel sorry for him. He just wants to prove that he can be just as normal as everyone else and learn how to do things for himself. He's not a punchline, which I found refreshing, which the entire film is as well.
The Red Suitcase (director Cyrus Neshvad, Luxembourg, 18 min)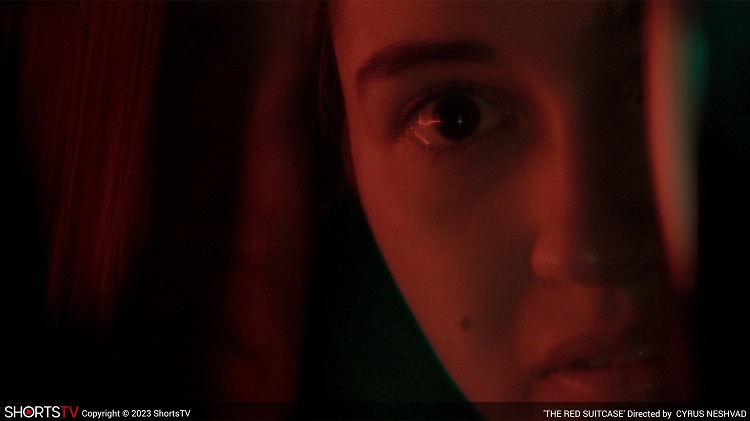 A 16-year-old Iranian girl arrives at an airport in Luxembourg. She seems afraid and refuses to give up her red suitcase. Minute by minute, she becomes more anxious and terrified, especially when she sees a man with flowers. This man is obviously significant, and she really doesn't want to see or encounter him. She does everything she can to avoid him while getting constant texts from her father. She manages to make it onto a bus but has to escape when the man comes onto it looking for her. Her last chance is to hide in the luggage compartment, where he looks as well. He doesn't find her, but he does find her suitcase and takes it. As the bus departs, she gets a new text from her father saying that he will let her do whatever she wants; he just wants her to come home.
Watching this film, I found myself on edge all the way through. It's obviously about women being victims of arranged marriage but disguised as a thriller. It actually works and there's very minimal dialogue. You feel for the protagonist and her predicament. She's a teenage girl trying to flee a situation where others like her unfortunately find themselves. Even more alarming is that not everyone is lucky to escape. It's definitely a pivotal watch and perhaps the most important film in this group.
Ivalu (director Anders Walter, Denmark, 17 min)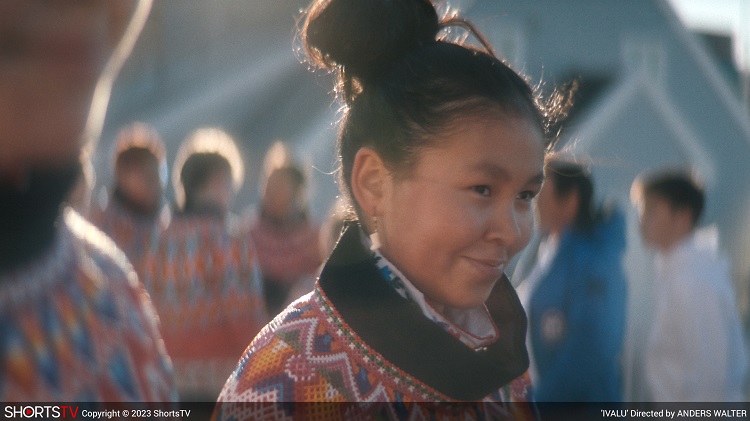 Based on a Danish graphic novel by Morten Dürr and Lars Horneman, this short tells the grim story of a young girl named Pipaluk (Mila Heilmann Kreutzmann) who lives in a settlement in Greenland with her gruff father (Angunnguaq Larsen) and older sister Ivalu (Nivi Larsen). One day, Ivalu disappears, which leaves her heartbroken. Even more alarming is that the father doesn't care. So Pipaluk (with the help of a dream raven) treks along the countryside to find her, which leads to a devastating discovery: Ivalu's dead body in the sea where they once fished at. It is revealed that she drowned herself, and even more disturbing, she ran away because she couldn't live at home anymore, especially because the father was molesting her. However, only Pipaluk and the raven know where Ivalu really is. And that's a secret that must never be revealed to anyone else, for Ivalu's sake.
Despite its slow nature and that it may be grief porn to many, this troubling film is filled with beauty. That beauty masks a horrible reality that many people face, even on a daily basis. The film suggests that the people who are supposed to love you can be those you fear the most. It also makes you realize that this doesn't just happen in America, it happens all over the world, which is even more horrifying.
Night Ride (director Eirik Tveiten, Norway, 16 min)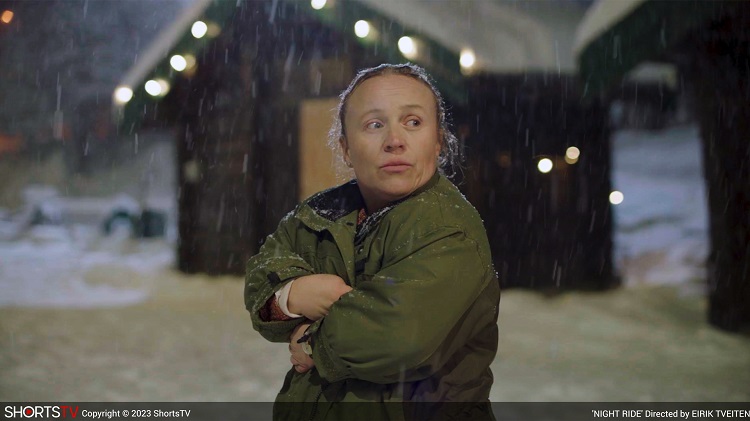 On a cold night in December, Ebba (Sigrid Husjord) waits for a tram to go home after a party. When the driver takes a break and refuses to let her on without his presence, she pries the door open anyway and takes off with it. She gets used to the controls and happily becomes a driver, picking up passengers along the way. However, some of the passengers consists of a rowdy group of men, and a woman who is all by herself. One of the men flirts with her but finds out that she's really a trans woman. The situation turns dire as they bully and threaten her. Ebba witnesses this. At first, she refuses to intervene, but seeing that she is also an outsider (she happens to be a little person), she comes to the rescue. In the end, she and the woman find a kinship and become friends.
I have to say that I was a little disappointed with this one. I liked it because it had a happy ending. I disliked it because of the transphobia and use of slurs to describe little people. The (trans) woman is there just to be a catalyst; she doesn't have any other role. However, Husjord did give a subtle and interesting performance as Ebba. If the trans character was given more to do, I would have liked this more. I didn't hate this one, but I didn't love it either. It's okay overall, but it's definitely not winning an Oscar.
These five short films (even the last one, which was rather underwhelming) are accurate representations of complex humanity. The characters in these are flawed, relatable (some of them anyway), and challenging. I was mostly impressed by the majority of them. It should be interesting to see which of these takes home the gold on March 12th.