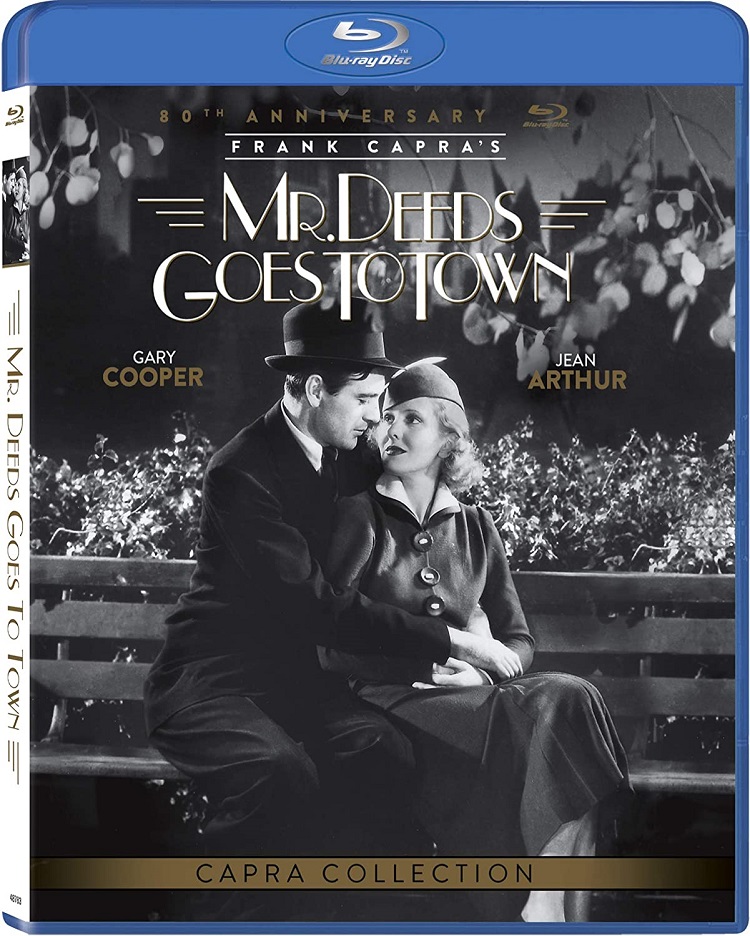 Day Three
Mr. Deeds Goes to Town (1936) had me up and raring to go for Day Three. Anything starring Gary Cooper will always be at the top of my list. Factoring in Frank Capra as director, there was nothing else in this time slot that even challenged it.
Longfellow Deeds (Gary Cooper) is a simple man who enjoys writing greeting-card poetry and playing the tuba in his small town of Mandrake Falls, Vermont until he inherits $20 million from a long lost uncle. Upon the news, he is whisked away to New York City by his dead uncle's attorney in an attempt to cover up the law firm's financial mismanagement. Deeds falls for Louise "Babe" Bennett (Jean Arthur), who unbeknownst to him is a reporter sharing all of his eccentric behaviors. Soon everyone seems to have turned against him resulting in a hearing on his competency.
Mr. Deeds Goes to Town deals with societal issues we are still dealing with today. Cooper is completely believable as the do-gooder trying to make the world a better place.
One feel-good movie was followed up by another with Stormy Weather (1943) starring Lena Horne, Bill "Bojangles" Robinson, Cab Calloway, Fats Waller, and The Nicholas Brothers among others. There is very little storyline; rather, it is rather one amazing musical number after the other and is one of two all-black musicals released that year. Film historian Donald Bogle provided a fascinating introduction on the making of the film. What was unfortunate is that until this film I had never heard of The Nicholas Brothers and seeing this has me seeking out more of their work. One of the final scenes showcasing their skills is one of the most impressive dance sequences I have ever seen.
My next screening brought together the four things that I love most about the TCM Classic Film Festival.  First is the line system.  Volunteers hand out numbers approximately an hour before each screening.  Once you have your number, you are free to do whatever you want until you need to be back before they start letting people, which is approximately 15 minutes before the film starts.  I arrived at the Egyptian about 90 minutes before Bell, Book and Candle was to start, so after securing my number, I was able to grab a drink at my favorite watering hole, Pig 'n Whistle. Many people new to the festival do not appreciate the line system for what it is.  They view it as people cutting in front of them.  But once you get the hang of it, it provides freedom along with the security that you will get a decent seat. 
My second favorite thing is talking with fellow movie lovers from across the county. I met a guy from Alabama who had never been to the festival before or the state of California. Being a California native, hearing him talk about his adventures and reaction to the city was a highlight of the day.
Next up is the discussions. Before the start of the film, Kim Novak was interviewed by Robert Osborne. After the coverage that followed her attendance at the Academy Awards, her courage in speaking out about it was incredibly moving, along with Osborne's genuinely touching support. It was a moment I will never forget.
Last but not least, is being able to experience an old film for the first time on the big screen. Bell Book and Candle (1958) stars James Stewart, Kim Novak, and Jack Lemmon, and I couldn't believe I had never heard of it. Novak is a witch who uses her powers to make Stewart fall in love with her. Lemmon steals every scene he is in as Novak's mischievous brother. It is a charming and fun ride.
My last screening of the day turned out to be my least favorite of the festival. Set in New York, The Naked City (1948) follows a veteran police officer investigating the murder of a young model. While the look of the film was impressive, it was too long and didn't provide intrigue or suspense.
Day Four
My last day started off with Cat on a Hot Tin Roof (1958). This is a film I was sure I had seen before, but as it turned out, only a couple of key scenes were familiar. The marriage of husband and wife Brick (Paul Newman) and Margaret (Elizabeth Taylor) is in turmoil. While visiting Brick's family estate to celebrate the birthday of his father, Big Daddy Pollitt (Burl Ives), the state of their relationship comes to a head, as do Brick's relationships with all of the members of his family. Newman, Taylor, and Ives are captivating in their performances, yet there seems to be more to Brick and Maggie than the film reveals. Given the opportunity, I would love the chance to see the play or to read it.
Dealing with the end of the festival was much easier with the final and 13th film being Easter Parade (1948). Don Hewes (Fred Astaire) must find a new dancing partner when his current one, Nadine Hale (Ann Miller), leaves him for her own show. While drowning his sorrows at a local bar, one of the dancing girls, Hannah Brown (Judy Garland), catches his eye and he sets out to make her a star.
While Easter Parade is similar to Meet Me in St. Louis in being about the musical numbers, it differs in its quality of performances and offers a stronger, more realistic storyline. Additionally, Astaire and Miller light up the screen with every dance number. The first time I saw this film I fell in love with Miller, and her solo number "Shakin' The Blues Away" leaves me breathless every time.
Each year I seem to enjoy the TCM Classic Film Festival more and more. Perhaps it is my growing appreciation for classic films or it is the diminishing number of films that I see in theaters each year. There are less and less must-see new films being released in theaters and with this festival there is a confidence in knowing that they are picking from the best of the best. TCM has found a great balance of unknown gems to well-known successes. I keep thinking that at some point the well will run dry but for now I am even more excited to see what the line-up is next year.