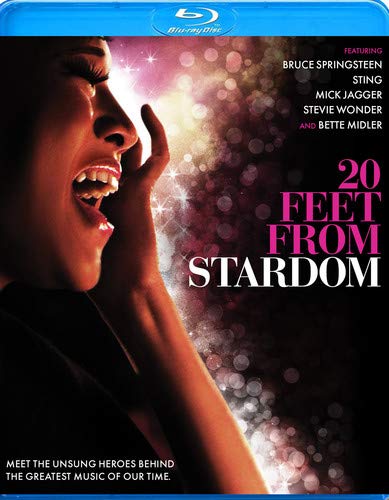 Written by Kristen Lopez
In our world of autotune and lip-synching it isn't easy finding joy and talent within the music industry today. Thank goodness 20 Feet from Stardom is here to remind us; an uplifting documentary exploring the unsung (pun intended) ladies of the industry: backup singers. Joy, sadness, and unyielding potential coalesce to produce one of the best documentaries of the year!
They're literally twenty feet away from the microphone, and yet their hooks are the ones people sing endlessly to themselves. Background singers have been indelible within the music scene since the 1960s, and yet their attempts at solo careers generally end in failure. 20 Feet from Stardom interviews several of these singers, veterans and up-and-comers, to understand the impact of the background singer, why they're important, and how the music industry treats them.
If you've watched any of the popular music competition shows of the last ten years then you've watched a background singer or two arrive, hoping for a chance to finally enter the spotlight. (A key selling point of 20 Feet is Judith Hill, a contestant on this year's season of NBC's The Voice.) Unfortunately, the life of a background singer is fraught with struggle and broken promises, so the fact that the women interviewed remain upbeat and humble about their lives is a testament to their greatness. Director Morgan Neville interviews several singers from all walks of life, with the majority being African-American females whose careers span from the 1960s to today; star Darlene Love, Lisa Fischer, Judith Hill, and Merry Clayton made their mark on the music industry and rightfully deserve recognition (Love's Christmas songs are classics while Clayton is the female voice on the Rolling Stones' "Gimmie Shelter").
Each woman's story is fascinating and charts a hardscrabble world through the underbelly of music. Love saw her career undercut at every turn by Phil Specter, while Claudia Lennear had the potential to go solo but lost out due to personal issues. Each woman has a story to tell and a determination and love for music which they've refuse to put aside. Several times throughout the movie they mention a love of music, which is hard to fathom in our media-consumed world where music is usually a stepping stone for people to enter into other elements of universal fame and acclaim. The women aspire to gain recognition for their talent, but wouldn't consider being famous their end goal. At various points, the women are all brought together to do what they love, sing, and there's no competing egos in the room.
The trajectory of each woman's journey simultaneously acts as a presentation of music history. Starting in the 1960s with session singers, The Blossoms, the movie charts the 1960s girl groups and the amount of female presence going on in the music industry, albeit not necessarily as lead vocalists. In the 1970s, female background singers saw their solo careers squandered due to fears of competing with big names like Aretha Franklin and Diana Ross. Neville doesn't go in-depth, but an air of racism permeates the landscape with an unspoken allowance of so many singers of color at a time. The Civil Rights brought songs of anger and hostility to the forefront, while the 1990s and today see background singers as obsolete in the studios due to the rise of autotuning. It's shocking to discover just how pervasive background singing is within the American landscape, and yet these singers are generally never credited for their work; every musical genre including Disney soundtracks utilize background singers – several interviewed within the documentary – and if nothing else, you'll learn to appreciate music a bit more.
The historical elements never overshadow the women themselves. Each singer describes their career and is allowed to spotlight their amazing voice. The ladies here may be over fifty – Hill excluded – but they still sing beautifully. Strong women in cinema are hard to find, but 20 Feet from Stardom includes several women you should be proud to watch on-screen. The sheer power and love for music is evident in their voices. When Merry Clayton listens to her isolated lines of "Gimmie Shelter," you get chills alongside her and tears can easily spring to your eyes; it's an awe-inspiring moment of vocal intensity.
The Blu-ray bonus content includes twelve deleted scene with several of them being additional Judith Hill clips. Hill is pasted into the documentary and a proper introduction is one of the omitted scenes leaving you to imagine Hill was originally meant to be a grander presence in the documentary than she is. Other scenes include additional singing and footage about the women's personal lives. An additional eight-minute short film, entitled "The Buddy System," utilizes deleted scenes and additional sequences to explore the community of background singers. The highlight is an almost 30-minute Q&A with Morgan Neville, Merry Clayton, Darlene Love, and Lisa Fischer. It's a hilarious chat with heart and vitality which works as a mock-commentary on the movie itself.
What you take away is how unappreciated the background singer remains in this world. Sure, a few of these women have been blessed with career longevity through touring with certain bands, and various singers who were interviewed all acknowledge the necessity for background singers; however, it's sad to hear them mention their regrets for giving up too quickly, or too quickly for them. Thankfully, the music remains and it's as powerful today as it was forty years ago. 20 Feet From Stardom is one of the best documentaries of the year, and if anything will force you to listen a little closer to your favorite songs.