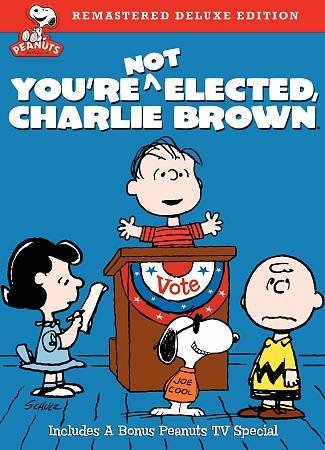 You're Not Elected, Charlie Brown is the eighth Peanuts television special. It first aired in October 1972 before the U.S. Presidential election and is based on a strip that ran in October 1964.
After seeing the announcement for the upcoming election for class president, Linus suggests Charlie Brown run. After self-appointed political strategist Lucy polls the student body, she learns he has no chance but discovers Linus has a 99% chance of winning, so he throws his hat into the ring to run against Russell Anderson. At the debate between the candidates, Linus makes a lot of promises that excite the audience; however, he completely loses them when he begins to say a few words about the Great Pumpkin and is laughed off stage. The vote total comes down to 83-83 with only Russell left to vote. The ending has been altered from how it played out in the strips.
The special is very amusing, filled with the humor and wit fans have come to expect from Charles Schulz. Standout sequences are Sally's use of Charlie Brown in show and tell, Linus' attempt at talk radio shows, and Lucy providing a little muscle to ensure Linus' high-approval rating.
The special had a couple of firsts: the television debuts of Woodstock, and Snoopy's persona Joe Cool. Joe even had his own theme song sung by Vince Guaraldi. It played as he hung out in the school hallway, trying to impress the ladies.
The Great Pumpkin connection is likely why this was previously paired with the Halloween special on the 2003 DVD release. The 2008 DVD release finds it matched with He's A Bully, Charlie Brown, the last Peanuts special as of the writing of this review, which premiered in 2006. It combines two stories that appeared in the strips. Joe Agate is from 1995, and Peppermint Patty chasing after Charlie Brown was in 1989. Schulz had begun work on the special before his death in 2000 and producers Lee Mendelson and Bill Meléndez saw it to completion.
Charlie Brown and most of the gang head off to summer camp. Peppermint Patty has to stay home and go to summer school, but Marcie makes her so jealous over "Chuck" that she also goes. Before leaving, Rerun had gone into the family attic and discovered his grandfather's marble collection. He brought them to camp, but didn't know how to play. There, he meets Joe Agate, the titular bully, who teaches Rerun a hard lesson by not telling what playing "for keeps" means. After Rerun loses all his marbles, Charlie Brown is mad that Agate took advantage of a little kid and wants to win them back, but he doesn't know what to do. Luckily, Joe Cool is there to offer training.
He's A Bully, Charlie Brown is very disappointing on a number of fronts, especially for older fans. The ending of the story seems to go against the grain of what happens in Peanuts. Even Lucy didn't believe it when they told her. This special had a first of its own as well. It was created with CGI and it takes some time to adjust because the look and movement of the characters is so different from the previous hand-drawn appearances. It probably won't be an issue for young viewers.
The DVD features an all-new featurette about called "The Polls Don't Lie: The Making of You're Not Elected, Charlie Brown" that features great information from the usual suspects of creative people and historians. Hopefully, all the segments will be collected together from the Remastered Deluxe editions and made available separately.
In a smart move, Warner Home Video releases classic, funny episodes with clunkers. Completists will naturally want it while those unfamiliar will be better served with a rental.