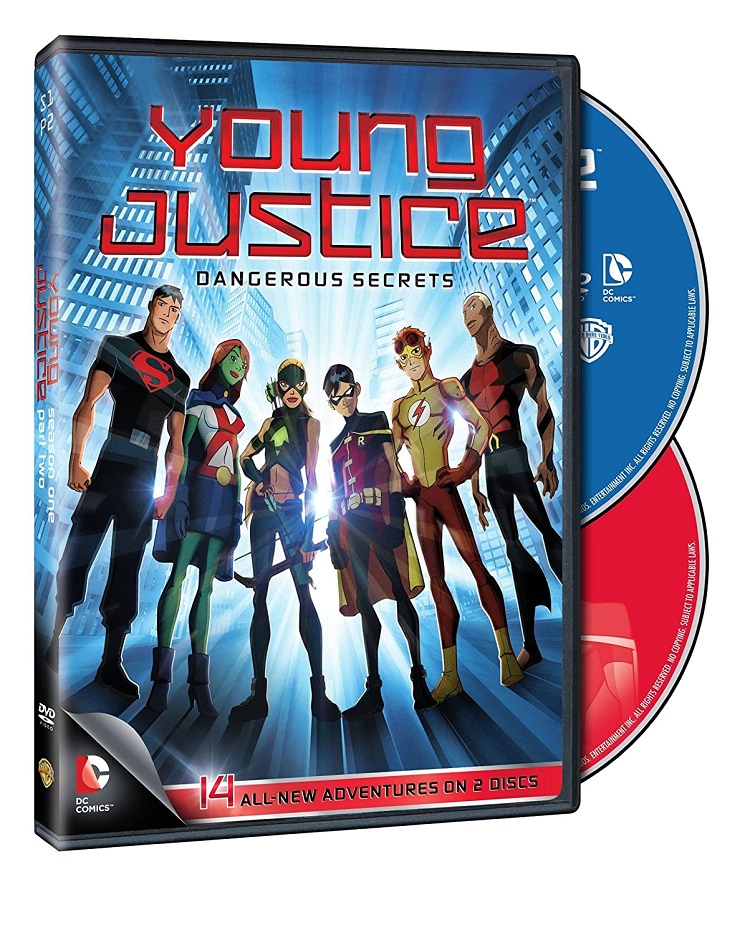 What started off as a mere trickle of episodes for Season One, three releases with only four episodes, has finally turned into a stream as the remaining 14 episodes have been released on DVD. It's unclear why the release format has changed, but for most viewers it's a welcome change as the minuscule amount of released material on DVD was the biggest fan complaint.
The first episode "Alpha Male" starts off just moments after the end of "Homefront" where Red Tornado and his previously unknown siblings turned on the young heroes nearly killing them all.
Wanting to seek revenge on their former mentor and betrayer, the team is sent on a side mission where Batman hopes they will cool their tempers and work through their issues. But the team threatens to rip itself apart when they find out that their leader, Aqualad, knew there was a possible mole in their midst and kept that information to himself.
While the first half of the season sets up a lot of unanswered questions, the second half does not disappoint as it answers almost every question that has been offered. It doesn't answer everything in regards to the organization known as "The Light" because that story arc will continue in season two. But it does uncover all of the secrets about the team, such as what M'gann is so afraid of, who Artemis is really related to, and is Red Tornado really a traitor or if it's someone else.
Just like the first half of the season, the artwork is excellent and the storylines even better. It's much more than a group of superheroes running around and putting the smack down on a bunch of supervillains while throwing around one-liners. While there is some of that, there is a lot of character development and looking into how they feel as people and how as individuals they gel to become a team, a team that ultimately will end up bailing out the Justice League in the season finale "Auld Acquaintance".
To illustrate this point, one of the most satisfying episodes on the DVD is "Coldhearted". It's Kid Flash's birthday and all he wants is to be able to fight alongside the Justice League. But when the time comes instead of being in the heart of the battle he is sent on a messenger run trying to deliver a transplant heart cross country. It sounds like a silly unimportant task, but in the end he will discover that he was actually entrusted with the most important task of them all.
The DVD contains a handful of trailers and only one Special Feature, a digital comic "Monqui Business", which follows along Artemis' viewpoint of what happened in the episode "Schooled" found on a previous DVD release. The digital comic is fairly useless as it's too small to read on most normal televisions and it stops suddenly with no conclusion.
This show is not just for kids. It's fun and entertaining for adults as well. There are superheroes for the kids; believable, relatable characters and stories for the adults; and for the comic fans out there how can you go wrong when the sidekicks take on their mentors, like Batman vs. Robin?! Priceless.