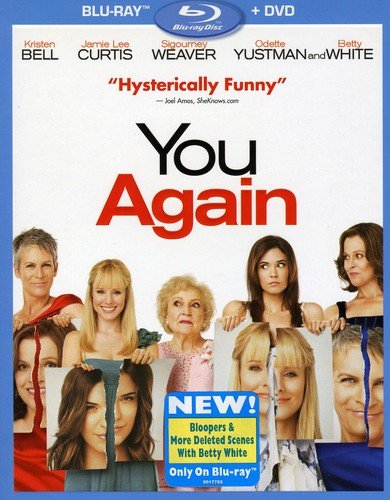 I have often wondered why women are not as supportive of each other as they could be. We should be each other's strongest allies and always have our best interests at heart. More often than not, that is not the case. Women can be mean and competitive and usually it is directed at other women. You Again attempts to address these issues in a light-hearted and comical manner. While I appreciate examine this important subject matter, the movie fails due to a lack of focus, weak storylines, and a waste of the talented actresses doing the best they can with what little they have been given.
Marnie (Kristen Bell) is a PR executive who attributes her success to what she had to endure during high school. Being pimple-faced, shy, and awkward made her the prime target for the popular crowd led by the head of the cheerleaders, Jay-Jay (Odette Yustman). While it seems that Marnie has been able to leave the past behind her, it all comes rushing back when she learns her brother is marrying Jay-Jay. She returns home for the nuptials to discover that everyone in the family loves the bride-to-be.
If that wasn't enough conflict, Marnie's mom, Gail (Jamie Lee Curtis), is shocked to be reunited with someone from her past as well. Jay-Jay's Aunt Mona (Sigourney Weaver) went to high school with Gail and a brief flashback illustrates that their relationship was tumultuous at best. The course of events that lead up to the big confrontation of both sets of enemies at the rehearsal dinner reflects that the past is not easily forgotten and painful actions directed at another can have lingering and damaging effects.
There are not many extras included with the two-disc Blu-ray combo pack. The DVD disc offers three deleted scenes with director commentary; "Following Fickman: On Set with the Director", a behind-the-scenes featurette focused on the director where everyone praises Andy Fickman; "Ask the Cast" where questions from fans seeking advice are answered, and a spoof interview from the website Funny or Die. The Blu-ray disc has eight additional deleted scenes and the gag reel "Blooper Dance Party". None of them offer much in value due to their short length.
The Blu-ray offers a 1080p/MPEG-4 AVC encoded transfer shown at an aspect ratio of 2.40:1. Colors are warm with solid, consistent hues. Good details are seen throughout. Edges are frequently sharp, though portions of the image gets soft on occassion. No digital artifacts were noticed. The DTS-HD Master Audio 5.1 track is a front-heavt experience and not impressive due to the source, though that isn't surprising for a talky comedy. Dialogue, music, and effects are presented adequately, but there's little in the way of surround or bass, so it might as well have been a 2.0 track.
I am mixed on my reaction. I want to recommend it, especially for younger female viewers, as a lesson in how not to behave and that one hurtful action can bring about a lifetime of pain. I am just not sure that the message alone makes it worth watching since there are more successful movies based on similar topics such as Mean Girls and Easy A. The Curtis-Weaver storyline gets very little screen time and is not as developed as it could be, but is much more interesting than the Bell-Yustman tale. Weaver is the shining star of the film and she is completely underutilized.
Then there is Betty White. I love that she has made such a huge comeback, but here she is merely a name in the credits here. Her small role of the confused grandmother made no impact and left me wanting more, much more. Additionally, the comedic situations are ridiculous and unnecessary in telling this type of story. On the positive side, Victor Garber who plays Marnie's Dad and James Wolk, the unsuspecting groom, are intelligent, rational, and strong male characters whom aid in highlighting the females poor behavior.
Even with all of the negatives, if You Again gets one woman to treat another with more kindness, love, respect, and support, then it is a huge success in my book.