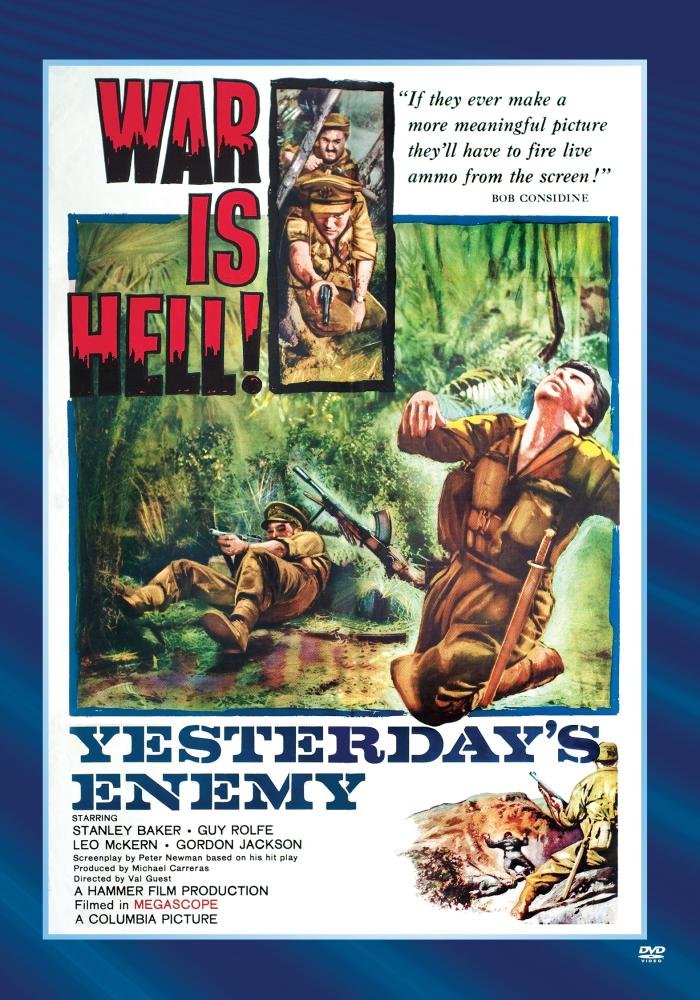 Based on the 1958 BBC teleplay of the same name, the 1959 World War II drama Yesterday's Enemy brings us an account of the Big One from a different perspective. Yes, we've all witnessed various tales of American soldiers in the Asian jungles, as we have seen patriotic yarns depicting the struggles in Europe on the behalf of our British brothers. With Yesterday's Enemy, however, we get to see something altogether different: the plight of a British regiment in the Burmese jungles fighting against the Japanese. Sure, it's very similar to most other WWII flicks, but when you take into consideration the studio behind this one was none other than Hammer Films, well that just takes things up a notch or two right there.
Lost in the jungle, the film illustrates the quandary of the last remnants of a British brigade, who — without any method of communicating with headquarters — attempt to make their way to safety. Stanley Baker (The Guns of Navarone) takes the lead here as Captain Langford, who guides his men into a tiny Burmese village, only to find a small group of Japanese soldiers present, accompanying a very high-ranking officer. The enemy's location is not a coincidence, either: the Japanese colonel happens to have in his possession a map that will either mean victory or defeat for the Allies.
Michael Carreras produces, Peter R. Newman provides the script, and Val Guest directs this tight wartime drama stuffed with magnificent performances. Guy Rolfe has one of his few good guy roles as a non-combatant British padre, Leo McKern is a journalist along for the bumpy ride, and Gordon Jackson, David Oxley, and Philip Ahn also star (the latter as a villain, of course). Interestingly enough, the film contains no music score whatsoever, further adding to the drama. Columbia Pictures co-funded the project, though the US release was slightly edited to remove the word "bastard" so as not to offend the sensitivity of the American audience members who had been all-but brainwashed by the Hayes Code.
Prior to the days of Manufactured-on-Demand DVD releases, films like Yesterday's Enemy were only made available to us via the occasional Icons of… sets issued by the folks at Sony. Now, with the Made-to-Order trend now heavily in control, we can order seldom seen gems like this one from several online retailers and enjoy. Sony presents the film as part of its Columbia Classics collection with no menus or special features, and the anamorphic 2.35:1 widescreen presentation is a beauty.
Enjoy.