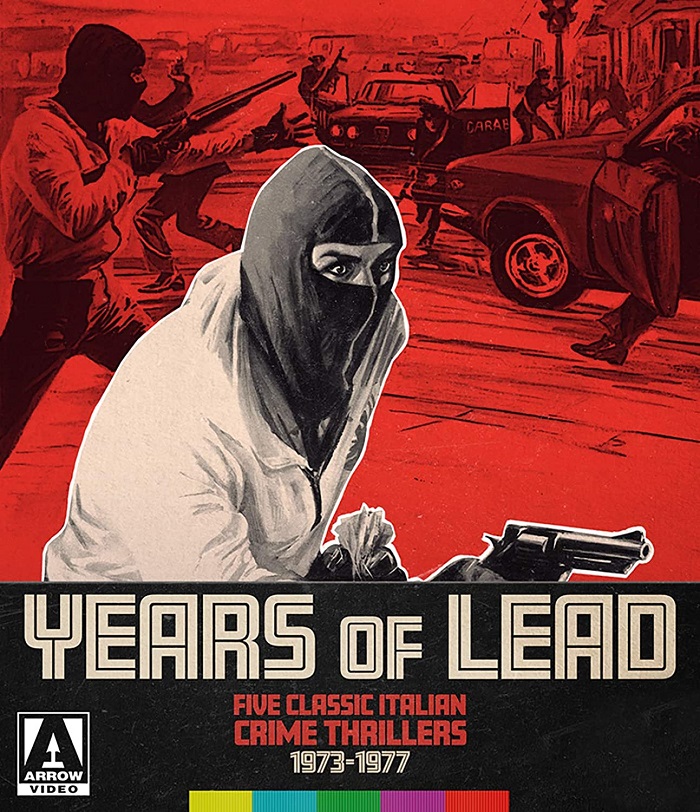 When most film fans think of Italian genre films of the 1970s, the first term that comes to mind is giallo, the lurid, exploitative thrillers that thrived in the first half of the decade. Arrow Video's new box set aims to shine a light on another genre, poliziotescchi, that gained popularity in the middle of the decade. These police action films generally took a more serious, realistic approach to their mayhem, something more along the lines of the Dirty Harry films.
The set includes five films originally released between 1973-77, and all have been restored to look better than ever. In Savage Three, three bored young middle-class men decide to commit increasingly heinous criminal acts just for fun, kind of a Fight Club for aspiring criminals. They're pursued by a classy, world-wise police commissioner played with gravitas by Enrico Maria Salerno. The film boasts impressive cinematography on par with cinema classics, and while it feels a bit derivative of A Clockwork Orange at times, director Vittorio Salerno does a great job of exploring the characters of both the bad guys and the chief cop.
Like Rabid Dogs is the one film in this set that could potentially also qualify as giallo, with poorly developed characters, rampant bloody violence, and frequent full-frontal nudity. It's also akin to A Clockwork Orange, but nowhere near as accomplished as Savage Three in either substance or cinematography, with the chief aim seeming to be packing in violence and extended female nudity (always in the presence of fully clothed men) with no narrative purpose. Again here, three bored young men decide to go on a crime spree, but this time they're rich instead of middle class, and they're pursued by a less engaging police commissioner.
Colt 38 Special Squad follows a new elite team of plainclothes police officers who get proper funding to battle baddies with cool motorcycles and powerful weapons. The film becomes a battle of wits between a nefarious crime boss and the head of the elite unit, with both men using their troops and family members as pawns to achieve their desired results. Watch for an amazing club performance by a young Grace Jones, as well as outstanding locations, cinematography, and stunts.
Highway Racer is also very vehicular-minded, this time trading out motorcycles for fast cars. It feels a bit like Bullit and The Fast and the Furious at times, but definitely establishes its own lane. Leading man Maurizio Merli is excellent as the speed-freak cop who seems more interested in going fast and pulling off crazy stunts than actually busting criminals. This film also has top-notch cinematography and stunts.
No, the Case Is Happily Resolved rises above its lame title with a fascinating premise: what happens when a killer goes to the cops and pins his crime on the only witness? A well-regarded professor takes a hooker to a remote lake and ends up beating her to death, thinking he got away with it until he sees a dopey young man nearby who witnessed the whole thing. The young man takes off in fear for his life, but through a series of misadventures is unable to get to the cops to report the crime before the murderer fingers him as the culprit. The cinematography and settings are comparatively weak, but the great story and well-maintained tension make up for those shortcomings.
The five films are spread across three discs and standard plastic cases, with reversible artwork presented for the double feature discs. The sturdy box also includes a substantial booklet filled with stills and enlightening essays about the films.
The films have all been restored from their original camera negatives, although Colt 38 Special Squad has been restored exclusively for this release. All of the films are remarkably clean and free of defects in both image and sound. While the lossless mono soundtracks don't provide any immersion during frequent action scenes, they do at least offer optional English dubs for both Colt 38 Special Squad and Highway Racer for the reading disinclined.
All of the movies have a healthy amount of bonus features that provide a wealth of information, with the final film's disc also including a lengthy visual essay by a film critic about the genre as a whole. Elsewhere, extensive recent interviews with the director of two of the films, Vittorio Salerno, reveal that his mind is still incredibly sharp and stuffed with amazing details about his productions. The best bonus feature is a freewheeling recent interview with the American star of Savage Three and multiple Andy Warhol/Paul Morrissey productions, Joe Dallesandro, as he dishes about his experiences in Warhol's Factory and his film work all over Europe.
Years of Lead is now available from Arrow Video and select retailers. For more information, visit Arrow Video.