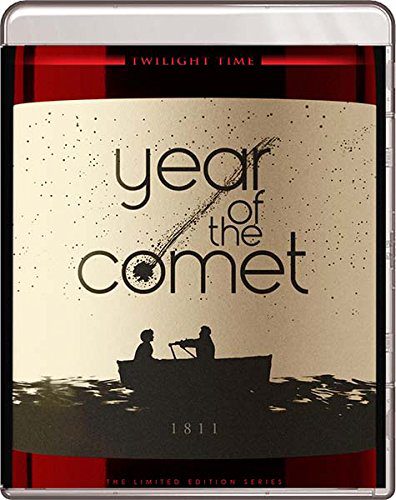 What can you say about a movie where the hero is named Oliver Plexico? Well, frankly, you can say an awful lot about it, actually ‒ especially if the movie you're talking about happens to be Peter Yates' less-than-revered early '90s "magnum oopus", Year of the Comet. According to screenwriter William Goldman, the less-than-lacklustre success his story received from a free screening audience (who, reportedly, got up and left) was attributable solely to the unpaid group's respective distastes for red wine, which is ‒ believe it or not ‒ what this 1992 ode to the romantic comedy adventures of the jetset swinging '60s is about. I mean, it's certainly unlikely that Goldman's nearly 15-year-old script was to blame or anything, right?
It's just as improbable that the film's poorly-timed debut happened the same weekend the Rodney King riots broke out, which surely had no adverse effect on the intended target audience: wine snobs who were rich and white. But of course, just like a good wine, certain films must age sufficiently in order to be properly enjoyed, and although Year of the Comet hasn't aged well at all over the last 25 years, I dare say enough time has passed for Castle Rock's biggest flop to have developed into a rich and robust comedy that is funny for all of the wrong reasons. Providing you're not opposed to watching an unintentionally hilarious yuppie version of Romancing the Stone (which was already rather yuppie to begin with)in the first place, that is.
Once you get a load of our bickering heroes ‒ Penelope Ann Miller as a spoiled booksmart bratling, who is paired with Wings star Tim Daly (who is, in turn, paired with a 20-year-old porn 'stache) ‒ well, let's just say there's plenty of cheese to go with Year of the Comet's wine.
Now, when viewed in this light, the (unintentional) laughs are quite plentiful. The film opens with Ms. Miller finally convincing her wealthy wine merchant daddy (Ian Richardson, having already been pegged as an elite snob to American audiences for being that guy who just happened to have a jar of Grey Poupon in his classic Rolls-Royce) to go out on a hunt. After she discovers a legendary Napoleonic wine from 1811 (aka The Year of the Comet), a number of kooky crooks crawl out of the woodwork to snatch up the very rare and extremely valuable find, including the great Louis Jourdan, whose mind-numbingly hammy final film performance is like a bizarre mashup of the villains he played in both Octopussy and Swamp Thing. Wow.
Among the many other great performers who were hopefully well compensated for appearing in this amusingly great waste of time, talent, and energy are Art Malik (who appeared in another box office miss that same year, the sappy City of Joy with Patrick Swayze), Ian McNeice (Doc Martin), Nick Brimble (the UK's answer to Ernest Borgnine), and one of my personal favorite "That Guy" bit players, Shane Rimmer, who receives one of his largest (billed, even) on-screen roles here. Fortunately, even the actors who ham it up (and I'm looking directly at you, Monsieur Jourdan) still manage to retain their dignity ‒ even if Peter Yates' notoriously unpopular film itself does not. But then again, what else did you expect from a movie where the hero is named Oliver Plexico?
Released a year after MGM's barebones Limited Edition MOD DVD-R, Twilight Time's Limited Edition (of 3,000 copies only) Blu-ray of Year of the Comet is a visually beautiful item to behold, sporting a lush 1080p that could very well be more than the movie actually deserves. Aurally, the 2.0 DTS-HD MA soundtrack delivers on all accounts (even if most of what you may hear could lead to you shaking your head from time to time), and English (SDH) subtitles are included. An isolated music track for composer Hummie Mann's contribution (which replaced a rejected score by John Barry) receives a 2.0 DTS-HD MA makeover here, and the original theatrical trailer and liner notes by Twilight Time's Julie Kirgo are also included.
Break out that screwtop bottle of Sutter Home White Zinfandel you've been saving up for a special occasion and prepare to feel very guilty and ashamed in the morning for having enjoyed Year of the Comet the night before.
Recommended (for all of the wrong reasons).