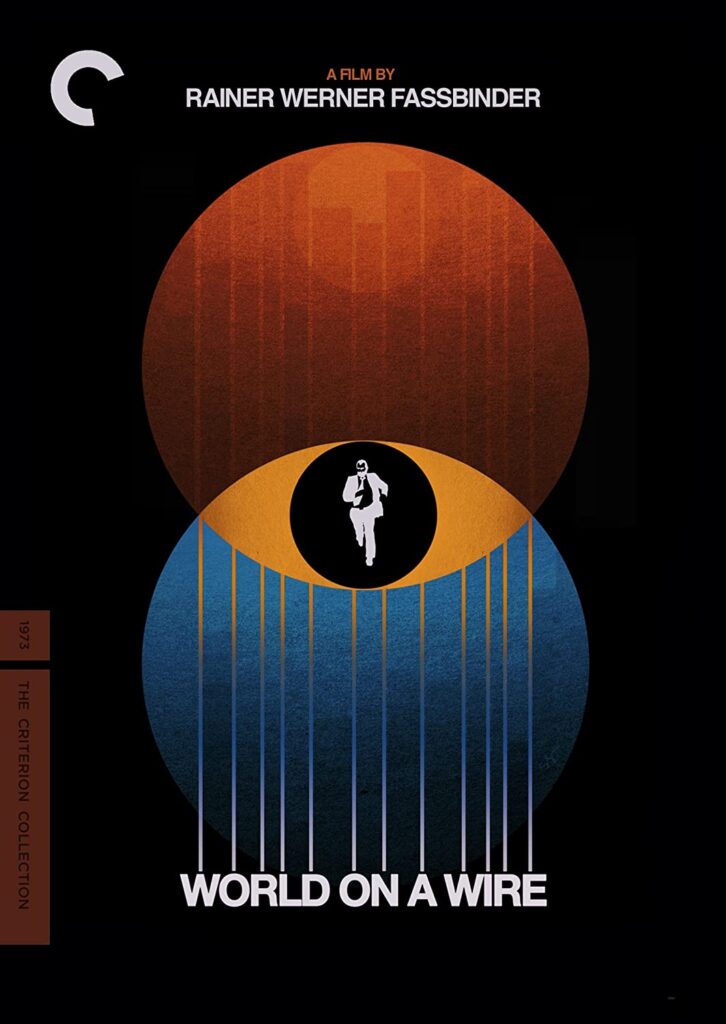 Two business colleagues at a supercomputer research facility are enjoying a pleasant conversation before one of them declares that he knows a secret that would destroy the world. He then proceeds to excuse himself, exits the room, and shortly turns up dead elsewhere in the facility. What follows is a cerebral, tense sci-fi drama about virtual reality seemingly decades ahead of its time. While it's almost immediately obvious that the workers at the lab are themselves computer simulations being monitored by actual humans a level of consciousness above, the story carries so much philosophical weight augmented by groovy '70s cinematography and a fine lead performance by Klaus Lowitsch that it's well worth watching through its three and a half hour length.
Lowitsch plays a computer scientist named Fred Stiller who spends the first half of the film trying to unravel the circumstances behind the death at the lab before finally figuring out the truth about the nature of his reality. That revelation seemingly drives him insane as the screen fades to black, and is a powerful ending point if the project hadn't continued into a second half. In fact, I was fully satisfied with the first half of the film and didn't realize there was more until the disc continued on after that fade out.
In the final half, Stiller tries to convince his contemporaries that they're all simulations, leading to more death, multiple assassination attempts against him, and a desperate search for a fellow unit who can make contact with the real world above. Along the way, he reconnects with an old flame named Eva who may hold the key to his salvation if he can stay alive long enough to claim it. There's a smattering of action here and there, but the real momentum is theological as Stiller and his associates discuss and experience the nature of perceived reality, the dangers of playing god with computer simulations, and the ability of technology to fully supplant organic life. It's really thought-provoking stuff and fully relevant in our modern tech-infused times a full 40 years after its creation, marking it as a seminal and prescient work.
Remarkably, this seemingly niche sci fi novel adaptation was originally filmed for German TV and aired as a miniseries. Unfortunately, that format means that the source material isn't quite prime for archival purposes, featuring a 16mm print and 4:3 aspect ratio. On Blu-ray, Criterion's new restored digital transfer is shockingly grainy at the outset, but soon settles into a passable image quality that carries through the rest of the film. Thankfully, the stunningly creative cinematography by Michael Ballhaus adds so much intriguing '70s visual wonder that the film stock becomes a secondary concern. The soundtrack is uncompressed monaural highlighted by frequent electronic music cues also seemingly ahead of their time.
The principal bonus feature is a nearly hour-long documentary about the making of the film that features snippets of many interviews with the cast and crew but not much actual insight into the film's production. The only other feature of note is a brief interview with a German film scholar.
World on a Wire is now available on Criterion DVD and Blu-ray. For more information visit the Criterion website.