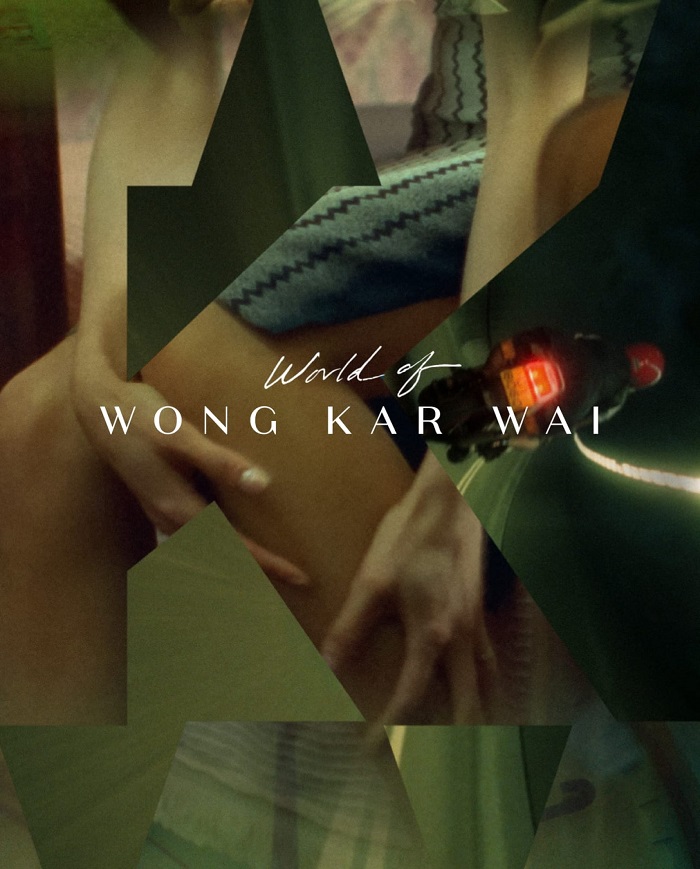 Wong Kar Wai burst into the international film scene in the 1980s and has remained an icon ever since. While a couple of his films have received the Criterion treatment before, this is the first U.S. box set of his work, a long overdue testament to his artistry and legacy. The set is not a complete career retrospective, but includes almost all of his films from his 1988 debut through 2004.
As Tears Go By introduces a few key players in Wong's ongoing repertory of actors, most significantly Maggie Cheung. His debut feature has a fairly generic criminal plot about low-level crooks (Andy Lau and Jacky Cheung) as they try to make their mark in the criminal underworld. Since he followed the action drama formula of what was popular in the Hong Kong market at that time, the film proved to be a big success, although one infused with the first glimpses of his dreamy, ultra-cool style. The only bonus features are a trailer and a couple of brief alternate versions of the ending, neither of which make any significant changes to the true ending.
Days of Being Wild is where Wong really comes into his own, with a focus on the difficulty of his characters making romantic connections in the bustling chaos of Hong Kong in the 1960s. It's also clearly a precursor to both In the Mood for Love and 2046 to such an extent that it feels like a blueprint for the later films. His three principal actors from his debut return for his sophomore effort, while the always mesmerizing Leslie Cheung elevates the acting to a new high.
Leslie plays a charming layabout struggling with romantic commitment as he searches for his birth mother who abandoned him as a baby. Maggie plays one of his conquests who agonizes over trying to win his ongoing affection, while Andy Lau plays a cop who falls for Maggie in their twisted triangle. Of special note is a perplexing final scene that shows Tony Leung Chiu-Wai methodically getting ready to go out for a night on the town, with no explanation of who he is or why he's in the film. Apparently the scene was intended to act as a bridge to a proposed sequel, but the movie's subject matter didn't connect with the action thriller formula ruling HK theaters at the time, so the plan was dropped. In retrospect, it's a great scene because it heralded the arrival of the principal actor in Wong's future films.
Bonus features are also sparse on this film, with just a trailer, a 1994 audio interview with Maggie, and a 2005 video feature with cinematographer Christopher Doyle, although a full, unrestored, alternate version of the film is included that only slightly changes the beginning and ending scenes of the film.
Chungking Express is the film that brought Wong to wide recognition in the U.S., although I had long forgotten that Quentin Tarantino had a major hand in that exposure since he used the film to launch his short-lived specialty imprint, Rolling Thunder, for Miramax Films. To this day, it's still the coolest of Wong's films, with Doyle's claustrophobic cinematography fully capturing the chaos and ramshackle urban decay of 1990s Hong Kong. It also introduces the fascinating Faye Wong (who returns in 2046) as an impossibly buoyant sprite of a girl who flits above the depressing grind of the city like some kind of pseudo Bjork. She's infatuated with Tony Leung's cop character, going so far as to regularly break into his home while he's out, just to establish the intimacy she fears pursuing in real life.
The film is oddly structured, with two distinct halves that bear little relation to each other. The first half follows fellow new casting arrival Takeshi Kaneshiro (later to be seen in Fallen Angels) as he falls in love with a mysterious femme fatale (Brigitte Lin). She wears a blonde wig, shades, and trench coat as she pursues shady business in the criminal underworld, paying little mind to the puppy love of Kaneshiro's cop character. The second half with Wong and Leung is more effective, if only because there is some payoff in their potential romance.
Bonus features are again surprisingly minor, with just a trailer, a few deleted scenes, an interview with Doyle from 2002, and an 1996 TV program that shows Wong and Doyle revisiting some of their shooting locations for the film years later. The best revelation is the bombshell that Tony Leung's cop character's apartment in the film was actually Doyle's real-life apartment, with him bemoaning ever letting the production set up shop there.
Fallen Angels feels like a continuation of Chungking Express, but it's nowhere near as effective. In fact, Wong confirms in the bonus features that it was originally intended to be the third story for Chungking, but when that film ran too long they spun this off as a standalone film. It's also immediately off-putting because it opens with two new actors to the Wong stable, Leon Lai and Michelle Reis, erasing the familiarity established by his other films. They're fine and attractive actors who have done great work elsewhere, but they somehow seem out of place in Wong's universe. It's only when the eternally cool Kaneshiro appears later in the film that it starts to seem worthwhile, but his mute and deranged character is such an oddball that it's hard to feel any compassion for him. Karen Mok briefly appears in a Faye Wong-ish role ill-suited to her talents, but the film mostly belongs to Kaneshiro.
On the upside, the bonus features are more extensive, including three deleted "scenes" that are more just a lengthy hodgepodge of unreleased footage, primarily of Kaneshiro's physical comedy as well as some interviews. There's also another feature with Doyle from 2002 discussing his artistic shot choices for this film. The best feature is a new interview with Wong where he answers questions about his career submitted by other creators such as Sofia Coppola, Lisa Joy, Chloe Zhao, and Rian Johnson.
Happy Together reveals an even more assured filmmaker, with Wong allowing scenes ample time to breathe instead of relying on the flashy, hyperkinetic style of his prior two films. The film follows the disintegrating relationship of two lovers temporarily living in Argentina, featuring a dream pairing of Tony Leung and Leslie Cheung. It's a delight to watch the interactions between perhaps the two finest actors to ever emerge from the Hong Kong market, especially as they're well out of their comfort zone on location in Argentina. Wong utilizes both sumptuous black and white photography and warm color photography to spin his tale, touching once again on his recurring theme of isolation felt in the midst of a bustling city.
The principal bonus feature is an astounding one-hour making of film packed with tons of additional footage cut from the film, interviews, as well as a guided tour of the actual locations as conducted by a member of the crew one year after the film was completed. It's such a gift to have so much additional footage from this monumental film, especially of the late Leslie Cheung. The disc also includes a trailer.
Wong's total mastery of the form arrives in the instant classic, In the Mood for Love. Featuring simmering, incandescent performances by Tony Leung and Maggie Cheung, Wong's improvised tale follows the forbidden romance between next door neighbors Mr. Chow and Mrs. Chan as they grapple with the realization that their spouses are cheating on them. Set in 1960s Hong Kong, their sense of propriety and aversion to neighborhood and workplace gossip forces them to resist acting on their mutual attraction, even as their undeniable passion boils just below their carefully coifed facades. Cheung's ever-changing elaborate cheongsam dresses are unforgettable, while Christopher Doyle's lush, assured cinematography (with two assistants) makes every shot worthy of framing. Two decades later, it's still a remarkable work of art and the absolute high point of Wong's filmography, a sentiment Criterion enforces based on the film's prominent and recurring placement in the box set artwork.
A whopping eight bonus features are included with the film, featuring even more amazing deleted scenes that advance the 1962-66 set story all the way up to the early 1970s. Here we see a half hour of excised footage of the leads dancing together, exploring an abandoned plot thread that found them bonding over repeatedly making food together, experiencing a chance meeting in Cambodia, and running across each other at their old homes in 1972. The '70s footage is especially jarring as their fashions have adapted to the times, with no more cheongsams, looser hairstyles, and Mr. Chow with shades and a mustache. The scene doesn't add much to the story, although it does allow Chow's second wife to be seen onscreen for the first time as she interacts with Mrs. Chang and later berates Chow for his continued feelings for her. Still, all of the deleted scenes help to paint a fuller picture of how the film could have been markedly different and provides more precious footage of the stellar leads interacting with each other.
Other features include an hour-long 2001 documentary by Wong about the production of the film including more deleted footage and interviews with the leads, a restoration trailer, a music video with some vocals by Leung, a lengthy but revealing 2000 press conference with Leung and Cheung from the Toronto International Film Festival, two sizeable 2001 interviews with Wong, a critic exploring the soundtrack choices, and a 2000 short by Wong made out of archival nitrate elements of Chinese actors from early Hollywood films, as discovered in a California warehouse. Wong's documentary and the TIFF press conference are the most informative and worthwhile of these features.
Finally, the divisive but undeniably ambitious 2046 serves as the culmination of Wong's recurring theme of alienation and isolation in the heart of heavily populated areas. The number refers to the end of China's 50-year hands-off period after the return of Hong Kong from British rule, the time setting for a novel being written by the lead, as well as the hotel room where Mr. Chow and Mrs. Chang met in secret in In the Mood for Love. Wong's propensity for shooting without a script works against him here as the end result feels scattershot and unfulfilling, as if his long string of luck with the unorthodox process finally ran out. It's the kind of film one can deeply admire without necessarily enjoying the end result.
The basic framework continues Chow's story from 1966-68 as he becomes a markedly different person in the wake of the dissolution of his first marriage and the absence of his true love, Mrs. Chang. Here he's a free-wheeling playboy with an unending string of casual girlfriends but no appetite for commitment. He moves into a hotel in Singapore simply because it has a room 2046, even though he ends up living in 2047. His primary romance is with the feisty young prostitute who takes up residence in 2046, Bai Ling (Ziyi Zhang), with her ultimately falling in unrequited love with him. He also has relationships with the hotel owner's daughter (Faye Wong) and a mysterious pro gambler (Gong Li), but resolutely refuses to give his heart to anyone since it will always belong to Mrs. Chang. Carina Lau also pops up, revisiting her character from all the way back in Days of Being Wild. It's difficult to care about Chow here since he has closed himself off from love, but Leung is always worth watching and makes the most of his huge role.
Regrettably, the film also contains confusing footage ostensibly portraying the futuristic novel set in 2046 that Chow is writing, with androids played by Lau, Wong, Cheung, Chang Chen, and others in highly stylized futuristic sets and costumes. The net result is a resounding nothing, with the mostly montage footage looking cool but offering absolutely no payoff or even narrative sense. Wong's biggest mistake with this film is leaving the future footage intact, although the film also suffers from stuffing too many female co-stars into the mix, criminally underutilizing Gong Li and relegating Maggie Cheung to only a few seconds of screen time in the process.
This film also has eight bonus features, but they're not as essential as the previous film's bounty. A 40-minute making of featurette includes interviews with the cast and footage from the film, but no apparent deleted footage. A 3-minute montage of behind the scenes footage focuses exclusively on Ziyi Zhang. There's also a music video, two brief deleted scenes, a promo reel, a trailer, and another trailer for the full box set. The best bonus isn't even related to the film: an extended hour-long cut of Wong's short The Hand starring Gong Li and Chang Chen from the 2004 anthology film Eros.
All seven films in this set feature new 4K digital restorations, with the first two retaining their original uncompressed monaural soundtracks. The remaining five get DTS-HD 5.1 Master Audio soundtracks, mostly useful to drive home the stifling ambient noise represented by the packed streets of Hong Kong. The image quality is outstanding, especially on the earliest films that now have technical beauty to measure up to the dizzying heights reached by In the Mood for Love and 2046. There's still a small bit of debris on Days of Being Wild that could use one more restoration pass, but the lovely consistent colors and absence of judder on all films make them all feel refreshed.
The packaging for this set is a delightful work of art, however there is one glaring problem with the emphasis on form over function. Criterion decided to house the discs in cardboard half sleeves that result in either painstaking disc removal/return efforts or inevitable scratches and fingerprints. There's simply no excuse for creating an archival masterpiece like this and then relegating its most important components to amateurish and hazardous partial sleeves instead of secure plastic trays. Aside from the obvious flaw, the packaging swathes the discs in lush artistic stills from the films and a unique double gatefold design that lays all the discs out in a horizontal line. A thick French-fold book accompanies the films, featuring more key photography along with an essay by a film critic, a director's note, and six collectible art prints secreted away in some of the French-fold pages.
The box set contains the majority of Wong's feature films, and it allows viewers to draw a thematic throughline from Days of Being Wild to 2046. Sadly, it omits the early gem Ashes of Time, as well as his later works, the highly panned but still intriguing My Blueberry Nights and his final outing to date with Tony Leung, The Grandmaster, easily the most stylish telling of the Ip Man legend. In a perfect world of Wong Kar Wai, we'd have all ten feature films in plastic trays, but this incomplete masterwork is still far and away one of the best and most important sets ever released by Criterion.