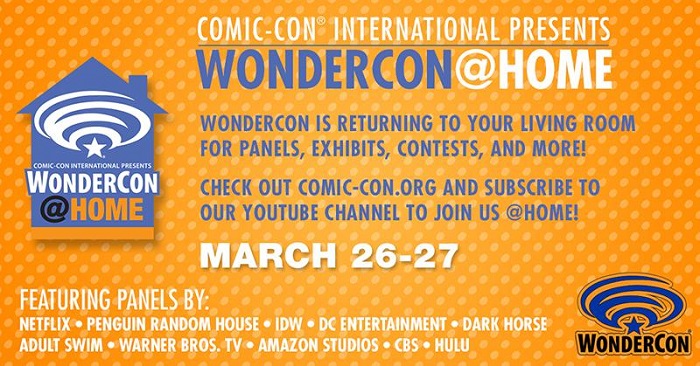 Like last summer's Comic-Con International, this year's WonderCon is going virtual. For two days, activities planned include panels streaming and movie watch parties. Below are panels I plan on watching. Hope to see you there.
Friday, March 26
The Jack Kirby Tribute Panel
Mark Evanier (Kirby: King of Comics) talks about the man some call "The King of the Comics" with author Neil Gaiman (American Gods) and TV host and mega-Kirby fan Jonathan Ross. They will attempt to discuss what was special about the work of Jack Kirby and why, long after we lost him, he seems to be more popular than ever.
Netflix & Mark Millar: The Cast of Jupiter's Legacy
For the first time ever, Mark Millar (Wanted, Kingsman, Kick-Ass) brings the full cast of the new Netflix series, Jupiter's Legacy together to talk about the epic superhero saga coming to Netflix on May 7. Based on the graphic novels by Mark Millar and Frank Quitely, Jupiter's Legacy is an epic superhero drama that spans decades and navigates the complex dynamics of family, power, and loyalty. The panel will include Josh Duhamel, Leslie Bibb, Ben Daniels, Mike Wade, Matt Lanter, Elena Kampouris, Andrew Horton, and Ian Quinlan.
Cartoon Voices
Mark Evanier (supervising producer, The Garfield Show) welcomes four of the best actors today supplying the words and sounds of animated superstars and the strange beings who inhabit video games. They are Maurice LaMarche (Pinky and the Brain), Mara Junot (Mortal Kombat 11), Brock Powell (Phineas and Ferb: Candace Against the Universe), and Anna Brisbin (Final Fantasy VII Remake). There will be a script reading of a script they've never seen before and plenty of talk about their craft.
Marvel: Universe of Super Heroes–Inside the Blockbuster Exhibition
Since its doors first opened at Seattle's MoPOP in 2018, the Marvel: Universe Of Super Heroes exhibition has appeared at some of the US and Canada's most prestigious museums, welcomed nearly 900,000 visitors, and brought fans a new way to experience the characters and legacy of Marvel, while also exploring the company's long and storied history. Now, as the exhibition begins its fourth record-setting year, head curator Professor Benjamin Saunders (head of comics and cartoon studies, University of Oregon) and co-producer Brian Crosby (creative director, Marvel Themed Entertainment) bring you inside the galleries for a sneak peek at some of the priceless artifacts on display, discuss how they've brought Marvel to life in a museum medium, and consider the process of building an exhibition that can evolve and adapt to reflect the ever-changing Marvel Universe.
The Groo Crew
The four guys responsible for the comic book Groo the Wanderer—Sergio Aragonés, Mark Evanier, Stan Sakai, and Tom Luth—talk about how and why they create the adventures of the stupidest character in all of comics, and maybe we'll get Sergio to talk about his 55 years with MAD magazine and Stan to discuss new and exciting new about his creation, Usagi Yojimbo.
Saturday, March 27
Stan Lee Goes to College: Remembering Stan's '60s Campus Talks
Early in the 1960s' "Marvel Revolution," Stan Lee became an in-demand speaker at college campuses. Today, former students who were behind Stan's earliest campus appearances recall those groundbreaking events. Panelists include Michael Uslan (Indiana University; executive producer of the Batman movies); Tom & Tim Tulenko (twin brothers and founding members of Princeton's Merry Marvel Marching Society chapter, who brought Stan there in 1966); and Scott Saternye (Virginia Commonwealth University). Danny Fingeroth (A Marvelous Life: The Amazing Story of Stan Lee) moderates.
Justice Society: World War II
Warner Bros. Home Entertainment, DC, and Warner Bros. Animation continue the treasured tradition of 'DC Universe Movies' at WonderCon with a panel discussion amongst the star-studded cast and talented filmmaking crew of Justice Society: World War II. The all-new animated adventure finds modern-day Barry Allen—prior to the formation of the Justice League—discovering he can run even faster than he imagined, and that milestone results in his first encounter with the Speed Force. The Flash is promptly launched into the midst of a raging battle—primarily between Nazis and a team of Golden Age DC Super Heroes known as The Justice Society of America. Led by Wonder Woman, the group includes Hourman, Black Canary, Hawkman, Steve Trevor, and the Golden Age Flash, Jay Garrick. The Flash quickly volunteers to assist his fellow heroes in tipping the scales of war in their favor, while the team tries to figure out how to send him home. But it won't be easy as complications and emotions run deep in this time—skipping World War II thriller. The cast & filmmakers come together for an entertaining panel featuring Stana Katic (Castle, Absentia, A Call To Spy) as Wonder Woman, Matt Bomer (Doom Patrol, White Collar, The Boys in the Band) as Barry Allen/The Flash, Elysia Rotaru (Arrow) as Black Canary, Omid Abtahi (American Gods, The Mandalorian) as Hawkman, Chris Diamantopoulos (Red Notice, Silicon Valley, the voice of Mickey Mouse) as Steve Trevor, Armen Taylor (JoJo's Bizarre Adventure: Golden Wind) as Jay Garrick/The Flash, Liam McIntyre (The Flash, Spartacus, Justice League Dark: Apokolips War) as Aquaman, and Geoff Arend (Madam Secretary, Batman: Hush) as Charles Halstead/Advisor alongside director Jeff Wamester (Guardians of the Galaxy TV series), co-screenwriters Meghan Fitzmartin (Supernatural, DC Super Hero Girls) & Jeremy Adams (Supernatural, Batman: Soul Of The Dragon), and supervising producer Butch Lukic (Superman: Man of Tomorrow, Constantine: City of Demons). Publicist Gary Miereanu moderates the festivities. Justice Society: World War II arrives on Digital starting April 27, 2021, and on 4K Ultra HD Blu-ray Combo Pack and Blu-ray Combo Pack on May 11, 2021.
No Tow Trucks Beyond Mars
David Rosing (JPL 43 years in system engineering), Shonte Tucker (JPL thermal and SE), Rhonda Morgan (JPL optics), Dr. Laura Kerber (JPL scientist), and Kobie Boykins (JPL mechanical engineering) discuss the Perseverance testing and landing, science on Mars, and how we find habitable planets around "nearby" stars from many light-years away—during a pandemic.
Best Movies Never Made: More Lost James Bond Films
Stephen Scarlata (producer, Jodorowsky's Dune) and Josh Miller (screenwriter, Sonic The Hedgehog) hosts of the hit podcast Best Movies Never Made welcome Mark Edlitz (author, The Lost Adventures Of James Bond) to discuss the lost world of 007 adventures and unearth what would have been the epic third Timothy Dalton film with killer robots, a love scene on white water rapids, and an attack on Hoover Dam which was never made because the actor's license to kill was prematurely revoked. Don't miss this incredible look at the lost world of 007 in a special WonderCon@Home edition of Best Movies Never Made, the podcast which examines the best and most interesting movies never filmed.
Amazon Prime Video: Invincible
Fandoms collide when Amazon Prime Video presents their WonderCon panel for the hour-long, adult animated series Invincible, fresh off its March 26th world premiere. Series creator Robert Kirkman and Invincible cast members Lauren Cohan, Lennie James, and Ross Marquand come together for The Walking Dead reunion fans never saw coming, as well as a spoiler-filled breakdown of the Invincible series premiere. Tune-in to watch this group of friends reminisce over how they came together, yet again, to work on a new project and tease what fans can look forward to in the coming weeks.