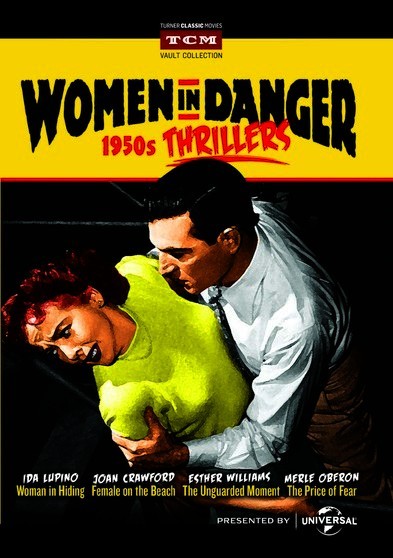 When soldiers pass their prime, they look forward to assistance from the VA. When a judge retires, he or she starts to count on their local bartender for support. But when it came time for an actress like Joan Crawford, Ida Lupino, Esther Williams, or Merle Oberon to be cast astray from the studios that made them famous, they had but one place to go: Universal-International. During the '50s, the recently renamed company began to pick up former A-List starlets for a reasonable "Well, at least I'm still working" rates, catering to them with specially-written screenplays based on their own needs (or perhaps tribulations).
Women in Danger: 1950s Thrillers — another TCM Vault Collection exclusive — brings us a compilation of seldom-seen b-pictures to DVD for the first time ever. The four-disc set starts out with the wonderful 1950 film noir Woman in Hiding starring Ida Lupino and Howard Duff. At first glance, one might think they're in for a thriller that's narrated by a dead woman (hey, they did it in Scared to Death with Bela Lugosi, right?). But then we soon realize that Mrs. Deborah Chandler Clark (Lupino) has survived the intentional accident that was supposed to take her life — and she is now on the lam from the wiles of her murderous husband (Stephen McNally). Fortunately for her, Howard Duff is there to help her (the two were married in real life the following year), but will he or anyone else actually believe her story? Peggy Dow (her first official role) and John Litel co-star, with Don Beddoe and the great Joe Besser appearing as partying delegates.
Disc Two takes us to 1955's Female on the Beach with Joan Crawford and Jeff Chandler. A stalwart widow (Joan) heads to the sunny, sandy coast in order to get away from it all — but winds up with even more drama than she could ever hope for. For starters, the beach house her late husband left her recently was host to a suspicious death only hours prior to her arrival. Worse still, she begins to fall for a local part-time boatman (Chandler), who is also a full-time gigolo employed by a crafty couple (Cecil Kellaway and Natalie Schafer) to milk all of the nearby cougars dry financially. The great Charles Drake co-stars as a local detective looking for answers to the death, with Judith Evelyn as a young lass hung up on Chandler and his handsome mug. Joseph Pevney (who helmed many an original Star Trek episode) directs this tale adapted from the play (and script) by Robert Hill.
Ready for some color noir, kids? Disc Three's presentation — The Unguarded Moment (1956) — is the only non black-and-white film to be found in this set, and it's also a haven of enjoyment for b-movie lovers like myself, right down to the stars: Esther Williams, George Nader, and a young John Saxon! In what is thankfully a swim-free flick, Esther stars as a high school teacher who is hounded and eventually assaulted by a student (Saxon, back when he had a head of hair). Naturally, next to nobody believes her since she's a woman in stuck in the middle of the sexist 1950s. Fortunately, the one man that does believe her is a handsome police lieutenant (Nader, the star of Robot Monster and the German-made Jerry Cotton series) and assists her in her pursuit for justice whilst striking up a relationship with her at the same time. Les Tremayne is the principal, Edward Andrews plays Saxon's psycho dad, and Edward Platt has a brief role as an attorney. Though it wasn't his first credited role, the movie promotes Saxon as a new star.
Finally, on Disc Four, we have The Price of Fear (also from 1956) with Merle Oberon. While the previous films in this set have given us several innocent dames caught up in various webs of deception and lies, Merle is an outright bad gal here. After drinking too much in celebration of a promotion, Merle performs a hit-and-run on an old man, not so much as batting an eye once a racetrack owner (Lex Barker) on the run from a local gangster's death squad steals her car immediately afterward. In fact, she keeps her cool quite well — striking up a very friendly friendship with Barker, even when the mob tries to pin additional unrelated murders on him. Charles Drake (again) is a cop (again — and for good reason: the man made for a perfect policeman). The underrated Warren Stevens gets a chance to shine as the head mobster here, with Gia Scala co-starring as the daughter of the hit-and-run victim. Good stuff.
Of course, it's all good stuff here, kids. If you love classic noir, Women in Danger: 1950s Thrillers is a must-have. Presentation-wise, the films look quite beautiful, with The Unguarded Moment (the one color film) looking like the worst out of the lot. It's also one of two widescreen films (1.85:1) that isn't anamorphic (frown). The other widescreen offering — The Price of Fear — is given the proper treatment, preserving the rarer 2.00:1 aspect ratio in a manner that is appropriate for modern widescreen televisions. Each film is accompanied by a collection of original stills, poster art, and publicity photos direct from the Universal vaults. The first disc also includes an introduction to the set by TCM's Ben Mankiewicz.
Highly recommended.