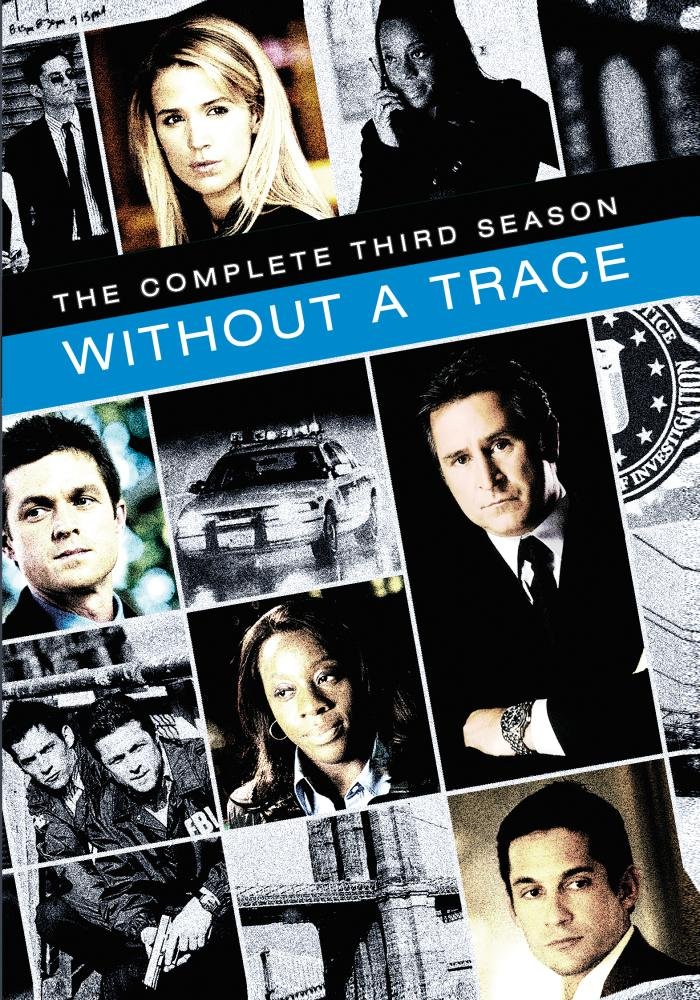 My first viewing experience of Jerry Bruckheimer's Without a Trace really wasn't much of a voluntary one. I was reviewing another Bruckheimer production, CSI: Crime Scene Investigation – The Eighth Season, at another (now defunct) site and one of the bonus features was the Season Six episode of Without a Trace "Where and Why" — which was only included as it was a crossover episode to the CSI episode, "Who and What." Frankly, I wasn't too terribly impressed with what I saw: the writing seemed pretty simplistic, and the performances were fairly mediocre at best.
I figured it was just a fluke; an example of laziness on behalf of the show's writers. Now, however, after having seen The Complete Third Season, I can see that the creative languor had been there for a while. Even with its season premiere episode, "In the Dark" — a harrowing tale of a kidnapped blind girl and her mobility instructor — it seems that there's something missing. You keep waiting for that point in the show wherein a completely expected twist comes-a-barrelin' 'round the corner. Alas, it doesn't happen: it's as cut-and-run as a classic episode of The Munsters.
Fortunately, many subsequent episodes included in this 6-Disc set are better than that in terms of writing — well, as far as twists go, that is — but they are still only marginally superior as far as their overall quality goes. It's boring, banal primetime television filler, kids. At least that's how I see it.
For those of you who never saw the series during its seven year run on CBS (2002-2009), Without a Trace follows the weekly plights of the Missing Persons Unit (MPU) — a taskforce of the FBI based in New York City. Looking quite bored, star Anthony LaPaglia takes center stage here as MPU leader Jack Malone, with Poppy Montgomery, Marianne Jean-Baptiste, Enrique Murciano, and Eric Close co-starring. Naturally, the show contains many subplots diving into the personal lives of its main characters — most of whom are so blandly unlikable that one tends not to give a damn. And, sadly, that feeling extends to the whole show in general.
The first two seasons of Without a Trace hit DVD in 2004 and 2007, respectively, and poor sales in the US prompted Warner Bros. to hold on releasing the remaining seasons. But, with the advent of the Warner Archive Collection — a lineup of Manufactured-on-Demand titles that are usually pressed on DVD-R — it has become possible for Warner to continue releasing this and other television shows to the public on a made-to-order basis. In the case of Without a Trace: The Complete Third Season, however, we get something slightly different.
Though this is strictly an MOD affair, one glance at the data side of the discs will tell you this set isn't your average burn-on-demand release. In fact, we're getting Double-Layer discs here; and each disc comes complete with full menus (with background music), a choice of two subtitles (English and Portuguese), and artwork that is identical to that of the UK DVD release, which prompts me to wonder if this isn't the exact same issue as the Region 2 set. If that's the case, well done, Warner! Sure, I'm not fond of the show itself, but it's great to see the quality of these Archive Collection titles improving (even if the information is ported over from International releases).